How to Achieve Sales and Marketing Alignment
We have developed a unique and free online marketing calculator which you can use to quickly set numerical Inbound Marketing and Sales team goals. This is part of the process of developing a Service Level Agreement (SLA) between Sales and Marketing.
You can use our sales and marketing calculator to quickly answer questions such as:
What is your Sales and Marketing team's shared Target Revenue?


How many new customers do you need each month (how many would you like to have)?


How many new contacts or qualified leads do you need each month?


How many website visitors do you need each month?


It sounds simple enough – Sales and Marketing should have aligned goals.

The question is how to make that happen.
As you know, Hubspot's website platform (can and does if integrated properly) measures every aspect of all Sales and Marketing channels these days.
You can not only achieve your goals, using a concept called "Smart Marketing" or SMARKETING, you actually have a critical need to ensure your Sales and Marketing teams are aligned and being held accountable to each other.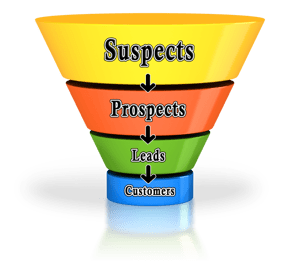 How Many Website Visits, Leads and Customers do you need - Wizard
What are the critical elements necessary for Marketing and Sales to be in alignment?
Have a clearly defined sales process.



Quality leads do you no good if no one is trying to sell your product or service to those leads.



Have a clearly defined minimum revenue target.



Your minimum revenue target directly sets the level of marketing and sales effort needed



Have a marketing approach, such as the Inbound Marketing Methodology, that delivers leads to sales at a rate sufficient to allow sales to keep up and to achieve the target revenue goal.


Know your buyer personas. Periodically update your target Buyer Persona assumptions.


Have a Service Level Agreement (SLA) between Sales and Marketing so each function has clear, measurable expectations of each other.


Have a closed-loop reporting system from first customer contact to final product delivery and post product delivery activities.


Have a continuous process improvement program enabled by the closed-loop reporting system.


Have a clear idea of what a new customer order is worth to your business, both as a single sale and the Life Time Value (LTV) such as a membership, retainer or recurring subscription.


Ensure that you have listening channels opened up such that when Sales hears a problem, marketing is made aware of it so they can take action.


Understand which products and services fit on which side of the 80/20 profitability equation.
Having these and other elements in place such as having a competitive product and experienced sales team will a go a long ways toward achieving Sales and Marketing Alignment.
We believe the first pre-requisite is to have clear, numerical Sales Revenue Goals and Marketing Leads Goals established.
To help you set these goals, we have developed our unique online FREE Website Traffic and Leads Required Calculator which you can use to quickly establish what you will need in order to hit your marketing and sales targets. You can also use this calculator to benchmark how well your current content plan is progressing.
Click the button to go to the calculator page, to see your results and to get your customized results summary:
People who read this also read:
16 Keys to Unifying Sales and Marketing
11 Ways to Use Hubspot CRM as a Sales Force Multiplier
3 Marketing Routes to Reach Your CRM Goals
10 Hubspot CRM Inbound Sales Best Practices
Thanks