Though the term is relatively new, the practice of inbound marketing is now wide spread globally and growing rapidly. Some will argue it is nothing new, saying it used to be called content marketing or omni-channel marketing.
Others will point out that it has actually been part and parcel of advertising since at least the late 1800s. Still, as a business owner, you need to use your limited funds to uncover limited numbers of opportunities, at scale.
So first, a quick review of what Inbound Marketing is, as depicted in the diagram below.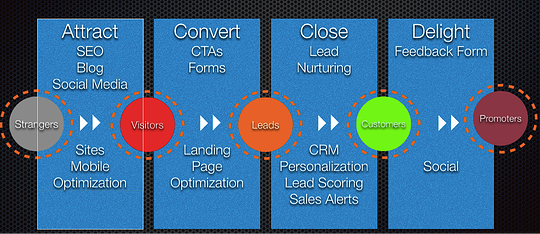 The Inbound Marketing Methodology
This is really a complex way of saying that you must communicate with your prospects and customers.
That sounds simple enough, just talk, right?
Unfortunately, your customers, whether you're a B2B or B2C or B2B2C type of business, have a lot of people who want to 'communicate with them'.
Your customers have also changed the way they buy, having a nearly infinite supply of largely free information about almost any product or service they might have a need for.
You may not have noticed, but just go to any shopping mall, see how many people are walking around glued to their mobile phone. Never quite sure what they are doing, but must be pretty interesting...
Your customers also all have unlimited wants with limited means, or so it is said. So how do you diagnose whether your type of business is a good 'fit' for Inbound Marketing?
Here are the characteristics we believe determine whether your business is a good fit for Inbound Marketing:
You provide a unique service


You manufacture a product, versus distributing somebody else's product.
That is a pretty short list, isn't it? Let's expand those out a bit so you can perform your own fit-gap analysis
You provide a unique Service
There are many types of business' that provide a unique service, such as SAP Partners.
What must be unique is either your delivery capability or your add-on solutions.
For example, if you have unique knowledge of a particular industry, are considered a thought leader (or can become one), and in particular, you know how your target customer truly makes their profit and you know how to improve it, then you're a good fit for demand generation using Inbound Marketing.
You, of course, must be highly networked, and understand that you are now not only able to reach customers via a multitude of social media channels but they can and will reach out to you via those channels, as well as check you out, 24x7x365.
You manufacture a product.
This, of course, covers a broad swath of the economy.
For the largest manufacturers, say, aircraft or automobiles, sophisticated marketing strategies have been a part of the mix for decades.
However, in order to reach their end customer, which in some cases is an end consumer and in others, is actually a complex layer of leasing companies and operators but not the ultimate end user, i.e., passengers. Inbound Marketing strategies can be highly effective as they allow you to provide highly useful educational content in highly targeted segments across all communication channels, while being able to listen and respond to customers in real time.
For small to medium (SMB) size manufacturers, who may produce products that get consumed by end customers or may provide multitudes of small components that are part of larger end products, then Inbound Marketing can be an excellent fit, though it requires the capability and commitment to create a constant stream of content that explains the who, what, where, when, why and how of their product.
A classic example we use in classes we conduct while developing a sales and marketing methodology for our customers, is the barbecue.
These are typically sold at retail, with a few exceptions where they are sold by custom builders at a cost sometimes in the $10,000.00 range and up!
You would be surprised how many different video ideas you can come up with that shows how to barbecue, recipes, maintenance, safety, cleaning, customizing ideas, and how many people are actually passionate about the grills….
There is one final qualifier you should ask yourself about whether Inbound Marketing is a good fit for you.
Do you have in-house capability to execute on the Inbound Marketing methodology on a sustained basis or do you have the budget to hire a company to be your Inbound Marketing arm for you?
That is really all you need to know to do a self-evaluation of whether your business is a good fit for inbound marketing.
If you're still not sure of whether you are a good fit, just click the button and we'll get back to you to help you decide.
Thanks