Development of Advanced management Reporting Strategies
Follow Management Reporting Best Practices
Did you know SAP R/3 has more than 6000 standard reports?
Or that there are 6 Primary Report development tools within the standard SAP Business Suite, including SAP Business Warehouse, ABAP and several others? It can be a major effort to develop a robust, strategically aligned reporting strategy that allows you to leverage the capabilities of not just your SAP system, but all your other reporting systems as well.
We have a highly evolved methodology based on decades of practical experience across a wide variety of industries.
We can show you how to leverage 'Big Data', Dashboards, and ALL your Reporting tools, including SAP BW, xCelsius, BusinessObjects Webi, Legacy and many others to develop a Business Intelligence Reporting Strategy
Typically, we see high ROIs from a properly developed and implemented Strategic Reporting Strategy.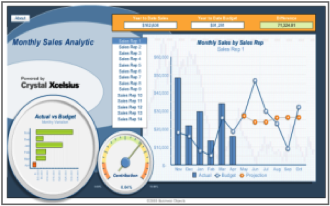 Sample of Modern Interactive Dashboard as Part of an Enterprise Wide Management Reporting Strategy
If you are already a SAP BW customer, you can immediately leverage your development system by implementing proper naming conventions.