Guide to Understanding SAP BW in 5 minutes
Your organization is debating the need to implement a Business Intelligence and a Data Warehousing solution. As part of the decision process, you want to clearly understand how your company would benefit from using a Business Intelligence system. More importantly, you would like to understand the benefits of SAP BW full form(Business Warehouse) and what is SAP Business Warehouse.
Benefits of BW.
Comprehend the SAP BW Module in 4 Minutes 59 Seconds by downloading our Quick SAP BW Module Reference Guide.
What is SAP BW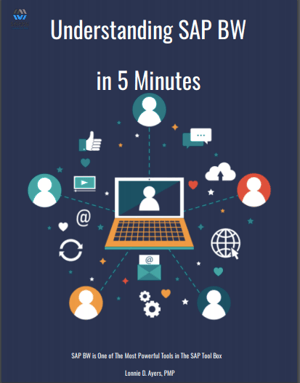 We have collected the following information for you so that you can make an informed decision and understand what is

SAP BI/BW full form

:
Why SAP BI/BW
SAP BW/BI Business Intelligence software helps to control the masses of information in your enterprise
Until now, the goal behind the implementation of classic data processing systems has primarily been the acceleration, cost reduction, and automation of processes in individual business areas, such as financial consolidation. Enterprise Resource Planning (ERP) systems and other software tools now do this in most companies.
SAP BW Meaning
Before we do a deeper dive into the SAP BW module, let's first level set everybody's knowledge of what SAP BW or SAP BI mean. SAP BW means SAP Business Warehouse and SAP BI means SAP Business Intelligence. While both are different names for what is essentially the same thing, we will usually refer to the system as SAP BW. It is also important to understand what does ECC stand for in SAP. Short answer is that it stands for Enterprise Core Components, which used to simply be called ERP or Enterprise Resource Planning, but with the growth of the SAP solution suite, it was necessary to change the name to encompass the expanded meaning of the system. Now ECC is another SAP acronym for their system, which is vast.
Explosive Growth In Data Volumes
The result is that these ERP systems, CRM systems, banking and credit card systems and Corporate Governance regulations have exponentially increased data volumes needing analysis. Some consider this a negative, others, like SAP, think that this enormous amount of digital electronic information is a huge benefit.
Monitor Competitors Proactively With a Datawarehouse
In parallel, ever-increasing globalization and, at the same time, the increasing decentralization of organizations has created the need to recognize market trends and to collect information about competitors. This allows the company to swiftly react to changes in market conditions. You can see that in this Internet age, efficient information processing is a decisive factor in maintaining an advantage over one's competitors.
You Need The Right Tool For The Job To Be Done
Due to continuous innovation in data processing, more and more information is stored in a more detailed format. As a result, there is a need to both reduce and structure this data so it can be analyzed meaningfully. The analysis necessary to create "business intelligence" from the collected raw data requires a varied tool set.
Decision makers in modern, globally operating enterprises frequently realize that their survival depends on the effective use of this information. Unfortunately this information is often spread across many systems and sometimes many countries, thus making effective use of information extremely difficult. This is precisely the challenge that modern Business Intelligence systems attempt to meet.
Extensive solutions are required to cover the entire process, from the retrieval of source data to its analysis. All Enterprises must be concerned with metadata (business and technical attributes and description of objects) across the enterprise. In addition, they need to consolidate and create homogenous global master data, as well as massive amounts of transaction data in differing degrees of aggregation.
ERP Systems and Business Intelligence Systems
In heterogeneous system landscapes, a particular challenge lies in the extraction and preparation of consolidated data and master data from different source systems. The increasing demand for high-quality business information means that in addition to an integrated data collection process, detailed data analysis, and multimedia presentation options are also required. The demand for Business Intelligence solutions that incorporate all of these features is immense.
Source System Data Needs To Be Homogenized
The Business Intelligence software relies on the data that comes from the source systems, but this information cannot easily be used for targeted analysis. Therefore, the source data is initially cleansed and technically and semantically prepared (homogenized). The data is then stored in the Data Warehouse component of the Business Intelligence software. Analyzing this information by means of strong and flexible reporting tools then helps to better understand the enterprise information and create knowledge. This knowledge may help the organization define/redefine its business strategy and support the business processes derived from it.
OLAP and OLTP Environments Work Together
The transaction-oriented OLTP environments (ERP) and the analysis-orientated OLAP environments (Business Intelligence) are interdependent entities. The figure below outlines how both environments interact.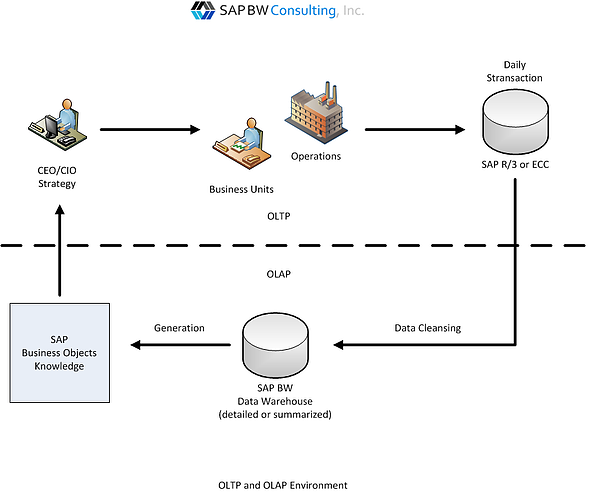 OLTP and OLAP Environment
Business intelligence System Properties and Objectives
A modern Business Intelligence system must meet the following requirements:
Standardized structuring and display of all business information:

Decision makers urgently need reliable information from the production, purchasing, sales and distribution, finance, and human resources departments. They require an up-to-date and comprehensive picture of each individual business area and of the business as a whole. This results in high demand being put on the data collection process from the underlying data sources. The data is defined uniquely across the entire organization to avoid errors arising through varied definitions in different sources.
Simple access to business information via a single point of entry:

Information must be combined homogeneously and consistently at a central point from which it can be called up. For this reason, modern Data Warehouses usually require a separate database. This database enables a stand-alone application environment to provide the required services.
Highly developed reporting for analysis with self-service for all areas:

In terms of presentation, efficient analysis and meaningful multimedia visualization techniques are essential. The system must be able to cope with the information needs of varied user groups.
Quick and cost-efficient implementation:

When implementing the SAP BW ECC (Enterprise Core Components) Data Warehouse, an influential cost factor is its integration into an OLTP system and the straightforward loading of heterogeneous data alongside robust metadata management, delivered business-based Business Intelligence content also has an important role here.
High performance environment. Data modeling from heterogeneous sources:
Data analyses cannot be carried out via Data Warehouse without integrating heterogeneous sources. This is usually done with time-consuming read processes. Scheduling tools are necessary to allow the data to be loaded in separate batch jobs at performance-friendly times.
Relieving OLTP System Workloads

In the past, OLTP systems were strongly overloaded by having to store data and analyze it at the same time. A separate Data Warehouse server now allows you to carry out data analysis elsewhere.
The Data Warehouse Component of Business Intelligence
A Data Warehouse can help your business to organize the data. It brings together all operative data sources (these are mostly heterogeneous and have differing degrees of detail). The job of the warehouse is to provide this data in a usable form to the whole organization. The data can then be used for future requirements as the need arises.
A Data Warehouse has the following properties:
Read-only access:

Users have read-only access, meaning that the data is primarily loaded into the Data Warehouse via the extraction, transformation, and loading (ETL) process.


Cross-organizational focus:

Data sources from the entire organization (production, sales and distribution, controlling), and possibly eternal sources make up the basis of the system.


Persistent Storage:

Data Warehouse data is stored persistently over a particular time period.


Data is stored on a long-term basis.


Designed for efficient query processing:

The technical environment and data structures are optimized to answer business questions—not to quickly store transactions.
Differences Between an OLAP and an OLTP System
In the figure below, you can see that there are fundamentally different demands on an OLTP system compared with an OLAP system. It is therefore most advantageous to technically separate all aggregated reporting-related demands made on the Data Warehouse from the OLTP system.
OLTP Systems

*Operative Environment

OLAP Systems

*Informative Environment

Target

Efficiency through automation of business processes

Generation of knowledge

(competitive advantage)

Priorities

High availability,

High data volume

Simple to use

Flexible access to data

View of data

Detailed

Detailed and Aggregated

Age of data

Current

Current and historical

Database operations

Add, modify, delete, update and read

Read

Typical data structures

Relational (flat tables, high normalization)

Multidimensional structures

Integration of data from various modules/applications

Minimal

Comprehensive

Data set

6-18 months

2-7 years typical

Archiving

Yes

Yes
Figure 3: Comparison: OLTP Systems and OLAP systems
OLTP environments are different from OLAP environments in all possible ways, already starting with the initial target and use case for deploying either an OLTP system (for example, SAP ERP) or an OLAP system (for example, SAP Business Warehouse). The idea behind ERP systems is to automate and support business processes of an enterprise, whereas OLAP systems aim at support of reporting request and the flexible analysis of data.
Further differences between those systems are:
Level of detail:

The OLTP layer stores data with a very high level of detail, whereas data in the Data warehouse is compressed (aggregated) for high-performance access.


History:

Archiving data in the OLTP area means it is stored with minimal history. The Data Warehouse normally also requires comprehensive historical data.


Integration:

In contrast to the OLTP environment, requests for comprehensive, integrated information for analysis are very frequent in OLAP systems.


Normalization:

Due to the reduction in data redundancy normalization is very high for operative use. Data staging and lower performance are the reasons why there is less normalization in the Data Warehouse.


Read access:



An OLAP environment is optimized for read access. Operative applications (and users) also need to carry out additional functions regularly, including change, insert and del
That's a Lot To Take In
That's why we've converted this into a downloadable eBook for you which includes additional enhanced information and examples of SAP BW systems and functionality. It was written by a SAP BW Consultant, actually, a team of SAP Business Warehouse experts, over a period of years. In you'll see why BW full form in SAP is such a powerful datawarehousing solution.
Download The Guide For Later Reference
Just complete the form.