Looking for a personal development plan for SAP BI? Not to worry, everybody had to start fresh at some point, sometimes by design and sometimes, accidentally. This guide is for:


Entry-Level SAP Consultants
Mid-Career SAP Consultants
SAP Business Consultants
SAP Techno-Functional Consultants
SAP Functional Consultants
SAP Support Consultants
SAP Consultants ALL K Levels
How to Grow in Your SAP Career
Like any demanding profession, as a SAP Specialist, there are a number of areas where you will need to work constantly to achieve the skill level required to excel in SAP Consulting: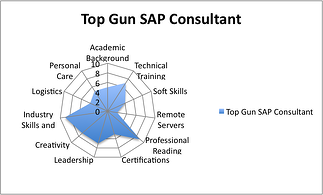 SAP Consultant Skills Graph
Learn to be a superb communicator.

Written, Oral, Emotional.
Consider joining toastmasters.
Put yourself out there.

It is said that fear of public speaking, for some, exceeds the fear of death.
My advice-get up there in front of the audience, the more hostile, the better, as often as possible.
By all means, study the Best Practices, but, at the end of the day, practice makes perfect.
You will know you have reached an acceptable level of expertise when you are invited to be a 'guest speaker'.


Learn to Learn

As a SAP Consultant, we sell what we know.
You need to develop a personal development plan, and each year, strive to add at least one new 'major' skillset.
For instance, this year, 2012, Inbound Marketing and Balanced Scorecard Certification were on my agenda. Achieved both!


Find a Mentor

Better still, become a mentor.


Learn to be a good team member and team leader

If you had the good fortune to be trained by the military, great.
If not, there are lots of opportunities to both lead and be led. Outdoor adventure training anyone?


Get practical Industry Experience

Though it is entirely possible to become a SAP consultant with zero work experience, you will find that SAP Business Processes make a lot more sense to you when you learn to compare 'this to that'.

For instance, the entire procurement process happens when you go grocery shopping.
You just don't see all the individual pieces until they are pointed out.


Get Certified by SAP

You should strive to get SAP certified on your module and Business Process Expertise.
Many might disagree. For instance, theoretically, you could learn SAP BPC by yourself, but you should seriously consider taking the more formal training approach. Why?

We say, can't hurt.

And it is not as easy you think. Beyond the basic certification, you should be looking at Business Process Management expertise as a core add-on, especially for a mid-career SAP Consultant.


Keep up-to-date with current technological developments

This, of course, is an open ended task. Some effort will be required on your part to 'sort and sift'.


Strive to be a Thought Leader in your Industry

You don't have to be a PhD to write a valuable paper for your industry.


You can probably come up with a constant stream of valuable industry content if you plan and execute it carefully.


Understand how to develop a Business Case.

Even if you are a purely technical guy with a focus on ABAP skills, the role of a SAP functional consultant is about helping the customer make more profit.

You should have a basic understanding of finance, and there are a number of courses you could take at your desktop to get you up-to-speed.

Search for financial competence and am sure you will find plenty of offerings.


Understand the SAP Implementation Methodology, all types

Know SAP Solution Manager, become a PMP, and become ASAP Certified as well as SAP Activate.

Learn how and when to use the RDS (Rapid Deployment Solution) approach.

Then dig in to each type of implementation and read the various documents that are already there.

You might be surprised by how much of the heavy lifting has already been done for you.

Download the off-line ASAP zip file from service.sap.com/asap and run it in your browser.

Don't reinvent the wheel.


Study and be able to articulate SAP's competitive differentiators with regards to their competitors, including Oracle and Microsoft.

Just because the sales cycle is over and the deal is signed, doesn't mean the sales process is not on-going. You may find yourself in the position of advising CIOs who have very little first hand knowledge about SAP and are on the fence when it comes to SAP. You need enough knowledge to provide unbiased yet valuable information.

Your job depends on keeping the deal closed.


Develop the self-discipline to survive being a road-warrior.

You will need to develop the self discipline to work out to keep your BMI in range, most likely in a hotel room.

Why?

Because it gets cold outside and sometimes the gym is full/small/you're tired of it.

I recommend Combat Conditioning by Matt Fuery.

Whatever you do, keep doing it.

If not, your body will soon break down on you and then what good are you?
Appraisal Goals for SAP Consultant
If you happen to employ SAP specialist, the above list can serve as a solid foundation for setting up a competency & career development plan for SAP consultants. Using the above as evaluation criteria, you can quickly differentiate between SAP analyst vs SAP consultants.
Still Interested in a SAP Consultant Career?
Need this handy guide to keep around? Then click the button below to download your "12 Easy Steps to Being a Better SAP Consultant" guide for permanent reference.
People who read this article also read:
Thanks