Want to Know How to Join an SAP Company?
Looking for a personal development plan for the SAP BI career path? Not to worry, everybody had to start their SAP Career fresh at some point, sometimes by design and sometimes, accidentally.
This guide is for:


Entry-Level SAP Consultants
Mid-Career SAP Consultants
SAP Program Managers
SAP Solution Architects
SAP B1 Consultants
SAP Business Consultants
SAP Change Management Consultants
SAP Training and Development Consultants
SAP Support Consultants
SAP ABAP Consultants
Junior SAP ABAP Developers
SAP Hybris Marketing
Management Consulting Experts
SAP Consultants ALL K Levels
How to Succeed as a Consultant
It's also for those business consultants just starting their consulting business and hoping to land their first consulting clients. With slight modifications, it is a good SAP Developer Roadmap as well and as well SAP Specialists, which come in many flavors.
How to Grow in Your SAP Career
Like any demanding profession such as management consultants, as a SAP Specialist, there are a number of areas where you will need to work constantly to achieve the skill level required to excel in SAP Consulting and become an acknowledged SAP expert: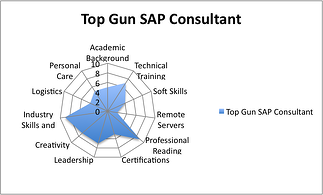 SAP Consultant Skills Graph
These are some SAP Tricks and Tips to help you achieve professional excellence.
Learn to be a superb communicator.

Written, Oral, Emotional.
Consider joining toastmasters.
Put yourself out there.

It is said that fear of public speaking, for some, exceeds the fear of death.

My advice - get up there in front of the audience, the more hostile, the better, as often as possible. This is one of the best ways to improve your communication skills and help you land one of the many SAP jobs that require public speaking ability.

By all means, study the Best Practices, but, at the end of the day, practice makes perfect. SAP career growth means always expanding your knowledge of SAP.

You will know you have reached an acceptable level of expertise when you are invited to be a 'guest speaker' and they pay the freight.

This is also the level, or at least the beginning, of being able to offer

SAP advisory services

. It is also how you differentiate your self from

business analyst vs SAP consultant

. Though there is overlap, there are definitely distinct differences.

SAP Modules: As an SAP Consulting expert, you will be able to do a much better job communicating, especially with your SAP customers, if you have a broad knowledge of most SAP ERP (Enterprise Resource Planning) modules, and deep knowledge of your own modules. In other words, broad and deep of systems application and data processing capabilities inherent within SAP.

Estimation of Implementation Times. Having expert SAP consulting expertise will come in handy when your Project Manager ask you to provide an estimate for how long you will take to implement your SAP module.

SAP Integration Points: The mark of a true SAP Consulting and Implementation Expert is knowing what integration points exist between your module and those it integrates with. For example, SAP CRM has more than 200 standard integrations with other modules. SAP professionals need to know about these integration points and how best to leverage them.

You will need to know what those are and what purpose they serve if you hope to 'advise' your SAP customers and end users on possible

SAP Solution Architectures

and to be able to present alternatives.

When it comes to presenting alternatives, it helps to be to explain the various options you explored and why the one you're recommending is the best alternative.

Another aspect you frequently deal with is a need, at least as a SAP BW Consultant, to work with SAP BASIS consultants. This is because that within every SAP project, there are elements of a SAP BASIS project that extend outside the typical SAP BASIS consultant's domain expertise and they have to consultant with the SAP BW consultant to arrive at a feasible system design.


Learn to Learn

As an SAP Consultant, we sell what we know.
You need to develop a personal development plan, and each year, strive to add at least one new 'major' skillset.
For instance, in fiscal year 2012, Inbound Marketing and Balanced Scorecard Certification were on my agenda. Achieved both!

SAP consultants typically have a good grasp of Information Technology as well as outstanding Business Acumen. Few (with exceptions) are purely software developers, even those with pure computer science degrees.

However, there are plenty of roles where software development is the primary occupation. I've mostly seen this in the software factories that various consultancies have setup as well as SAP itself. Having good knowledge of SAP ABAP in these environments is especially valuable.

Believe it or not, having good knowledge of business administration is extremely valuable, especially to many SAP functional consultants, such as SAP MM consultants, SAP FICO consultants, or SAP HR consultants.

SAP HR or SAP Human Capital Management is one of the 'hot fields' and has been for many years. With the acquisition of SuccessFactors, SAP demonstrated its commitment to the field and added tremendously the demand for SAP HR consultants, now called SAP HCM or Human Capital Management.

Top notch SAP HCM consultants advise companies on organizational structure, compensation and benefits, and a vast array of other HR business issues. They have to know both the business side of the house as well as be cognizant of SAP HR information systems capabilities and limitations. This is the difference between a SAP Consultant vs Software Tester. You're able to provide business advice not just configure it, and click the buttons.

Attending a SAP Academy, for example, the SAP HCM Academy, is just the first step for junior sap consultants on their journey to become Top Gun SAP Consultants.

While SAP Software can meet many business systems requirements, SAP consultants, using their extensive knowledge of their SAP module and client requirements, must learn which business needs can be met within their functional areas, which cannot, and which could, with modification to the SAP processes.

The SAP Consultant job description, almost by definition, also means keeping up with the latest SAP technologies.

When the need to create customized SAP solutions arises, SAP consultants must use their excellent communication skills to 'sell' the need for the development.


Find a Mentor

Better still, become a mentor. If you work within a SAP consultancy, find a senior SAP consultant and ask them to be your SAP mentor. They'll usually be flattered.

A good SAP mentor can quickly help you master the sap consultant responsibilities you'll be expected to assume as part of your SAP consultant duties.

Those can range widely from defining Master Data to configuring Purchasing Organization setups within the SAP IMG to database performance tuning if you happen to be a SAP BASIS consultant.

Data management is also a key task you'll often be tasked with. For instance, by understanding the importance of system wide naming conventions and standards, you'll be able to design robust systems that are easily maintainable and scalable. An excellent resource for seeing how this can be done is by accessing the SAP IDES system, which comes pre-configured with SAP Standard Best Practices including naming conventions. It doesn't hurt to have access to a SAP Developer System either, as you often need to run experiments in there to find the solution.


Learn to be a good team member and team leader

If you had the good fortune to be trained by the military, great.

If not, there are lots of opportunities to both lead and be led. Outdoor adventure training anyone?

Be ready to put in long hours. Most SAP consultants, especially entry level SAP consultants, have to acquire years of experience before they can truly perform as top performers. That's the difference between End User and Consultant, the long hours, experience, training and expertise across a wide variety of industries, business processes and project environments.


Get practical Industry Experience

Though it is entirely possible to become a SAP consultant with zero work experience, you will find that SAP Business Processes make a lot more sense to you when you learn to compare 'this to that'.

For instance, the entire procurement process happens when you go grocery shopping.
You just don't see all the individual pieces until they are pointed out.


Get Certified by SAP

You should strive to get SAP certified on your module and Business Process Expertise.
Many might disagree. For instance, theoretically, you could learn SAP BPC by yourself, but you should seriously consider taking the more formal training approach. Why?

We say, can't hurt.

And it is not as easy you think. Beyond the basic SAP certification, you should be looking at Business Process Management expertise as a core add-on, especially for a mid-career SAP Consultant.


Keep up-to-date with current technological developments

This, of course, is an open ended task. Some effort will be required on your part to 'sort and sift'.


Strive to be a Thought Leader in your Industry

You don't have to be a PhD to write a valuable paper for your industry.

It does help to have a Bachelor's degree, or even a Master's degree.


You can probably come up with a constant stream of valuable industry content if you plan and execute it carefully.


Understand how to develop a Business Case.

Even if you are a purely technical guy with a focus on ABAP skills, the role of a SAP functional consultant is about helping the customer make more profit.

You should have a basic understanding of finance, and there are a number of courses you could take at your desktop to get you up-to-speed.

Search for financial competence and am sure you will find plenty of offerings.

This one of the most important skills to master if you truly want to understand whether SAP has a future.


Understand the SAP Implementation Methodology, all types

Know SAP Solution Manager, become a PMP, and become ASAP Certified as well as SAP Activate.

Learn how and when to use the RDS (Rapid Deployment Solution) approach.

Then dig in to each type of implementation and read the various documents that are already there.

You might be surprised by how much of the heavy lifting has already been done for you.

Download the off-line ASAP zip file from service.sap.com/asap and run it in your browser.

Don't reinvent the wheel.


Study and be able to articulate SAP's competitive differentiators with regards to their competitors, including Oracle and Microsoft.

Just because the sales cycle is over and the deal is signed, doesn't mean the sales process is not on-going. You may find yourself in the position of advising CIOs who have very little first hand knowledge about SAP and are on the fence when it comes to SAP. You need enough knowledge to provide unbiased yet valuable information.

Your job depends on keeping the deal closed.


Develop the self-discipline to survive being a road-warrior.

You will need to develop the self discipline to work out to keep your BMI in range, most likely in a hotel room.

Why?

Because it gets cold outside and sometimes the gym is full/small/you're tired of it.

I recommend Combat Conditioning by Matt Fuery.

Whatever you do, keep doing it.

If not, your body will soon break down on you and then what good are you?
Appraisal Goals for SAP Consultant
If you happen to employ SAP specialist, the above list can serve as a solid foundation for setting up a competency & career development plan for SAP consultants. Using the above as evaluation criteria, you can quickly differentiate between SAP analyst vs SAP consultants. You can also develop a rating system for SAP key skills you have and those you need to acquire.
Still Interested in a SAP Consultant Career?
Need this handy SAP consultant handbook to keep around? Then click the button below to download your "12 Easy Steps to Being a Better SAP Consultant" guide for permanent reference.
People who read this article also read:
How to Understand SAP Modules in 5 minutes.
Get Our Guide To Becoming A Top Gun SAP Consultant
How The Consulting Rate Calculator Works
How To Use SAP Value Engineering Services
3 Keys To Selecting SAP Professional Services Consulting Companies