Cash Flow Analysis Now Built Into Consulting Rate Calculator
Hey Ya'll, as per popular request, I added Cash Flow analysis to the consulting rate calculator P&L statements.


TESTIMONIAL 1: "This is the ideal, best practice employed by leading consultancies."


TESTIMONIAL 2: "The rate calculator tool was awesome!!! "
To give it a try, just press this button to go to the first set of questions. There are 8 sets of questions that follow along the 3 blue boxes below.
Thanks for the User Testimonials, you can read them at the bottom of this page !


The first time through the calculator, it will remember your data in your browser so the next time you run the calculator, it will read that information from your browser cache and you will not have to re-enter, just the information you want to change. It will also email you the results so that you can share the analysis with someone else.
Evaluate A Specific Inbound Job Offer - Email or Voice
This is an idea of what the consulting rate calculator does. The job email you want to consider is on the left, you maybe talk to the recruiter and get a preliminary rate, you run it through the consulting rate calculator to see how the economics of the proposed job will work in your favor or not or what you could possibly do to improve the job offer.
A Tool Recruiting and Staffing Agencies Can Use As Well
A recruiter or staffing agency needs a consulting rates calculator in order to advise their client on the consulting fees they will have to pay to get the best talent considering factors like a candidates fixed and variable costs and whether or not the proposed client rate will allow the candidate to break even or not.
Break-Even Rate Calculations Are Built In
For example, a recruiter could run this prior to a candidate search to evaluate whether the proposed target price budget in the client brief will fail in the eyes of candidates he is about to call and not waste their time trying to "sell" a "bad" deal to ready, willing and able candidates.
Evaluate The Economics Of Your Job Offer in 7 Seconds or Less
The Job Analysis application takes 7 seconds to analyze your job email or the recruiters offer.
There are 30 different ways you can be employed into a job; it will analyze all 30 situations for you. Don't Covfefe your next job search!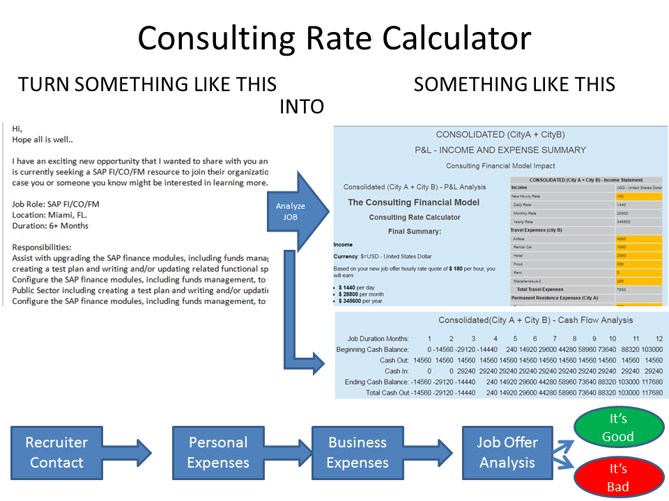 The Cash Flow Statement Can Answer Several Questions Like These
Beginning Cash Balance & Ending Cash Balance
Let's say I am working as any of the following type of consultant:
Strategy Management Consultant

Construction Manager

Computer Consultant

Big Data Consultant

Computer Programmer

System Analyst

Marketing Consultant
Or any other type of consultant or worker. In short, most anybody. If I start with this much cash in my bank account at the beginning of the project start or at the start of each month (Beginning Cash Balance), and if the job is a 6 month project, how much cash will I have in my bank account at the end of 6 months (Ending Cash Balance) or at the end of each month.
Cash Out
Considering all my personal expenses and business expenses to do this job, I can answer the question:


How much cash will go out of my bank account every month.
Cash In

Considering my employment terms and the usual Net 30 days on payment for invoices I submit to my client,
On which month will I start receiving real cash back into my bank account and


How much cash will I be bringing in each month.


Total Cash Out
I have to pay all my expenses out of my own pocket, usually on a credit card and the company may or may not reimburse my expenses. After 2 months of working I will get paid on my first invoice (usual Net 30 terms).

So I had a significant amount of out of pocket cash flow for expenses before I saw that first paycheck arrive, and I can now start asking some hard questions:
So what was my maximum total out of pocket cash I need to have on hand?


Considering how much cash I have in my bank account right now, do I even have enough cash to take this job?


Can I afford to take this job or will I run out of cash before I start getting paid?


I am cash flow negative at the beginning of the project, how many months until I go cash flow positive.


How many months will I be cash flow negative


How many months until I go cash flow positive


At the end of this project how much cash will I put into my bank account


If this project goes longer than 6 months, how much cash will I be able to save in my bank account


Is this 6 month job any better than a different job (McDonalds) for 6 months or will I be worse off?


Is this a Good job or a Bad job offer? Should I take it or walk away?
Got a job offer you want to analyze? Use our Consulting Rate calculator.
Thanks
USER TESTIMONIALS AND USER FEEDBACK
TESTIMONIAL 1: "This is the ideal, best practice employed by leading consultancies. The reality facing our industry today is an emergent culture by smaller firms, steeped in garden variety outsourcing practices. They discount the expenses part of the project cost and offer an All-inclusive rate." by Ted Olaye, Supply Chain Specialist, MBA, CSCP
TESTIMONIAL 2: "The calculator tool was awesome!!! I'm in a slightly different industry from the SAP field, but I filled out the questionnaire and submitted my resume because one never knows where the network leads. Also, it only took a few minutes to share my personal/professional info after using a tool that probably took many hours to create, write instructions & format it for online usage. You should be able to grab the stats of who used it. Seemed fair enough to me.
Again, awesome job!
Rick "
by Richard Easler, Opus BPO
More reading"
10 Advanced SAP BW Project Estimation Techniques [Online Tool]
How to Select a SAP Recruitment Agency
Learn What is Catch Weight Management
14 Remote SAP Consulting Mistakes You Don't Know You're Making
Top 10 Benefits for Financial Analysis in the Latest SAP EP4
Learn What Tools To Use To Investigate IS-Mill Functionality
Leverage SAP BW to Increase Supply Chain Inventory Accuracy
BusinessObjects Explorer Best Practices