& Skips the Sale
or
How You can Still Go Bankrupt Earning $80 Bucks an Hour
PART I: Business Case and Discussion
Consulting Rate Calculator: Use Case #2

(All-inclusive rate) scenario
TESTIMONIAL1: "This is the ideal, best practice employed by leading consultancies."
TESTIMONIAL2: "The rate calculator tool was awesome!!! "
I've consulted and I've recruited. I know what goes on and how both sides work. I know how the consultant makes money and I know how the recruiter makes money and I know how both sides lose money.
This is another real example of how our Consulting Rate Calculator was used in a live LinkedIn discussion to avoid consultant Bankruptcy even at $80 bucks per hour.
Get Job Analysis Results in just 7 seconds.
PART I
Via LinkedIn Discussion
Blanket Job Description sent to List of Potential Candidates by Technical Recruiter Manager
Technical Recruiter Manager
Hi,
We have an Opportunity for Business Objects developer in New Orleans, LA with our Client for a very long term contract position. Please let me know if you are interested and available.
9:50 AM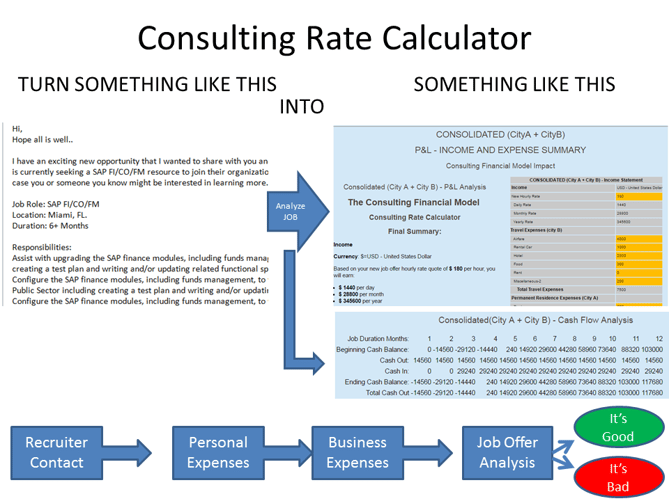 Candidate

Douglas Ayers Information Technology Consultant

Well I am always interested and right now, I am available.

Can you tell me more about the job? Who is the client, what industry is this, are the people friendly, what is the work environment like? Do people like working there, are you sure you can get me an interview or are you just submitting my resume to a blind portal?

9:51 AM

Technical Recruiter Manager

Hi, Well this position now a replacement position and one of our consultant who was hired now his secret clearance is expired so he cannot continue with this job. Therefore we are looking for a consultant with Active Secret clearance and we can definitely get you an interview.

9:58 AM

Candidate

Douglas Ayers Information Technology Consultant

OK I understand.

9:59 AM

Technical Recruiter Manager

May I know the rate you are looking for this position?

10:04 AM

Candidate

Douglas Ayers Information Technology Consultant

ok hold on please.

Thank you for waiting, I found the link. It's on our website under "resources" menu.

https://www.sapbwconsulting.com/blog/how-the-consulting-rate-calculator-works

Please read my blog above and then press the orange button inside the blog to run the rate calculator or just follow this link to run the calculator.

https://www.sapbwconsulting.com/consulting-calculator-job-offer-career-decision-analyzer-q1

It's what I use to answer your "what is you rate" question. My fixed monthly expenses are $1300. I will be traveling from Huntsville Alabama to New Orleans usually 4 times a month. Put all that information into the rate calculator and you will have the minimum expected rate I will be looking for. So some homework involved in your question on "expected rate".

10:07 AM

Technical Recruiter Manager

I don't have any idea about the expense of food and travel so unable to complete all the questions. You can let me know all inclusive rate

10:13 AM

Candidate

Douglas Ayers Information Technology Consultant

I don't see that you even tried to run the calculator. Just guess if you don't know a number. Even 0 works. You will see how it works when the results come.

Sorry I cannot give you an "instant" All-inclusive rate. I need to study the expenses part first. That takes some time. But just so you know

My rent $600 / mo

Mortgage 0,

Persona car say $200

Food $200

Utilities $0

Miscellaneous $300

Total $1300

Tax Rate 15%

You can use these numbers for my Personal living expenses questionnaire when you run the rate calculator. These are fixed and will not be going away regardless of where I work.

For travel your candidates will be coming from all over America or where ever, so their expenses will be different. You will have to figure their travel expenses out. Otherwise, you will not be able to know what is a good rate to offer the candidates.

Candidate

Douglas Ayers Information Technology Consultant

For travel expenses, Orbitz.com will tell you that answer. This is the homework every one of your candidates have to do when you call and ask "what's your rate?"

We don't know. How should we have any idea what a good rate is the moment you call? It takes time to get the answer.

Technical Recruiter Manager

I see the calculator. How is this going to help me? Our client sets the rate. All I have to do is call candidates. Either they want the job or they don't.

10:13 AM

Candidate

Douglas Ayers Information Technology Consultant

Well it's reality. Of course all candidates wants the job. But there are risks for the candidate. Like Bankruptcy.

You need to know if the rate your customer is forcing you to use in your "Client Brief" will even cover the candidate's expenses before you start calling candidates.

If your rate is below the candiate's fixed home cost and additional travel cost, then how will you ever fill that position if you are offering every candidate you call a job they are guaranteed to lose money on.

You will go through 10,000 good, ready, willing and able bodied candidates till you find one living across the street from your customer's office.

Figure out a good rate before you start calling candidates, not hard to do with the rate calculator link I gave you above. Work out a good rate with your customer first that also pays you your good commission and then when you call candidates, you are guaranteed to close the sale on the first call.

Clients are nice to have. But not every client is a good one.

Offer a good profitable rate and the first candidate you call will take this job.

In fact if you have done your homework, you could easily sell me on this job by telling me what the financial situation looks like for me and tell me how much my monthly take home will be, etc. Right now you can't do that. All you can do is ask me what my rate is? But you could if you run my rate calculator.

Do the cost analysis homework first, takes only 7 seconds with the rate calculator to do that, get the financial picture emailed to you, then you can call candidates and close sales all day long. You will be the Million Dollar Recruiter. Skip the homework, skip the sale.

I've consulted and I've recruited. I know what goes on. I know how the consultant makes money and I know how the recruiter makes money.

10:16 AM

Technical Recruiter Manager

The rate we have for this position is $80/hr on C2C or 1099 and this is a very long term contract position

10:17 AM

Candidate

Douglas Ayers Information Technology Consultant

Aren't they all. Well this might be the Grenade rate. Dive on that grenade, and the expenses might blow up on you.

can I have your email address. Tomorrow I will run the rate calculator, do a cost analysis for you and send you the results of my findings. This will take me 4 hours to do. But I will have a rate and I will tell you how your $80/hr looks to your candidates. Keep in mind $80 sounds like a lot of income, but the part you are not looking at is the equally high or even higher expenses on the back side. That is the part you are not thinking about, but your candidates have to think about it because all the initial cash comes out of their pocket first, then after they submit the expense report, 60 days later usually they get that money, maybe. Tomorrow we will see what that picture really looks like and what you are really calling me to day to offer me. Is it good, is it bad, I don't know but I will find out for you.

I can already tell you, $80 is not going to fly for anyone except someone living next door to your customer in New Orleans. Airfare, hotel and rental car and rents are just too high these days for $80 an hour to even come close to covering.

10:19 AM

Technical Recruiter Manager

My email id is …

10:20 AM

Candidate

Douglas Ayers Information Technology Consultant

Thanks for the email.

If you are stuck with $80, then start looking for someone already living in New Orleans, within a 1 hour drive of your client. It will not work for anyone else in America and I don't care who you call. It will not work.

ok thank you.

10:20 AM

Technical Recruiter Manager

It was nice talking to you Douglas and thank you so much for your time and help. Will be waiting for your response tomorrow.

10:21 AM

Candidate

Douglas Ayers Information Technology Consultant

OK will send you the results tomorrow.


10:21 AM