Did you know SAP BW forms an integral part of an RF-ID (Radio Frequency Identification) equipped Supply Chain Event Management closed loop system?
The Retail environment, due largely to the ever cheaper availability of RF-ID tags and their increased capability, is generating massive amounts of highly valuable information.
Used properly, this information can:


Reduce Inventory
Prevent Retail Losses
Reduce Out-of-Stock situations
Help in locating stocks anywhere in the Supply Chain
Provide Item Level demand information.
Prevent theft
To do this, apart from the hardware infrastructure, you need a highly evolved Business Intelligence System that is integrated into your back-end ERP system.
Multi-Layered Defense Against Retail Theft
Before we dive into how SAP BW and RF-ID tags can help prevent retail losses, let's first discuss some of the current challenges with preventing retail shoplifting and other types of brick and mortar in-store losses.
Retail Asset Protection
Retail loss prevention (also known as retail asset protection) is a set of practices employed by retail companies to preserve profit. Profit preservation is any business activity specifically designed to reduce preventable losses.
Start With Employee Education
In order to create a successful retail asset protection program, educating retail employees is a must. Employee theft or other mistakes account for more than 50% of retail shrink, making it necessary to implement tight inventory control methods and processes. By educating employees on the proper use of POS equipment, retailers can reduce shrink and improve inventory management, ultimately leading to a more profitable business. For example, ensuring that employees understand how to properly balance the cash register at the end of each shift can reduce the likelihood of cash discrepancies and internal theft.
Reduce Administrative Errors
Identifying and eliminating administrative errors is crucial in the retail environment, where they account for only 3% of all losses. To accomplish this, retailers need a multi-layered defense against retail theft, starting with educating employees on proper inventory management and POS equipment use. Tight inventory control methods, such as those enabled by SAP IS-Retail Inventory Control functionality, can also help reduce retail shrink due to employee theft or other mistakes. Additionally, store layout design and physical security measures, such as surveillance cameras and contracted security services, can deter theft. SAP BW, when integrated with an RF-ID equipped supply chain event management closed-loop system, can provide valuable information to reduce inventory, prevent retail losses, and provide item-level demand information. A highly evolved business intelligence system, integrated into the back-end ERP system, is crucial to successfully exploiting this data and alerting retail management decision makers.
Integrated Loss Prevention Strategies
Integrated Loss Prevention Strategies are crucial in the retail industry to preserve profit and reduce preventable losses. Loss prevention efforts require both human elements and technical elements to ensure the safety of both employees and customers. Loss prevention teams should start with educating employees on proper inventory management and POS equipment use, as employee theft or other mistakes account for more than 50% of retail shrink.
Security and Prevention Measures
In the next section, we will dive deeper into the challenges of retail shrink and common solutions retail stores can use to avoid them.
Security Cameras
Surveillance cameras seem to be everywhere, and are both ever more cheaper but more capable. They often incorporate facial recognition software, and Artificial Intelligence that recognizes 'suspicious behavior'. The challenge is obeying privacy laws, manning the cameras and not offending shoppers with an Orwellian environment.
Avoiding Retail Shrink
The National Retail Federation's 2018 National Retail Security Survey revealed more than 50% of retail shrink (on-hand inventory versus recorded inventory level) is actually due to employee theft or other mistakes (paperwork or billing errors of mispriced items) and not external theft. This is where tight inventory control methods and processes, typically enabled by SAP IS-Retail Inventory Control functionality, can help.
Store Layout Design
You can deter theft by proper product positioning, display layouts, and even store floorplans can be strategically designed to deter theft. Keep displays uncluttered and below eye level, making it easy for your staff to notice if items go missing. Some additional store layout and organization tips you can implement include:
Creating displays and shelving to encourage customers to flow through your storefront in a specific way.

Making them easier to watch.

Placing high-value merchandise in a highly visible, secure area, like behind registers or in clear glass cases, to deter shoplifters.
Physical Security
Many retailers employ physical security services providers. While some hire their own, many find it convenient to contract with security services agencies, as this simplifies the entire process, plus comes the added benefit of professional training and insurance.
Point of Sale (POS) Security
One of the most critical aspects of effective in-store security is the selection the right POS equipment and it's proper placement and integration with your SAP IS-Retail environment. Remember, a POS is not just a cash register. They play a key role in effective inventory management, as they record transactions throughout the day, which, in-turn, updates inventory balances, and ultimately, drives replenishment planning efforts. That's why having proper access control procedures set up with your employees and training in the cash-in - cash-out balance process is absolutely critical.
SAP BW comes with out-of-the-box data extractors to help you successfully extract the extremely high volumes of data that an RF-ID tag rich retail environment generates. However, the secret to successfully exploiting this data lies in delivering this information to Retail Management decision makers in the form of interactive dashboards.
Good design principles and a structured development methodology are the keys to delivering Executive Retail Dashboards that not only help you fully exploit these data streams, but alert you to other areas of concern within your Supply Chain.
For instance, if you are a demand manager whose company uses the SAP Retail Solution, you will be highly interested in having an alert, in real time, of your MRP projected stock outages. Given that MRP strategies are rarely touched after implementation, you will need a SAP BW Consulting team that has expertise not only in the Retail Industry, but in design methodologies for dashboards and deep knowledge of SAP's Logistics Information System (LIS), MRP and the possible strategies to be adjusted. These systems are very unique when operated within SAP Retail Solutions landscapes.
The infrastructure for a RF-ID environment looks like this: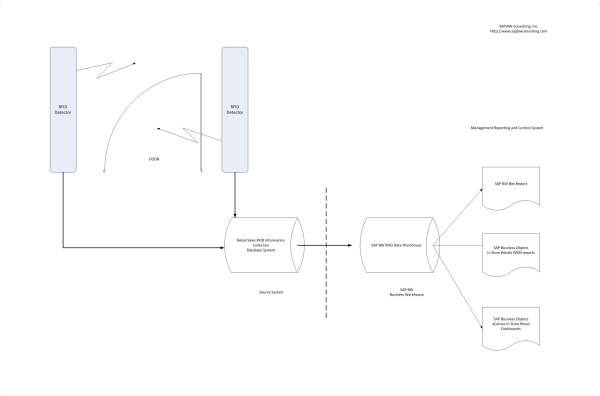 SAP BW For Retail Environments Requires Experienced SAP BW Consultants.
The retail environment is highly complex, dynamic and ever changing. The SAP CAR, or Customer Activity Repository, when integrated with the Point of Sale System (POS), can go a long ways toward providing near real time inventory visibility. This is just one of the specialised knowledge areas our team SAP IS-Retail specialist can provide consulting on. Just click the button to get started.
Tell Us How You Are Using BW with RFID Below?
People who read this also read:
Build a SEM BPS Retail Industry Value Case
Why 10,000 Retailers Using SAP Need Inbound Marketing Now
6 Secrets Of Integrating Inbound Marketing with Retail Strategy
Learn Why We Use Inbound Marketing
Discover How To Integrate Inbound Marketing With Your Retail Strategy