Did you know SAP BW forms an integral part of an RF-ID equipped Supply Chain Event Management closed loop system?
The Retail environment, due largely to the ever cheaper availability of RF-ID tags and their increased capability, is generating massive amounts of highly valuable information.
Used properly, this information can:


Reduce Inventory
Prevent Retail Losses
Reduce Out-of-Stock situations
Help in locating stocks anywhere in the Supply Chain
Provide Item Level demand information.
Prevent theft
To do this, apart from the hardware infrastructure, you need a highly evolved Business Intelligence system that is integrated into your back-end ERP system.
SAP BW comes with out-of-the-box data extractors to help you successfully extract the extremely high volumes of data that an RF-ID tag rich retail environment generates. However, the secret to successfully exploiting this data lies in delivering this information to Retail Management decision makers in the form of interactive dashboards.
Good design principles and a structured development methodology are the keys to delivering Executive Retail Dashboards that not only help you fully exploit these data streams, but alert you to other areas of concern within your Supply Chain.
For instance, if you are a demand manager whose company uses the SAP Retail Solution, you will be highly interested in having an alert, in real time, of your MRP projected stock outages. Given that MRP strategies are rarely touched after implementation, you will need a SAP BW Consulting team that has expertise not only in the Retail Industry, but in design methodologies for dashboards and deep knowledge of SAP's Logistics Information System (LIS), MRP and the possible strategies to be adjusted. These systems are very unique when operated within SAP Retail Solutions landscapes.
The infrastructure for a RF-ID environment looks like this: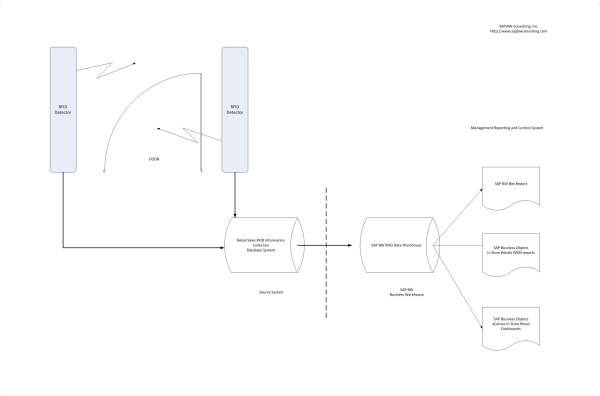 SAP BW For Retail Environments Requires Experienced SAP BW Consultants.
The retail environment is highly complex, dynamic and ever changing. The SAP CAR, or Customer Activity Repository, when integrated with the Point of Sale System (POS), can go a long ways toward providing near real time inventory visibility. This is just one of the specialised knowledge areas our team SAP IS-Retail specialist can provide consulting on. Just click the button to get started.
Tell Us How You Are Using BW with RFID Below?
People who read this also read:
Build a SEM BPS Retail Industry Value Case
Why 10,000 Retailers Using SAP Need Inbound Marketing Now
6 Secrets Of Integrating Inbound Marketing with Retail Strategy
Learn Why We Use Inbound Marketing
Discover How To Integrate Inbound Marketing With Your Retail Strategy
Thanks