SAP Module Mindmap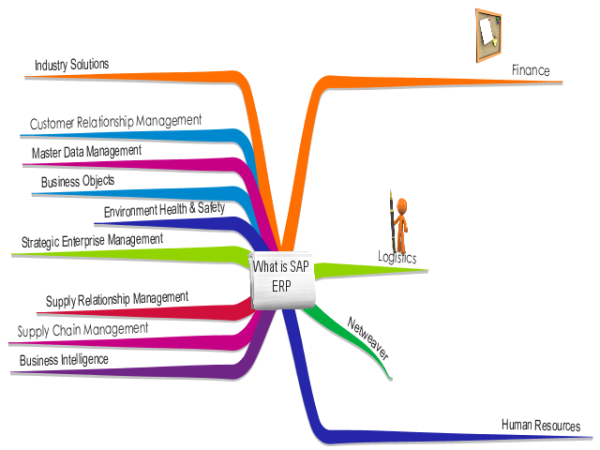 I frequently get a very interesting question from some of the most senior level executives in the industry when manning the "booth":
What exactly is SAP?
Sometimes They Need to Know What Are SAP Modules
Sometimes they may even have SAP installed and not really know "what's in the box".
Whose fault is this?
As a Senior SAP Project Manager, I have to say it is our fault, the SAP consultants, for not simplifying and clarifying what SAP is. We will dive into what it does in another series of blogs later on.
To make understanding SAP Modules simple, I have created a mind-map of the SAP system, which is based on the SAP architecture documentation, and a great deal of general system knowledge gained over the years.
Does Not Include SAP Partner Offerings
This is not a complete picture of the offering either, as I have left out the SAP partner offerings, which are another universe in and unto themselves.
Doing a quick walk-through, starting with finance and proceeding clockwise (sorry for those who only know digital watches:). The SAP Enterprise Resource Management (ERP) System consist of a series of fully integrated SAP modules, which, for example, immediately reflect the impact of a purchase order on a company's financial status.


As you can see, there is a lot to know to really understand all the different SAP modules available.
People ask us all the time, "which sap module is the best sap module" or what is the "most widely used sap module" or "which sap module is in demand in the USA"?

That depends on you and your background.
The real question is not "which is the most popular sap module" in the marketplace but rather how does your background fit with "which module is the best fit" for you personally.
Which ever module you choose because all sap modules are massive in scope and capabilities, you will spend the next 5 years studying just to become barely or marginally functional in that module.
Since SAP ERP is a fully integrated system, the frequency of one module is equal to any other module, which module is the most popular can not be answered because that depends on you and your background.
If you have an engineering degree with no courses in accounting and you are trying to shoehorn yourself into the finance module because you heard that module pays the most money then that may not be a best fit for you.
Whatever module you decide to specialize in, once you get into the market, you'll want to be able to answer the question "What's Your Rate".
Our new Consulting Calculator helps you compute the salaries behind SAP Consulting Jobs. This is useful for:
SAP Recruiters

Career Changers.
You start by understanding the basics of SAP. We will address some of the specific business processes supported in another blog (or 10).
If you want a simple way to understand SAP R/3, then you can download the mindmap we've built just for you.
People who read this article also read:
How You Can Estimate a SAP BW Project in Under 5 minutes
How to Shape an IT Strategic Plan
Execute Your SAP Projects Better, Cheaper, Faster
SAP BW Tutorial Best Practice on Project Charter
SAP BusinessObjects BI 4 Advanced Analysis Demo
Understanding the most common SAP Data Warehousing Concepts
Can SAP BW Uncover Free Money?
How to use a Project Charter to Start a Project
Understanding SAP Consulting Rates