Every marketer is constantly consuming information about their prospects and customers.
Unfortunately, prospects and customers like to play Hide-n-Go seek with their personal information.
That is what makes effective marketing so challenging.
How does the
SAP CRM System
leverage the capabilities of
SAP BW
customer segmentation analysis to
slice and dice
prospect data for effective segmentation of their business partners (which is what SAP calls most everybody that has anything to do with your business:)?
SAP BW is where customer mailing list are stored.


SAP CRM consumes sub-sets of information from these lists.


Transaction Code rstg_bupa is the transaction you can actually use in SAP BW to bring up the selection screen to start your lead segmentation as part your customer segmentation project.


Using this T-Code, you then select the Attributes you want to include as part of your customer segmentation analysis.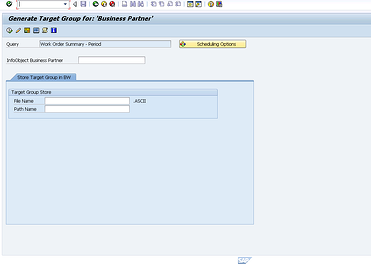 If you want to truly leverage the power of SAP and amp up your marketing, then you will want to execute the closed loop marketing scenario of SAP CRM-BW-SEM (Strategic Enterprise Management) + Project Management, and couple it with an external marketing and promotions service provider, such as hubspot, which is a true multi-channel, write-once, use everywhere, marketing platform.
Why would I recommend the inclusion of an external service provider in the closed-loop scenario?
Focus.
SAP BW can and will help you to acquire and maintain B2B customer segmentation schemes.

If you are familiar with inbound marketing concepts, and the need to produce useful content to attract leads, while leveraging the advanced capabilities of SAP to both plan against a budget and provide highly granular plan vs actual analytics, you will understand that SAP needs to be supported by a creative content management platform to truly be able to leverage the PDCA (Plan, Do, Check, Act) cycle.
Want to know more? Want us to do Inbound Marketing for you using SAP CRM and Hubspot in a powerful, analytics driven customer segmentation research process. Just click the button.
People Who Read This Also Read:
12 SAP CRM Content Management System Requirements
3 Marketing Routes to Reach Your CRM Goals
3 Ways to Implement CRM Marketing
7 Warning Signs Your CRM Customer Service Processes Are Broken
11 Ways to Use Hubspot CRM as a Salesforce Multiplier
Get The Beginners Guide to CRM
10 Hubspot CRM Inbound Sales Best Practices
Hubspot Inbound Sales CRM Implementation Services
Understand SAP CRM Based Marketing and SAP BW
Comments are always Welcome!
Thanks