Salesforce Consultant Services
Our Salesforce Consulting Service offers a wide range of Salesforce-related services and solutions. We offer Salesforce CRM implementation, customization, integration, project management, and migration services to help you optimize your Salesforce instance and maximize the success of your company. Our Salesforce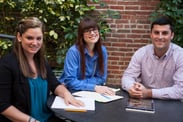 Certified Consultants are highly experienced and certified in their field, allowing them to provide comprehensive and knowledgeable advice on how best to leverage Salesforce for maximum business benefit. They are experts at gathering requirements, aware of new features of Salesforce and coming up with a feasible solution design. In short, the job description of a Salesforce Consultant is extensive, and only the best of the best can deliver high performance solutions.
Services Tailored to Your Needs
We specialize in providing businesses with cost-effective digital transformation solutions that improve efficiency, reduce costs, increase revenue opportunities, streamline processes and deliver innovative solutions tailored to each customer's specific needs. Our team works closely with clients to ensure all projects are completed successfully while meeting budget requirements. Our Salesforce Consulting Service focus on:
Managing the Client Relationship
Creating and Manage Project Plans
Mapping out Business Processes
Supporting People Through Change
Gathering Functional Requirements Gathering
Managing a Team of Technical Staff
Proposing Technical Requirements.
Technical Product Configuration
User Testing and Training
Long Term Partnership
As a Salesforce Consulting Service Provider, we are dedicated to developing and delivering Salesforce solutions that meet the specific needs of our customers. We strive to develop long-term partnerships with our clients, providing them with the best Salesforce experts who can offer timely advice and support. Our Salesforce Consultants have the right combination of soft skills and business acumen to help customers uncover their requirements, and then to design and implement a solution that meets their needs.
How Is IT Consulting Distinct From SAP BW Consulting?
Industry Expertise
Our Salesforce consultants have extensive experience in implementing Salesforce for many different industries including finance, healthcare, retail, education, marketing and more. With a commitment to staying up-to-date on the latest Salesforce technology advancements, our team members are equipped with the most advanced tools and techniques available to provide customized Salesforce solutions.
Salesforce Consulting Best Practices
A Salesforce Consultant relies heavily on knowledge of Salesforce Implementation Best Practices to deliver systems rapidly, at the lowest possible cost while achieving the best possible ROI. Part of our Salesforce Consultant's toolkit is the ability to provide coaching and mentoring to client's internal team on Salesforce's Best Practices.
Great Communications Skills are Key
A great Salesforce consultant listens, intending to pick up verbal and non-verbal messages. They ask questions for clarity and provide feedback to prove they have heard and understood what their client said. An active listener can hear what's not being said by listening between the lines, such as a shift in tone or body language. Picking up what the client doesn't say is an advanced communication skill that helps make a difference in complex problem-solving.
Designed to Get You Out of Your Comfort Zone
A great Salesforce Consultant will not only be a great communicator, Salesforce Software Expert and Business Expert. They demonstrate their value when they come up with solutions that take you out of your comfort zone. That means they don't just model your existing process, they are able and willing to provide alternative solutions that you may never have thought of. For example, perhaps you've never thought about selling your service on a subscription basis, because your systems couldn't support it. This is now very possible, by combing Zuora (a subscription management system) with Salesforce and Quickbooks.
Salesforce Implementations Delivered On-Time and On-Budget
We understand that every business is unique and no two Salesforce implementations are exactly alike. That's why we take an individualized approach to each project ensuring that it is tailored to the specific needs of each customer. Our Salesforce Consultants are highly knowledgeable and experienced in Salesforce implementation and integration, helping customers maximize the success of their Salesforce instance.
Structured Business Analysis
Our Salesforce Consultant's understand the Salesforce platform and have advanced business analysis, project management and change management skills to guide people and organisations through a process to identify and solve critical business problems. We take a highly structured business process analysis approach when gathering business requirements, identifying pain points, possible solutions and required developments. A senior Salesforce Consultant will also help develop advanced business requirements, producing Salesforce Business Process Specifications, process flows, application design documents, and required system configuration settings, along with testing and deployment plans. All of our Salesforce CRM consultants have extensive software analysis, design, coding and testing experience.
Salesforce Consulting Service Provider
If you're looking for a Salesforce Consulting Service Provider you can trust, look no further than our team. We offer comprehensive solutions designed to help businesses overcome their Salesforce-related challenges while making sure they remain within budget and scope. Contact us today to learn more about how we can help you optimize your Salesforce instance for maximum business benefit.
Manage the Salesforce Platform
Our Salesforce Consulting Service offers a wide range of Salesforce-related services and solutions. From Salesforce implementation, customization, integration, and migration services to Salesforce applications such as Sales Cloud and Service Cloud. Our team can help you leverage the Salesforce platform to streamline processes and increase efficiency while remaining within budget.
Salesforce Developer Toolkit
Our Salesforce CRM Consultants have extensive experience with the Salesforce developer toolkit including Lightning Component, Wave Analytics, Apex Classes, Controllers and Triggers, Visualforce, Force.com IDE, Migration Tool, Web Services. They also have experience with integration with integration, via the charting API, with Google, D3, and Flot.
Salesforce Integration Services
Many companies find that integrating third party applications with Salesforce is key to developing an effective Salesforce instance that meets their objectives. Our consultants have experience in delivering the top 10 integrations used in medium sized Salesforce implementations. This includes popular solutions such as Tango Card for Loyalty Management, Conga Composer for document generation, Zuora for Subscription Management, Marketo for marketing automation and more. With the help of our Salesforce experts, you can create a Salesforce instance that perfectly meets your business needs and goals. Contact us today to learn more about how we can help you maximize the success of Salesforce for your organization.
Salesforce Data Migration Services
Our Salesforce Consultant have extensive experience with configuration, customization and development using the Force.com platform. They also are experts at Data Integration using Data migration Tools such as Data Loader, Excel connector, Jitterbi
Technical Languages and Capabilities
Aura JS, JSTree, Apex, Visualforce, Lightning, jQuery, Angular, SCXML, .Net Clicky(Web-Analytics Tool)
Salesforce Community
Salesforce users are part of a larger salesforce ecosystem and community of very active users. Our team regularly contributes to this community and we also work with customers as well to help them learn from this community