Leverage the SAP ASAP Methodology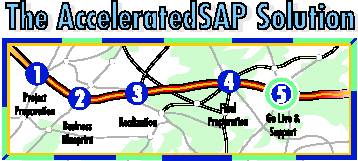 The ASAP Roadmap
What is the quickest, lowest risk way to implement SAP? Use the SAP ASAP Methodology. Want to know a secret? To succeed with it, you need highly skilled SAP Project Managers and SAP Consultants as well as highly skilled internal staff members to succeed with it. In other words, you have to know how to 'interpolate' the methodology and combine it with leadership. We can help by:
Providing you insight from our dozens of project experiences
Giving you our 'Lessons Learned' broken out by SAP ASAP phase
Using SAP Value Engineering, help you identify the potential business value and develop an implement plan and approach that achieves the highest project ROI in the shortest amount of time.
Want some help getting started with the Project? Just complete the form on the left for help with the Project Preparation phase.