Mobile Apps
Research shows more than 5 billion people have mobile phones (fewer than 2 billion have credit cards) worldwide. Native mobile phone applications are transforming the way businesses acquire new customers, service their clients and manage their operations. The new generation of iPhone, Android and Windows Phone 7 mobile devices offer an unmatched level of flexibility and ease-of-use. Irrespective of the size of your company or which industry you operate in, you can enhance your market presence and grow your top line with a custom developed mobile app from SAP BW Consulting, Inc.
Tell us which platform are you thinking about. If you are not sure, select Android and we will help you determine the Mobile Application Platform that is right for your business. Normally, the iPhone is more consumer centric, the Android phones are offered on more Open OS platforms, and the Windows Phone 7 platform is targeted to the Office user.
Android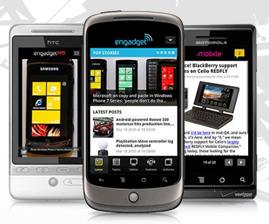 Research shows that the Android OS has market share of more than 33.0%. The Android platform is used by most smartphone manufacturers and is the fastest growing Mobile App Market segment. If you are looking for apps that can run on multiple platforms, whether consumers apps, or internal apps, the Android is a good choice.