Right Market Message for Every Season
Right before our very eyes you can see the shift of every marketer's message as the seasons change.
Different Marketing Campaigns With Different Goals
One day, the search engines and social media channels, like Facebook and Instagram, are trying to persuade us to go overboard with the splurges of gift giving for the holidays, and the next day we are encouraged to save our money and not spend so much for the New Year. As I review my credit card bills, I ask myself "How in the world did I end up spending so much?" However, I do know the answer to this rhetorical question.
"Always bear in mind that your own resolution to succeed is more important than any one thing."
- Abraham Lincoln (American 16th US President (1861-65) )
The inundation of advertisement through various advertising platforms has made it easier for the marketer to get their message across and the consumer, like myself, to adhere to these messages.
Search Engines are Getting Smarter Every Day
Each search engine, be they from Google or Microsoft (Bing), are continuously evolving. The bad thing about this is that they are able to show each person ever more effective PPC ads. The good thing about it, is that each person is seeing more of exactly what they may be looking for, and this makes marketers happy.
Supercharged Digital Marketing
This is why a Cross-Platform digital marketing strategy is a must for both small businesses and large enterprises. As business leaders, you face an array of challenges every day. How can you put marketing at the forefront of other responsibilities, let alone make time to manage multiple digital platforms simultaneously?

Inbound Marketers Use Many Social Media Platforms
Multi-platform marketing through social media, mobile devices, and traditional media, not only works, but has also become a necessity in the success of any business. However, it is important to know how to correctly promote your message and through the appropriate marketing platform to reach your target audience.
Resolve to Build Brand Trust
As we are freshly into the New Year, every business should make their resolutions when promoting their brands through multi-platforms.
Three Key Marketing Resolutions
Here are three important resolutions that a business should consider within their marketing efforts for 2023:
Resolution 1: Stick to marketing platforms that work for you.

There are many cross platform marketing channels available for a business, and sometimes it is difficult to choose among the different platforms to achieve the right marketing mix.
Cross Platform Marketing Strategy

A set of multi-platform marketing platforms may work for one business but may not work for another when it comes to creating cross platform campaigns. It is important to find the right venues that are most effective for your time and money allocated for any individual cross platform campaign, and not because it is easy and popular at the moment.


Resolution 2: Keep your message and brand consistent through every platform.

It is crucial that your message remains constant in order to build brand recognition, and not to confuse the target market of what is being offered to them.
Be On-Brand Everywhere, All the Time
Always promote your website and keep your offer clear and concise. Conversion rates can be dramatically affected if you are unclear and inconsistent with your offer. Never underestimate the power of a strong brand presence.


Resolution 3: Experiment with new platform venues.

As you determine what marketing platforms work and do not work for your marketing efforts, do not be deterred from experimenting with new marketing platforms that may arise.
Potential Customers Are Everywhere
Exploring your options can potentially lead you to a whole new set of viewers as well as expand the creativity of promoting your message and brand.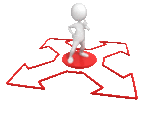 Whether you promote your business through social media using social marketing, via mobile apps, or traditional print, keeping these three resolutions in mind will help your multi-platform marketing goals remain intact as you move forward through the New Year.
The Benefits of Using Multi-Platform Marketing
Through our own experiences delving through multi-platform marketing as a consulting firm, we have discovered the many benefits when of implementing these marketing efforts correctly.
Get the 10 Step Guide to Cross-Channel Marketing Success
For more information on how to plan and execute a highly effective Cross-Channel Marketing strategy in a cross platform environment, download our 10 Step Guide to Cross-Channel Marketing Success.