What is a Multi Channel System?
Why would you want to use one?
How would you best use a multi platform marketing system?

In the past, we have often been asked what is the purpose of using multiple digital channels in a marketing campaign. Our answer is always the same - increased ROI (Return on Investment). More eyeballs means more opportunities for lead generation and ultimately, more chances to generate new sales.
As analytical guru's, we, of course, want the numbers to guide us. By using a system such as SAP BW, we can measure more effectively the lead generation to closed sales funnel.
Our experience in the automotive industry shows us that multi channel campaigns are far more effective than single channel campaigns. How much more effective; we often see an increase of Participation in multi channel campaigns of 20% compared to single channel campaigns:
The typical engagement rates are usually distributed in the following percentages:
| | |
| --- | --- |
| Website | 80% |
| SMS | 9% |
| Mobile Web with a QR Code | 9% |
| Facebook | 2% |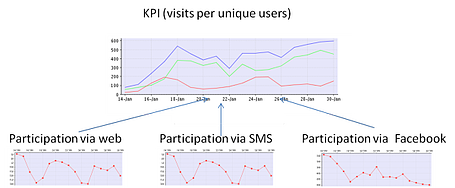 Multi-Channel Marketing KPI Tree
A typical CRM system, by itself, will not result in sales success. Instead, it must be coupled with an effective marketing methodology, coupled tightly with a closed loop analytical system.
How do you do that:
Understand your channels


Define how you want to gather information


Use consistent indicators across all marketing channels


Consolidate the measurements to create one global indicator


Have one measurement of success for each channel
How do these measurements tie back into having a proper marketing methodology? Simple, they all need to be oriented toward generating leads, specifically, high quality leads. By making sure your definition of a lead, the actual information gathered across all channels and your measurement of your leads are consistent across all channels, you have taken the first step toward building a high-performance lead generation machine.
To help you understand this lead generation process better, we have created a 9 step checklist to guide you through the entire multi channel inbound marketing lead generation process.