What is the Google Ads Keyword Planner Tool
A In-Depth Google Keyword Planner App Tutorial
The Free Google Keyword Planner tool (previously called the Google adwords keyword planner) is a new Search Engine keyword research tool you can use as a keyword discovery tool to create a keyword list and to find keyword search volume and other related performance data for search terms to use on the Google Search Network and to a lesser degree, on the Display Network. You can then use this handy keyword search term tool to synthesize all of this information into a keyword plan using Google's own data.
What is the Google Adword Keyword Tool Used For?
It's great for finding seed keywords. It is one of the Google adword keyword planner tools you're going to want to learn about if you hope to set and stay within a set advertising budget.
It also can serve as Google adsense keyword planner. Using it, you can find the most searched keywords on google and ensure your landing page(s) are properly SEO optimized for the keywords you are most likely to trigger an adwords ad with.
The Google adsense keyword tool can also let you see what the likely CPCs are going to be on targeted keywords.
Use it as Adwords Audit Tool
Because you can use it to read your site or an individual page, it also provides a handy capability to perform an ads account audit. This allows you to see which words that Google thinks are relevant to your site are already in your Google Keyword Plan.
Accessing the Google Keyword Analysis Tool
One way you can access the Google search term tool is from within your Google Adwords Account (you can set up a Google Accounts for Free, though they do want credit card information if you plan on running a campaign) under the tools menu as shown below. This is your easy google keyword planner login. Once you click on the little wrench icon, a mega-menu displays and the Google Key Word Planner access menu appears on the far left side as shown.

Once you click the Keyword Planner menu item, you will then be taken to this screen: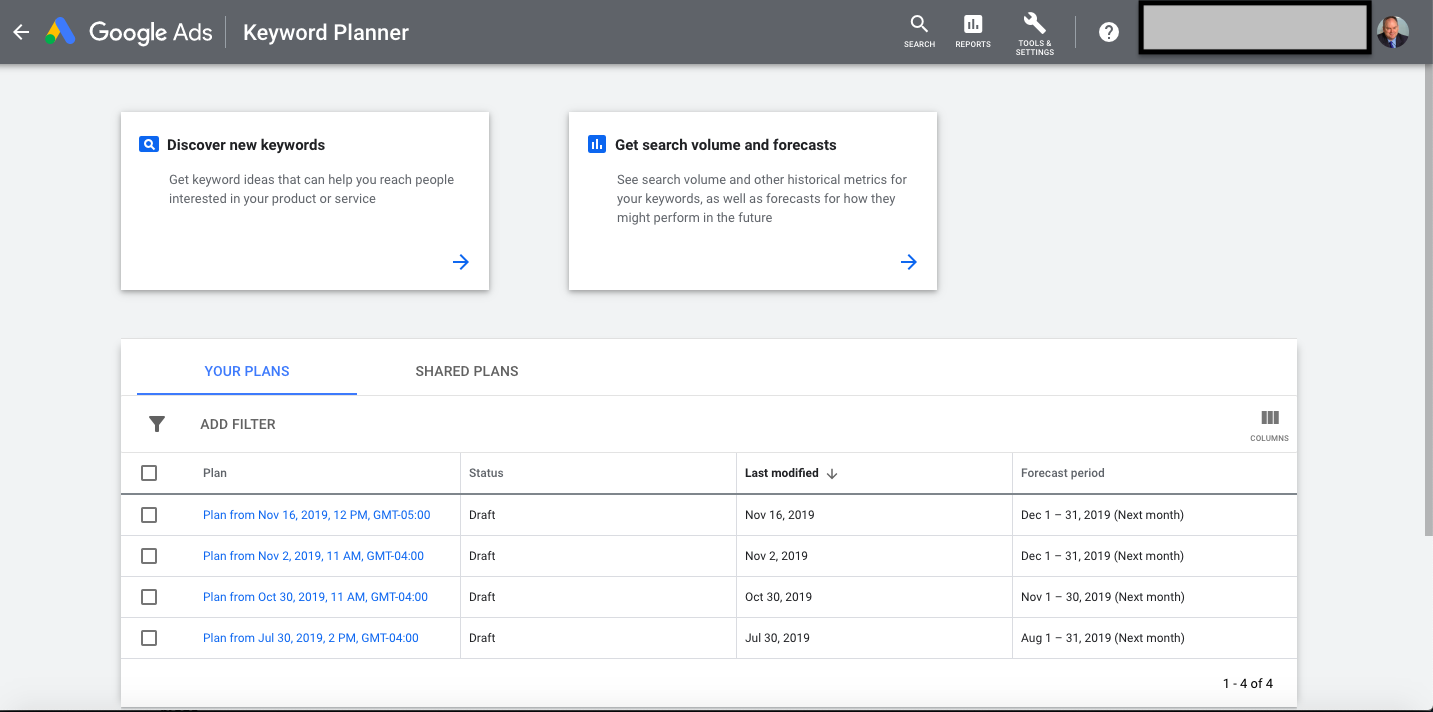 Most of the time, if you are using the Google Keyword Planner tool for the first time to develop your keyword list for search campaigns, you will click where the keyword tool says Discover new keywords. When you do that, you will be taken to this screen: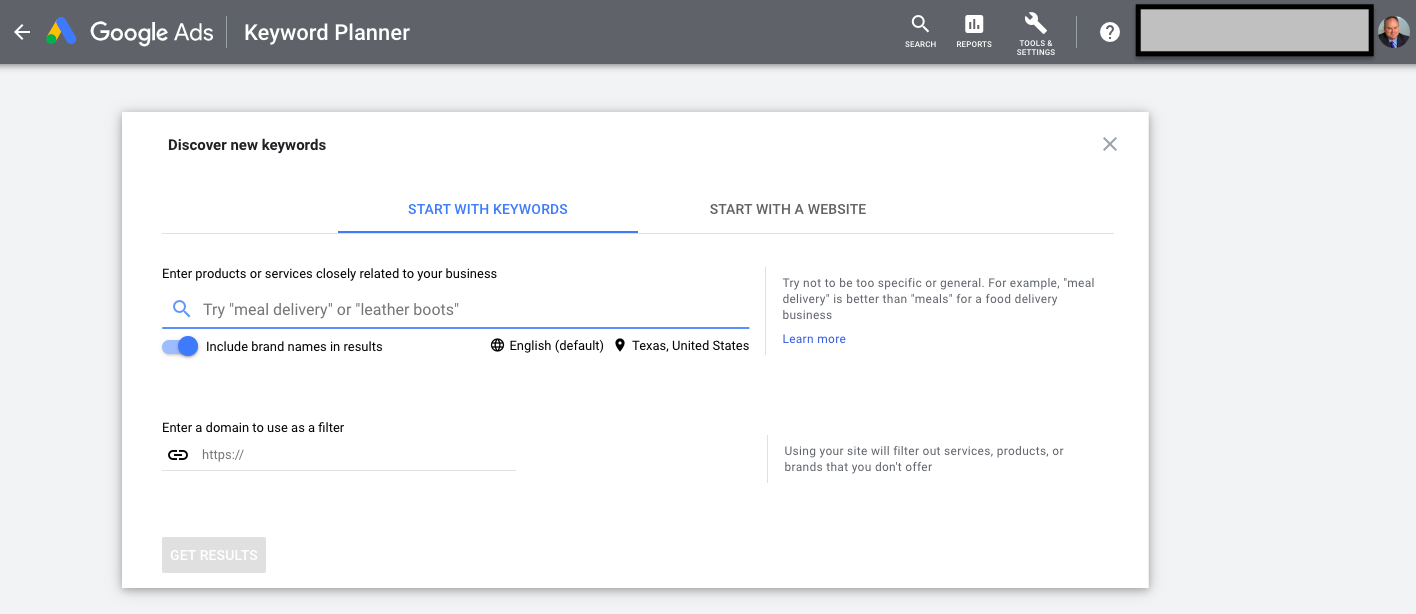 How to Use Google Keyword Planner for SEO
If you have absolutely no idea which keywords you want to study, then you may want to take a look at another similar website. In which case, you should click where it says "Start with a Website":

Google Keyword Scan
When you select the 'Start with a Website', you click the button and it will conduct a keyword scan of the target site and come back with words it 'thinks' the site is about. In other words, it's a Google adwords keyword finder tool.
Regardless of which of these two screens you use, you will end up on a Google Keyword Planner page that looks something like this one:
This is a great place to see whether your page has any keywords of interest to Google, and thus whether your page will receive a low or high quality score.
Google Keyword Estimator and Search Volume
There's a lot going on here. You see a search volume broken down both by month and by mobile device. You are also offered up other keyword ideas above the chart. Below the chart, you can get detailed search volume break-downs as shown: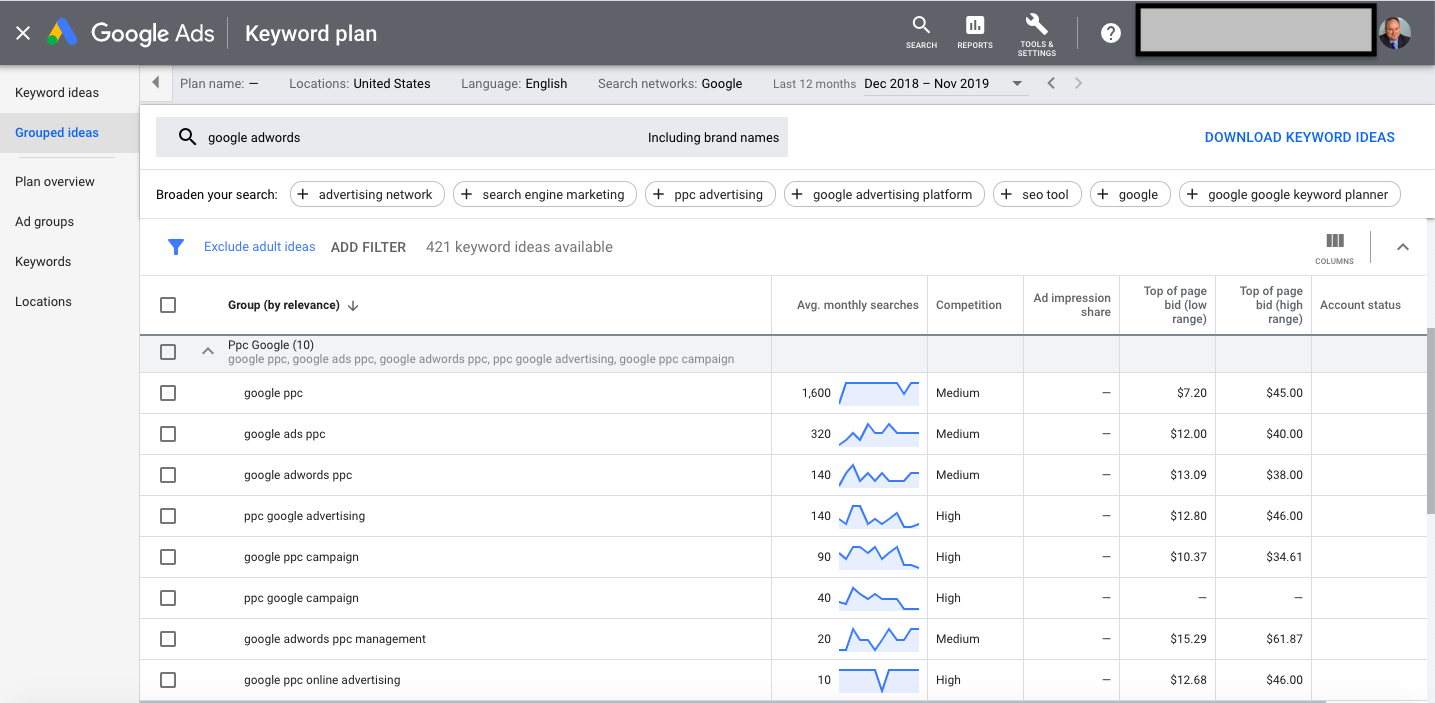 Adwords Keyword Grouping Tool
The first thing you will notice is that the google ads keyword generator system has grouped your keywords by relevance, and this is a key element to successful and profitable keyword planning. I've expanded out the keyword groups first so that you can see data for each individual keyword within the group. Though you can modify the displayed columns to include other data, we're going to stick to the ones shown for now:

Average Monthly Searches
Competition
Ad Impression Share
Top of Page Bid (Low Range)
Top of Page Bid (High Range)
Account Status
Google Adwords Keyword Tracker Account Status
One of the first things you might notice (if you're working on an establish Google Ads account) is the Account Status Column. If you notice a little flag that says 'In Account', it means the keyword is already in your Google Ads Account, however, it may or may not be assigned to a campaign. If you want to add a keyword to your account, you can do it in this column by clicking.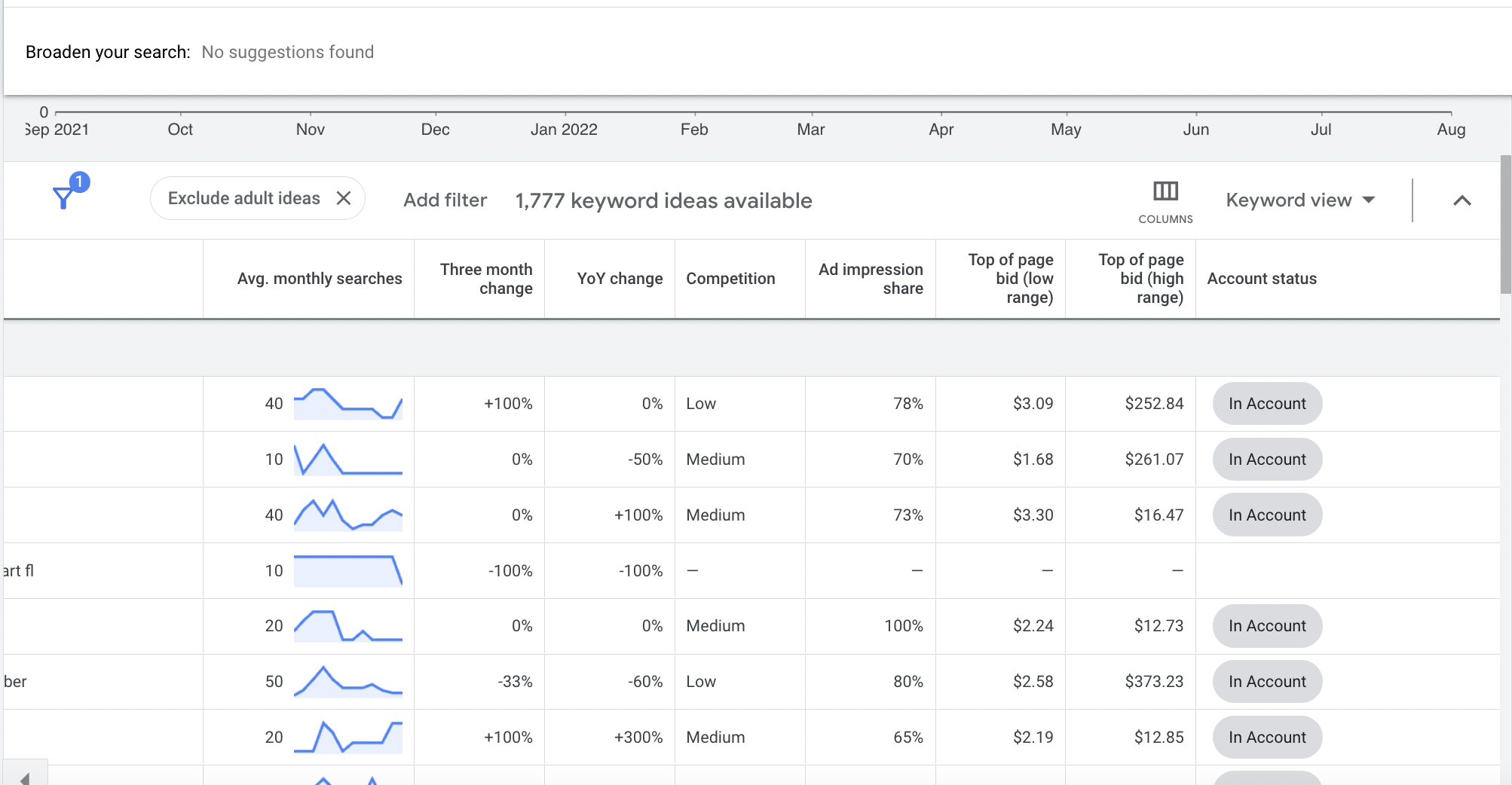 Thinking About Your Adwords Campaign Using This Data
Using the data shown, you can begin to make some decisions about both which keywords you want to target using the adword keyword planner and how much you can expect to spend to get the click on any one of them. One of the toughest choices you will need to make is about competition.
What Does the Keyword Planner Competition Number Mean?
"Competition" shows how competitive ad placement is for a keyword, specific to the location and Search Network targeting options that you've selected. The level of competition—low, medium, or high— is determined by the number of advertisers bidding on each keyword relative to all keywords across Google. If they don't have enough data, you'll see a dash (-).
Deciding on Competition Based Bid Strategy
Higher competition is more expensive to bid on, while lower competition is cheaper. But it may well be that the higher competition keywords are the ones you need to target.
This is How You Use Adwords To Find Keywords for SEO
These keyword results are also a good place to work on your website's information architecture. That's a fancy way of saying figuring out what each page should be about on your website. It takes considerable time (think weeks) to do this using the keyword research tool, develop website pages that take advantage of this information and to set up ad-groups and write effective ads that target each keyword. But if you want to achieve profitable Google PPC Advertising results, it's work that has to be done by highly skilled people who can tie the information together from all the various information sources.
How To Leverage Your Competition
But what if I had wanted to use the search by website functionality? In the next screen, I decided to take a look at healthcare.gov, which is the government's website for the Affordable Care Act or Obamacare. You can learn a lot from this one just by glancing at it.
First off, there is clear seasonality in the search volume data. You can see large spikes during the government's Open Enrollment period, yet there is significant search volume during the rest of the year. However, the overall search volume isn't really that high. But notice I focused the results down to Texas. You do this by using the locations button on the left.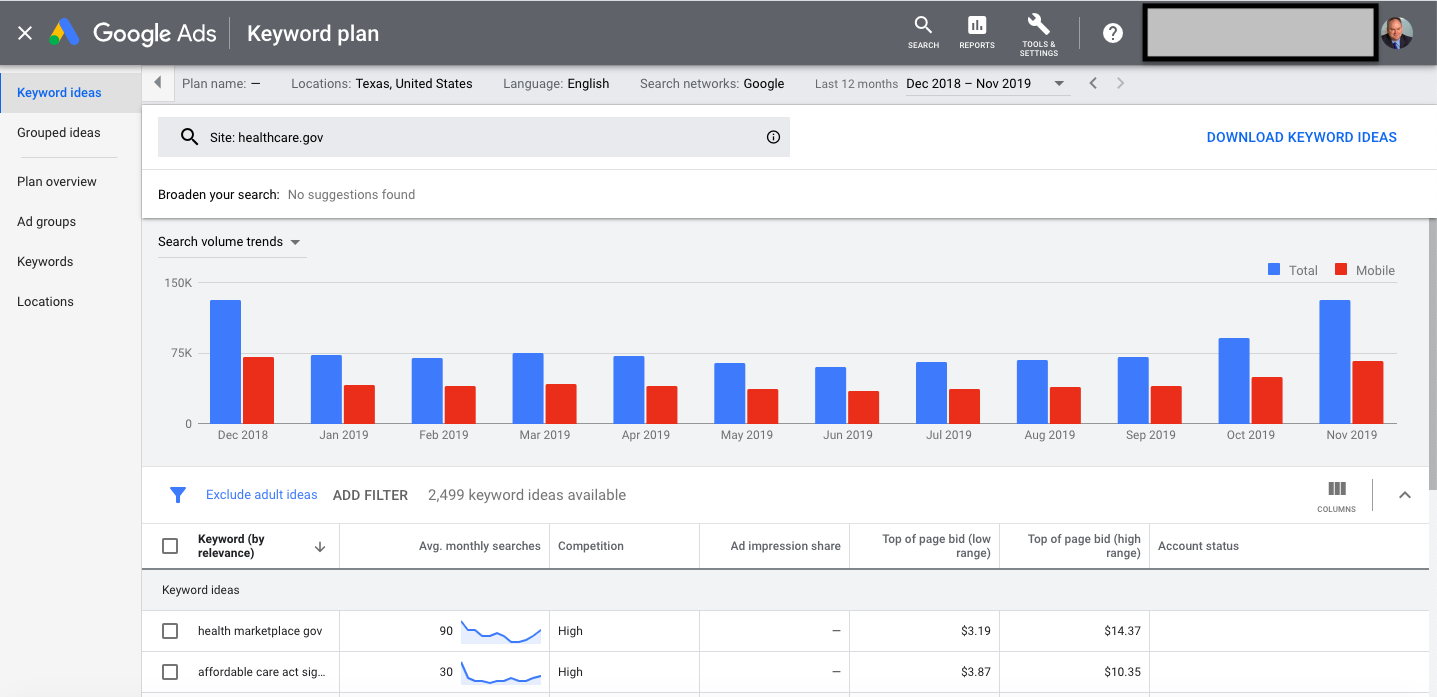 What about if I want to target a particular geographic location?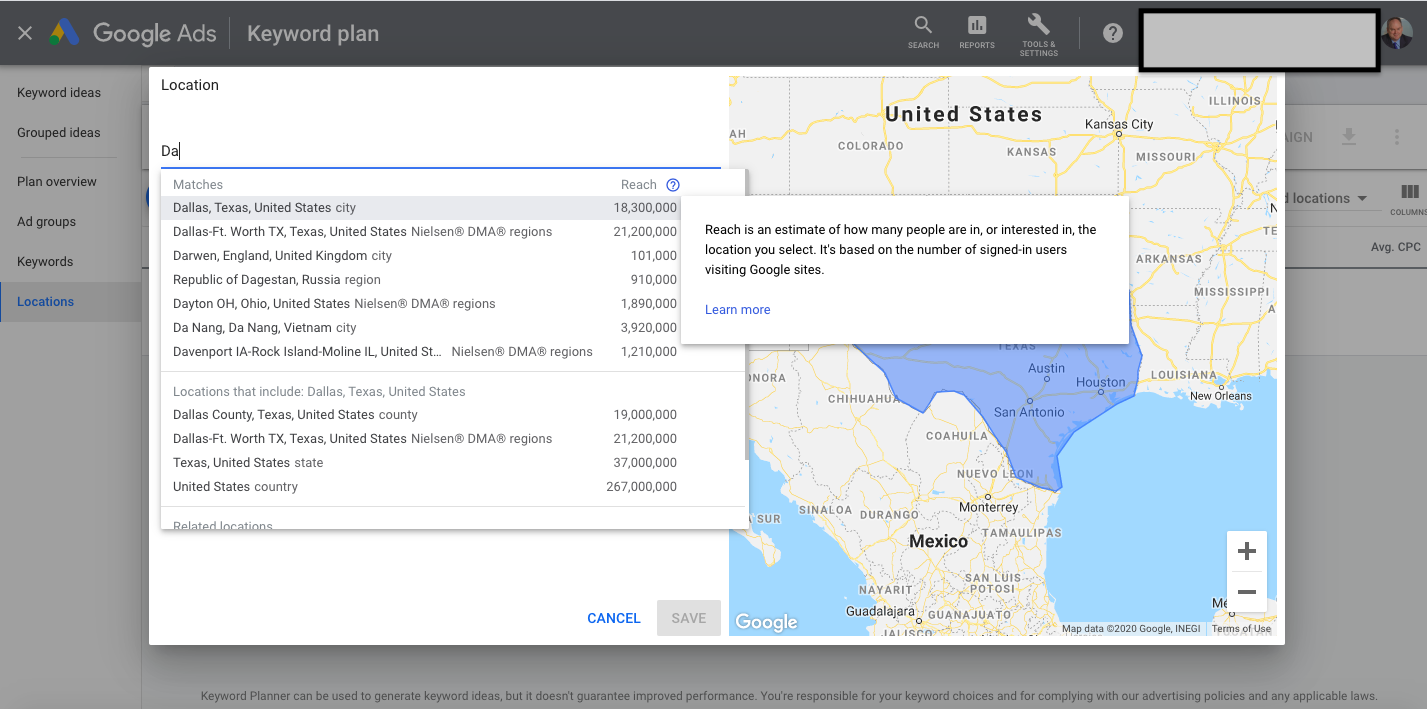 Here I've taken the keyword location search a step further to focus on Dallas, Texas. Notice it now shows you something called 'Reach'. Reach is interesting. It means how many people are in or interested in, Dallas, Texas. The 'interested in' part is somewhat vague. But when you are running ads, you sometimes see visitors who are not in your target area showing up. It's possibly someone who briefly passed through Dallas or any number of other events would add them to this count. If you truly want to target your ads to people who are actually in your target location, Google Adwords offer much more granular targeting and exclusion possibilities.
Who Can Use Google Keyword Planner
Google's Keyword Planner tool can be used by anyone, but these days, in order to access the free Google Keyword Planner, it pretty much forces you to at least set up a Google Adwords Account, but you don't have to create an ad. They want you most of the way down their sales funnel in exchange for using this information.
Google Search Console Can Also Help
While the Google Keyword Planner tool can allow you to quickly find target keywords, if you already have a site with some traffic on it, you should also consider using the Google Search Console, another free Google tool, in conjunction with Google's keyword planner tool.
Google Search Console or GSC, will tell you which keywords Google thinks the page is about, and you may find that there is a vast difference between what you thought the page was about, what GSC is showing that Google thinks it is about and what the Google Keyword Planner thinks it is or should be about.
This provides an excellent SEO improvement roadmap.
How Do I Estimate My Google Adwords Adspend Performance
If you're like most businesses, you need to know in advance what you're going to spend on Google Adwords and what you should expect from this adspend. That's why we've developed this calculator to help you estimate your Google Adwords Performance which will allow you to quickly estimate what your CPA (Cost Per Acquisition) will be. This is how much it will cost you to make a sale.
How Do I Estimate my Google Adspend ROI
Glad you asked. We've also built this Google Adspend ROI calculator which is based on Google's ROI formula and sample data. Of course, you can use your own numbers here and get your expected results in real time.
Can I Get Help With Google PPC Management
Yes, of course. And we would be glad to help. We've handled everything from initial account setup to major, multi-million dollar ad campaigns on behalf of our clients. We combine our knowledge of Inbound Marketing and Google PPC to drive profitable results.