SEO Has Changed
Learn What Top SEO's Do Differently
Does your website have pillar pages that are semantically rich? Do you write comprehensive content as part of an overall Topic Cluster approach to ranking. Do you know that search engines are looking for the highest quality content and that Pillar and Cluster Pages are one of the proven methods for delivering that high quality content in a highly digestible format?
Did you know: 90% of website visitors prefer to read from a PDF as opposed to a website page. That why our Pillar Content Strategy Guidebook, which is one of several SEO guide books we provide, is available as a PDF.
In our Pillar Content Strategy Guide, you will:
Learn about the Topic Cluster Methodology, a new approach to SEO
Understand how to build a Pillar Page
Discover the impact on your Search Engine Optimization results
See how this Content Pillar Page SEO Strategy built around the Topic Cluster Content Model can drive you higher on the Search Engine Results Pages (SERPs)
Know how to use HubSpot's Content Strategy Tool, which is a key Hubspot SEO Tool
Learn how to leverage the Hubspot Topic Cluster Tool to fully flesh out your Topic Cluster Content Program
Content Strategy Must Be Designed With Google's Search Engine In Mind
While Also Keeping Your User Front and Center
With the release of Google's Hummingbird, coupled with the 3500 updates Google is known to make to their search engine each year, high quality content is no longer enough. That's table stakes. Our SERP Consulting Practice developed SEO Pillar Content Page Strategy eBook can show you how to take this concept to entirely new level of performance.
Social Media Content Pillars
A Holistic Social Media Content Approach to Content Production and Scaling
Are you struggling to create engaging social media content that resonates with your target audience? Look no further than the Pillar Page Content Approach. By creating comprehensive and semantically rich pillar pages, with hyperlinks to various semantically related content buckets, you can deliver high-quality content in a digestible format that will attract and retain website visitors. Not only does this approach enhance your website's user experience, but it can also significantly impact your SERP strategy. With the right technical SEO and a solid Pillar Page foundation, you can achieve those coveted 1st page rankings on Google. Our SEO Pillar Content Page Strategy eBook provides a step-by-step guide on how to get started, including tips on leveraging tools like HubSpot's Content Strategy Tool and Topic Cluster Tool. Don't miss out on this opportunity to take your social media content game to the next level. Grab our FREE guide today.
A Font of Social Media Content Ideas
In today's digital age, creating great content is not enough to drive traffic to your website. You need a content cluster strategy that provides comprehensive and semantically rich content to your target audience. This approach involves building pillar pages that cover a broad topic and linking them to various related subtopics. For instance, Facebook can benefit from creating a content cluster strategy that revolves around social media content pillars. By providing high-quality content in a digestible format, you can significantly improve your Facebook engagement and ROI.
Some Social Media Content Ideas include:
• Creating Informative Articles – Write articles that provide helpful information in an approachable way. Consider breaking it up into smaller sections or subsections.
• Developing Unique Visual Content – Use infographics, videos and other types of visual content to enhance the user experience and make your content more attractive.
• Utilizing Social Media Platforms – Leverage multiple social media platforms to create a buzz around your content cluster strategy. Share snippets of articles on Twitter or post interesting videos on YouTube.
• Engaging in Interactive Content – Create polls, quizzes and other interactive content that encourages users to engage with your content. This can help boost engagement and drive traffic back to your website or blog.
• Utilizing Relevant Hashtags – Leverage popular hashtags related to your topic to reach a wider audience.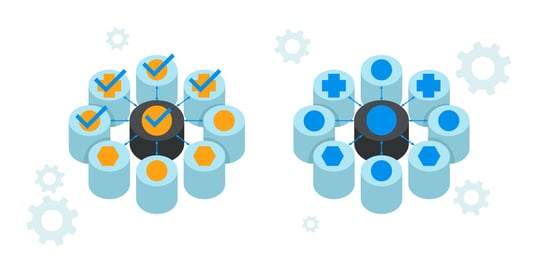 Hubspot Content Pillars and Content Clusters
The HubSpot SEO Strategy Tool is an essential asset for content marketing bloggers and content creators looking to build out a successful pillar cluster strategy. With Hubspot Topic Cluster tool, you can easily create SEO pillar content pages and find relevant content on your site to link to, which helps to improve your overall SEO. Additionally, the tool allows you to monitor and measure the performance of your pillar cluster, allowing you to adjust your SERP strategy as needed.
Natural Language Processing (Hubspot SEO NLP) Under the Hood
Whether you're a seasoned SEO pro or just getting started, the HubSpot Content Strategy Tool is an invaluable resource that can help take your content cluster SEO strategy to the next level. Incorporate SEO NLP analysis and other expert systems capabilities, a custom content optimization score and AI-driven recommendations to ensure that your SEO content pillars is optimized and targeted at the right user. When creating Content Pillars, Hubspot helps you create clusters of keyword-targeted content around a topic or theme. With a content cluster, Hubspot helps you create more high quality SERP Content, pushing visibility in search engine results pages up and ultimately driving more organic traffic to your website.
Pillar Content Strategy SEO Guidebook
You must couple high-quality content, using NLP SEO technology with high quality technical SEO and a solid Pillar Page foundation to get those coveted 1st page rankings on Google. By using content clusters, SEO becomes much more powerful and ultimately, leads to a higher ROI on SEO. Grab our FREE Hubspot SEO Guide on Creating a Pillar Content SEO Strategy and we'll show you how to get started.