Understanding SAP BW in 5 Minutes
Your organization is debating the need to implement a Business Intelligence Solution and a Data Warehouse solution. As part of the decision process, as a CIO, you want to clearly understand how your company would benefit from using a Business Intelligence system. More importantly, you would like to understand the benefits of the SAP BW module.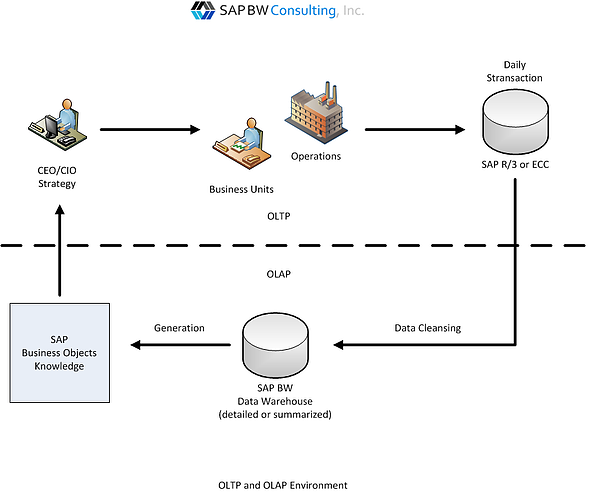 Business Intelligence System: OLTP and OLAP Environment
We have collected the following information into a 5 page informative guide for you so that you can make an informed implementation decision: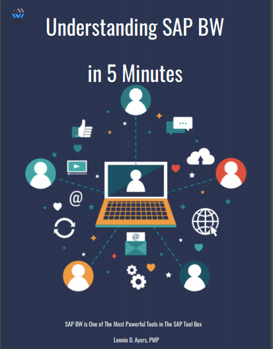 How business intelligence software helps to control the masses of information in your enterprise
ERP systems and business intelligence systems
Business intelligence systems properties and objectives
Requirements of a modern business intelligence system:

Standardized structuring and display of all business information
Simple access to business information via a single point of entry
Highly developed reporting for analysis with self-service for all areas using tools like SAP Web Intelligence, SAP xCelsius, SAP Dashboarding, Qlik, Tableau and other visualization tools.
Quick and cost-efficient implementation
High performance environment. Data modeling from heterogeneous sources
Relieving OLTP systems
The Data Warehouse component of Business Intelligence
Desirable properties of a data warehouse

Read-only access
Cross-organizational focus
Persistent storage
Long term data storage
Designed for efficient query processing
Differences Between an OLAP and an OLTP System

Level of detail
History
Integration
Normalization
Read access
To read the remainder of our research, just complete the form.
Understanding Embedded Systems vs SAP HANA
People who read this page also read: