Do You Need Google ADS management services
Get The Advanced Google PPC Expertise I Offer
As a Google Adwords Consultant, I've Successfully Managed Over $6,000,000 in Google Ad-Spend - in just the past 2 years! I can help set and achieve the toughest business goals.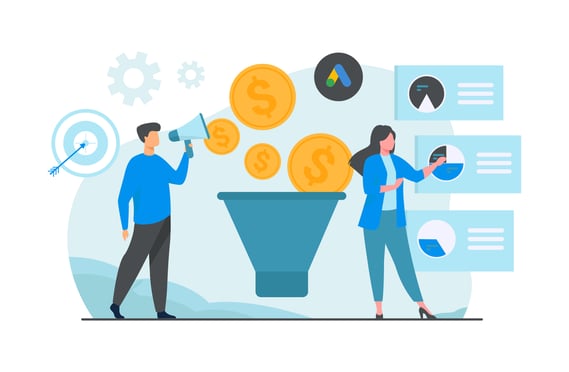 Google Ads Campaign Strategist
Running an google adwords consultancy means that, as a Google Ad Buyer, I know that the secret to success when it comes to Google PPC Advertising involves far more than just writing an ad. It means as an Google adwords consultant, ensuring my clients have a working Sales Funnel, a clear set of goals, and the right analytics set up an running. It is one of the key aspects of making your marketing efforts pay off.
Does This Sound Like You?
As an independent Google Certified Google Ads Consultant, I've successfully set up and managed Google Ads Campaigns for clients all over the world.
Most of them are facing the following common problems:
Finding the Right Target Audience - The Key to Success
Google will tell you that if you can't run test Google ads for at least three months, if not six, then you don't have enough budget. With the right targeting strategy, combining website data, the right keyword lists, and other advanced advertising strategies, we can get your ideal target audience dialed in.
Google Adwords Management Solution
By properly utilizing the Artificial Intelligence capabilities of the Google Ads tool, we need only about 30 to 60 conversions to get your Google Adwords Campaign optimized. By using the google recommended advertising services, clients can expect to achieve higher performance rates at much lower prices.
Identify Your Competitors
Identifying your competitors allows you to also target their traffic. You can also learn from them by knowing how to fully leverage the complete suite of Google Adwords tools. We take it much further than most, by also using SEMRush to find exactly which target keywords your competitors are targeting. This also allows us to focus on user intent, and target different levels of your funnel with just the right ad copy, at just the right time. It also helps us to optimize your web pages to attract organic search traffic, which, ultimately helps drive improved conversion rates.
Setting Up a Measurement Plan - Critical Success Factor
One of the critical pre-launch activities is setting up marketing measurement plan. You measurement plan is where you set your goals and decide where, how and when you take measurements. It's also one of key tools I use to communicate with my clients and which drives my recommendations for constantly improving the full funnel.
Full Funnel Google Adwords PPC Advertising Management
By fully understanding your sales funnel, we'll be able to design and implement a series of goals focused on prospective customers, reflected in both Google Analytics and the account structure we setup in Google Adwords. Want to target maximum profit, not just maximum revenue? We can set that up for you. Need to synchronize your advertising inventory availability, be that rooms or airline seats, or products on the shelf? You're talking my language. This is where the big-boys play. We have an expert team who can integrate systems such as Salesforce, Hubspot and SAP with Google data feeds so you're not just hitting the right target audience, you're optimizing for profit. In the aviation industry, using Google Adwords for aviation marketing has proven to be ideal for yield optimization. An airline PPC agency needs to understand how to integrate an aviation companies operational systems with Google Adwords to ensure that the latest inventory is always being advertised and promoted to your ideal audience. The SAP PPC solution can greatly help in this type of campaign due to the deep integration with airline scheduling systems.
Google Ads Campaign Management Pay-Per-Click Consulting
I am a Google Adwords Certified Consultant. With my Google PPC Consulting, I offer:
Advanced Strategy Development.
Auditing established google ads accounts.
Integrating accounts into manager accounts.
Working with other Google Adwords Managers.
Keyword Identification Using Google Keyword Planner.
Keyword Search Volume information using the Google Search Volume Estimator, a subset of the Google Keyword Planner.
Ad Setup.

Advanced Support for Ecommerce Google Ads Clients.

ROI Measurement Using Google Analytics.
Google Adwords Reports (varies by clients).
Setting up of scripts where they makes sense.
Set up of Offline Conversion Tracking or OCT.

This is how you turn a non-ecommerce service business into a ecommerce type operation.

Advanced Google Tagging Using Google Tag Manager or GTM.

Global Site Tag Integration.

Cross-Domain Tracking Setup Using GTM where applicable.
Advanced Market Segmentation Tactics.
Keyword List Generation.
Setup of Remarketing Lists.
Setup of structured negative keyword list.
Exclusions by geographic region (you don't want to waste money on advertising in countries and other locales where you do not do business, if for example, you only do business in the United States).
Implementation of Google similar audiences from a variety of sources, including your website, offline sources, and various Google identified audiences.
Setup of Conversion Tracking.

This is a key task that many business owners skip.

Setup of sitelinks and cleanup of poor and out-of-date sitelines.

Call out extensions.
Structured Snippet Extensions.
Image Extensions
Call Extensions.
Lead Form Extensions.
Location Extensions.
Affiliate Location Extensions.
Price Extensions.
App Extensions.

Setup of lead forms.
Setup of Asset Library.
Setup of Placement Exclusion Lists (So you don't appear where your brand can be damaged).
Setup of call only ad types to drive massive inbound calls to your call center.

Please note - Google Analytics Phone Call Tracking provides limited call closure information. We frequently recommend other Call Tracking and Analytics solutions, such as CallRail.
For call centers that experience very large spikes in incoming calls, usually due to Television Advertising campaigns, this is almost a must.

Advanced Bid Strategy Setup including value based bidding, portfolio bidding strategies, and other types that are optimized for your goals.
Setting up Data Feeds via Google Merchant Center for ecommerce operations.
For Hubspot Users, integration via Hubspot Ads Add-On.
Integration of Hubspot Predictive Lead Scoring to Drive even higher ROAS.
Integration of Google Analytics, Google Search Console, YouTube and Waze (special pricing).
Google My Business Setup and Paid Push.

This Google property requires a separate paid consulting engagement to truly get optimal results from it.
Ideal for Local Businesses as well as multi-store location type businesses.

Daily monitoring and application of appropriate Google Recommendations.
Constant A/B testing using experiments.
Adwords Budget Management.
Ongoing Google Ads Management.
Continuous Improvement.
Social Media Marketing Expertise.
Adwords Consulting Services
I've actually been providing Google Adwords consulting by designing, and publishing Google Ads on behalf of my clients for almost 10 years. As an Google Ad Words Consultant expert, I've ran major Google PPC campaigns for Insurance Companies, Celebrities, and Professional Services firms, to name but a few. I've also ran major Google Ad Spend campaigns for ecommerce stores and Amazon.
Adwords Consultant Rates
As a highly skilled adwords consultant, my adwords consultant rates are in line with industry standards. They typically consist of the following components:
Initial Setup Fee.
Percentage of Monthly Ad-Spend.
Percent of Revenue (in some cases).
While many adwords consultants have the skills to set up a campaign, very few can combine the skills of content marketing, advanced analytics to drive improvements in CTR (Click Through Rates) and continuous testing to drive higher conversion rates throughout your marketing and sales funnel.
Setting Your Advertising Budget
One of the most difficult aspects of Google Adwords is setting an appropriate advertising budget. Fortunately, a Google Ads consultant has simple conversion rate funnel math to help here. What I like to do, once I have an idea of what your current Lead-to-Sale conversion rate is, is to work with the Google Keyword Planner to find current search volume and bid prices to come up with solid estimates we can use to set realistic budgets so you're not wasting money by over or under spending. With the right marketing platform, content marketing strategy, and deep knowledge of your business, I can provide you with solid budgetary estimates. In the meantime, I invite you to try our Google PPC ROI Calculator.
Search Engine Optimization
Much of me and my team's Google Adwords Consulting services also involves SEO or Search Engine Optimization. SEO, for many business owners, is a mystery. Indeed, with over 3500 changes being made yearly to Google's search algorithm, many business owners find it overwhelming to stay abreast of the latest best practices. We can tell you from experience, having developed thousands of landing pages, setup thousands of products on Shopify stores and on Amazon, and as well, thousands of dedicated lead generation pages for hundreds of different products and services, this is a key skill we bring to the table. Search engines have and are changing constantly. AI systems, such as ChatGPT are only going to make this a greater challenge.
High Converting Landing Pages
After we perform the keyword research, we'll move to developing high converting landing pages. High converting landing pages typically lead to high Google Quality Scores, for both your landing page and your Google Ads. This is an on-going process, as you are also being graded against those competitors previously identified. A high quality score in-turn can result in lower ad-spend. Top Google Ad Spend experts constantly monitor and look for ways to improve quality scores within an account which results in lower costs. Because we have manager accounts, we often see recommendations from various accounts, which provide even more insight with which to optimize ads.
Your Marketing Strategy must Be Aligned with Your Google PPC Spending Strategy
It goes without saying, but your marketing strategy must align fully with the work we will be doing on the PPC campaign side of the house. This frequently requires interaction with your marketing team to achieve success. As a full-fledge Google Ads Management Company, our team of experts and specialists can help ensure your Google Adwords PPC campaigns fully support successful advertising campaigns.
Get a Quote on Google Adwords Consulting
Please complete the form to get an adwords PPC consulting rate quote. Your initial Google Ads Consultation is free.
MORE THAN 120+ CUSTOMERS TRUST US