We Provide Local SEO Management and Local SEO Optimization Services
Get More Traffic To Your Store or Business Website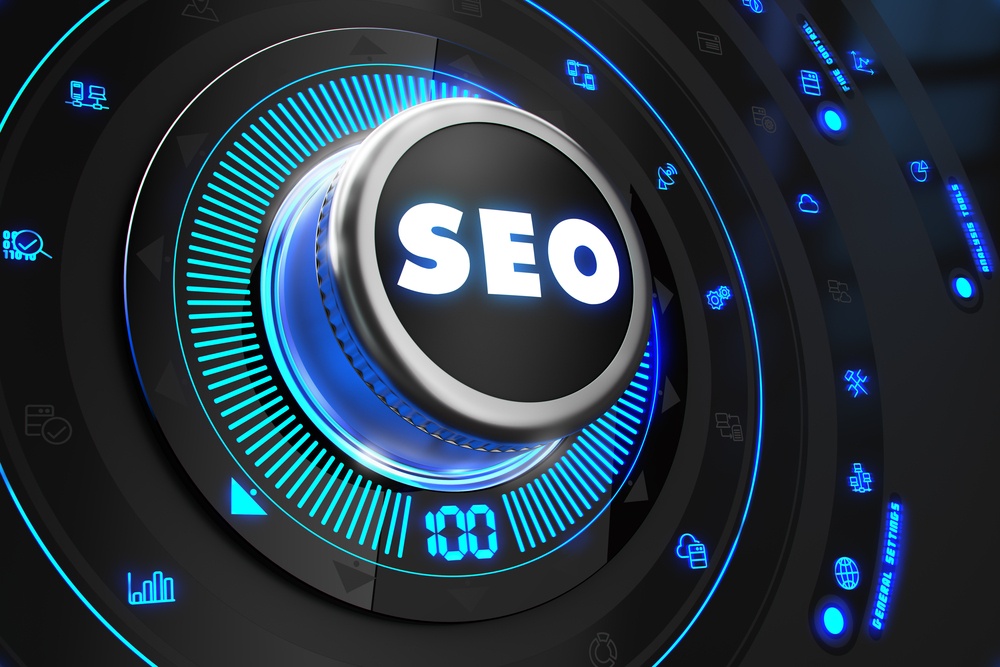 SEO Consulting for Local SEO Optimization
Are you a business owner that runs a business that has a physical location? Is your website driving foot traffic into your store? Do you run a service based business that serves only specific locations?
Were you aware that Google makes 3500 changes a year to its search engine algorithm?
Do you have time to learn and master all of these changes, or would you rather let our SEO consultants take care of it and spend your time running your business?
Why Local SEO is So Important
50% of local-mobile searchers are looking for business information like a local address.
That's just one of the incredible statistics you can find about the impact of local SEO. But it's also why you must get your NAP correct:
Name
Address
Phone Number
Searches with a local intent embedded within them, usually conducted from a SmartPhone, often are looking for these key pieces of information about your business.
Local Search Volume is Incredibly High
Of the nearly 40,000 searches conducted every second of every day globally, almost 50% are focused on local search. That's why getting your Google 3-Pack listing to show up correctly is so critical to your businesses success. It just one of the many local seo optimization benefits you could be enjoying right now.
Major Elements of Getting Local SEO Right
Google My Business Listing Optimization
Having your business properly listed by Google requires you to have a complete Google My Business (being renamed Google Business Profile) listing. Otherwise, when someone searches for your business, Google will attempt to assemble your profile from the digital breadcrumbs you leave around the internet. The results are not always pretty.
Elements of a Google Business Profile
Your Google Business Profile provides you a place to:
List your business hours (and easily update them)

If yours change frequently, you need to ensure that both your website hours and your Google Business Listing agree with each other.

List your Business Type
Show all of your store locations or service area

This is how you show up on Google maps (and Apple Maps, but takes other setup to make work) when someone searches for you by name or industry or offering
It's how you get and improve your map pack rankings
Is critical for store local seo management optimization

List all of your service or product offerings
Display pictures and videos of your business and customers
Get Google Reviews (requires setup on your website to collect reviews)
Drive phone calls to your business

Critical to have the correct information here

Correct Business Name
Country, i.e., United States
State, i.e., New York
Address including City Name
Zip Code
Phone Number



The above image is from the analytics section of a GMB listing. In this case, the client is receiving between 200 and 400 inbound phone calls a month - without paid advertising.


Citation Management. What is citation management? It's the process of ensuring everything that it is out on the web, including your website, local-centric social media postings, customer reviews, and even scientific papers you may written or even patents you may hold, are correct.
Automate Repetitive Work. We highly recommend you use a service like Mozlocal, which is one of several data aggregator type businesses which allows you to push your correct business information to a long list of business directories, such as YELP from one central location. As there are dozens if not hundreds of such directories, this saves time and ensures the information is correct and consistent across all directories.
Collect questions from customers and answer them
Provide short blog updates which are hugely important to driving local traffic
Receive and answer messages from prospective clients and existing customers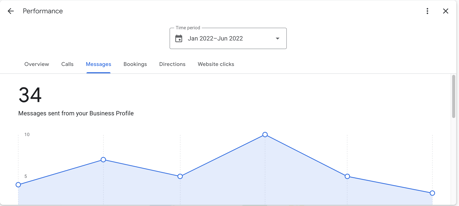 Here's an image of the number of incoming customer messages on a client's GMB listing. These also can prove to be an excellent source of FAQs (Frequently Asked Questions).
Schedule online meetings by providing a home for your meeting tool

We often use Hubspot's Meeting tool in conjunction with this capability so that no lead is left behind.
It automatically adds contacts who come in via this channel to your contact database for further follow-up action.

Run Google Adwords Pay-Per-Click campaigns that are oriented to promoting your business.
Get people to visit your store or business by using the Google Map element properly. In this case, the client has had to hire additional front desk support to handle the newly acquired walk-in traffic. There are also opportunities to use Google's recently acquired WAZE to target people who have asked for directions and may need additional services from you.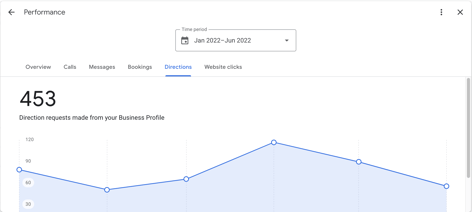 Having all of these local search visibility elements in place is a key part of achieving superior local rankings results. Here's an example from a small business we support showing their overall website search results as denoted within their Google My Business profile.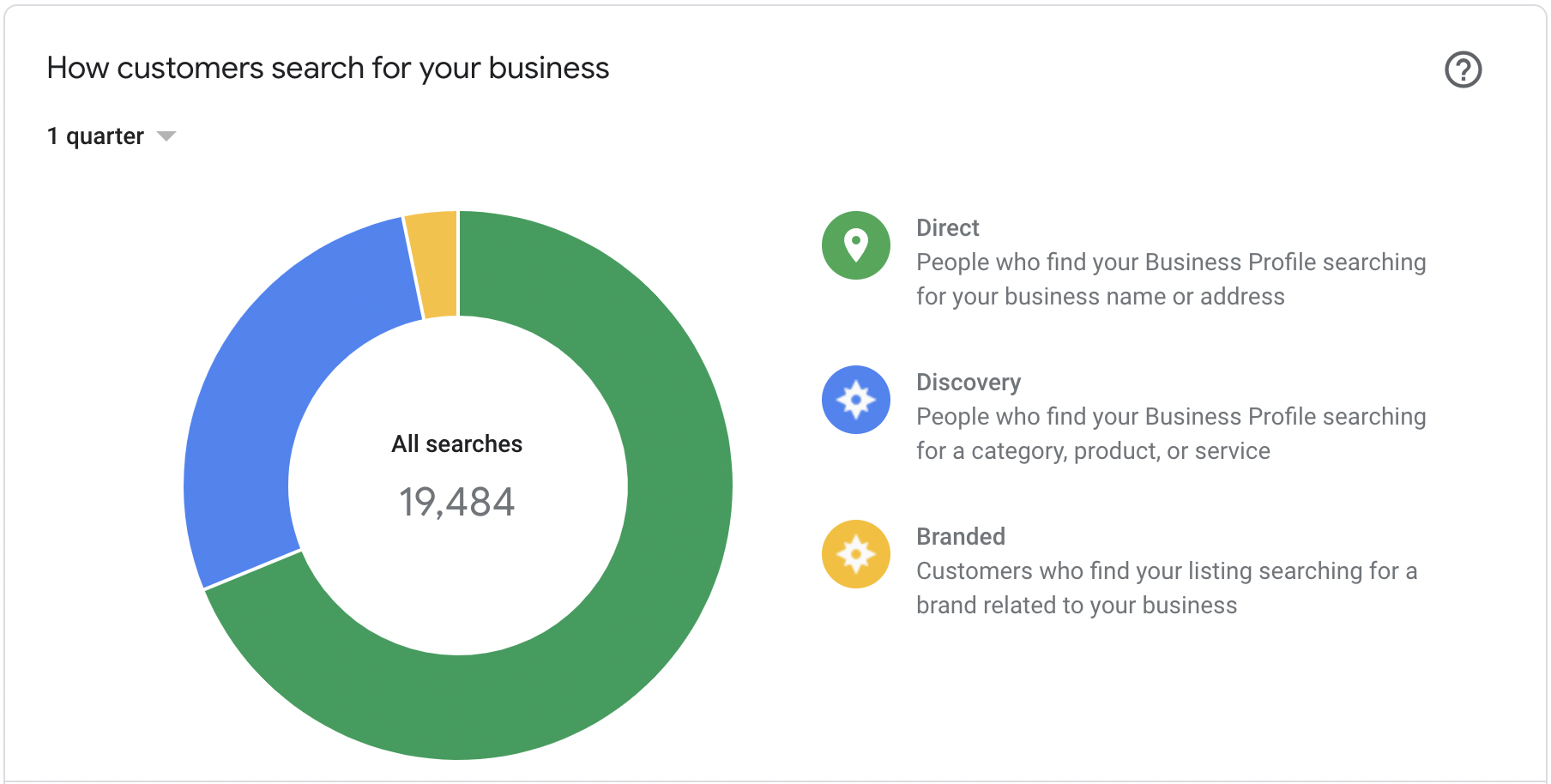 GMB Drives Clicks
What you should know is that having a fully optimized Google My Business listing drives clicks. But it takes constant work to drive those clicks in. How many clicks can you expect. It all depends but at least you can tell how many you got with their simple analytics.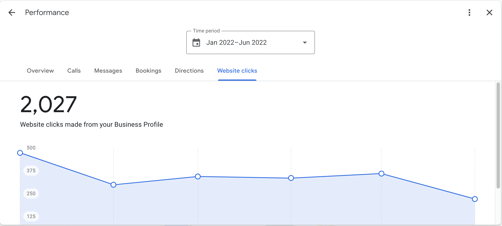 These are only the clicks driven from the GMB listing. Any other clicks that your site might be getting, will have been generated through other means.
Google Wants People to Talk
One of the focus areas of Google and Google My Business, is voice search. One of the key ways people find local businesses is to simply ask siri or to speak into their phone. The better quality your GMB listing is, as well as the higher rank your actual website is, the more likely your business is to show up in the voice search results. You've no doubt done this yourself: Google, tell me where I can get gas, and voila, a list of gas stations appear, along with business images and map icons. Then you will be asked if you would like directions. You say yes, and suddenly, you're navigating to that business.
That's the power of local SEO.
Next Level Local SEO for Both Small Business and Large Business
While many people are more than happy to search on Google, find an item and click-to-buy, most purchases involve more than a little research and feel. Specifically, many people still want to go into a store and walk around and touch and feel the merchandise. To that end, it is now possible to create navigable images of the inside of stores, with actual merchandise that is visible to shopper, which they can select while browsing, and purchase. That means they can also ask for assistance from store clerk, who can engage with them - even if they aren't physically there. This is an advanced local SEO service but we're seeing fantastic results with it and expect many more businesses to plunge in.
Site Information Architecture
Among the many local SEO optimization factors involved in fully optimizing and leveraging your local SEO digital presence, we have to have two key aspects of your business and website defined and aligned:
Knowing what you sell may sound like a no-brainer, but in order to do the extensive keyword research required to truly develop and optimize your local SEO approach, this is critical. The answer to this then is used to drive the development of your information architecture and your local seo optimization blueprint. Information architecture is really just another way to say knowing what each and every page is designed to do on your website. But it is one of the key local seo optimization best practices, regardless of whether you're talking about local seo optimization for small business, big business or local seo optimization for restaurants
Content Planning
Content, broadly defined, is every piece of information that customers find on your website. Part of successful local SEO is developing a content plan that answers your customers questions then developing that content. This is otherwise known as content marketing, a subset of Inbound Marketing. One of the secrets to successful content planning is knowing How to find keywords for Google Ads using the Google Ads Keyword Planner tool. When your information architecture also is aligned with your keyword plan, magic happens.
Leverage Dedicated Pages by Content Type
This content is often delivered using local dedicated landing pages, each specifically tailored by SEO experts to the unique characteristics of both your offer, your customer and the marketing channel where the traffic is coming from. Systems like Hubspot allow you to create dynamically updated landing pages while Wordpress websites rely on a local seo plugin and other techniques. This helps achieve measurable improvements to your local seo onpage optimization efforts.
Properly Implemented Schema Markup
One of the critical technical aspects of dominating local search results is the implementation of schema.org tags. What most people don't realize is that even though the major search engines, such as Google, Bing, Yahoo and many others continue to advance their capabilities, they continue to struggle to understand what each website and webpage is about. That's where schema tags come in. With these, you can tell the search engines exactly what each page is about, who wrote it, what organization owns the website, and an almost endless list of other important elements you want the search engines to know about.
Topic Based Content vs Keyword Based Optimization
The search engines, such as Google, focus on topical authority these days, versus keywords as in the past. Practically speaking, that means the website with the best content that answers a particular customers questions wins the click. We use a series of tools to help develop your local SEO optimized presence.
Blogging on Google My Business
While offering an extremely limited blogging platform, without a lot of bells and whistles as far as formatting, blogging on Google My Business is one of the single most effective ways to drive massive amounts of highly interested and engaged local traffic to your site. It can also generate a large number of inbound phone calls. Local seo optimization and Google my business go hand in hand. We perform an local seo optimization audit on every new client, and the status of your Google My Business page is a key part of our local seo optimization audit checklist.
Social Media
While having an optimized Google My Business profile listing is one of the key best practices for local businesses with brick and mortar locations as well as service based businesses who 'go to the customer', social media is also an ever more important element of showing up google search. But not all social media is right for all businesses. Facebook works for most, but Pinterest works best for others.
Promote Local Events
One of the most important uses of Google My Business is to promote local events. You can list just about anything that might be going on in your business here. Teaching a class on how to paint next Sunday. This is where you would do it. Sponsoring a band at a local event. This is where you would do it. Happen to be a local band. You could use this to promote yourself as well. Here's how that looks inside the tool.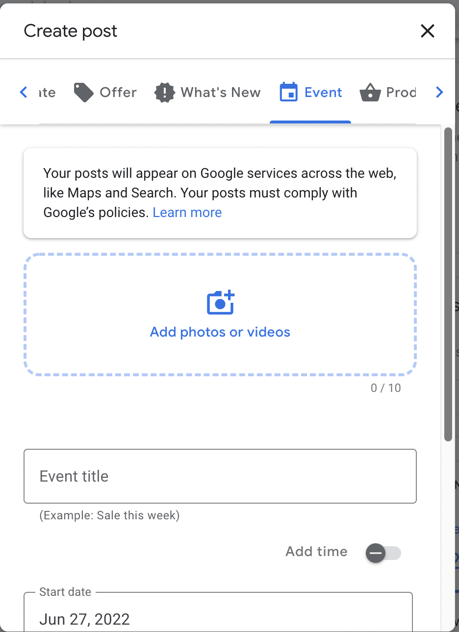 It takes only a few moments to set up a local event.
Google Search Console
In order to deliver the best user experience and the right content to the right user at the right time, you need to know what is working for you and what is not working. One of the tools you will need to have up and running is the Free Google Search Console (GSC for short), which, among useful pieces of information it provides, is which words are driving traffic and clicks to which pages.

Reveals How Google Thinks You're Treating Your Customers
While GSC is great for telling you what search terms are driving the clicks, it also has many other functional capabilities, one of which is the ability to grade your website from usability perspective. Usability, in this case, as defined by Google. Especially on mobile devices.

Customer Reviews
One of the primary ways for you to win the local SEO game is from positive customer reviews. Part of service is the setup and collection (using Google tools especially designed for this purpose) of customer reviews. That's why it is critical that your product or service is better than the competition and that you provide outstanding customer service. Here you can see how Google provides a simple way to collect customer reviews by providing a simple link for you to share.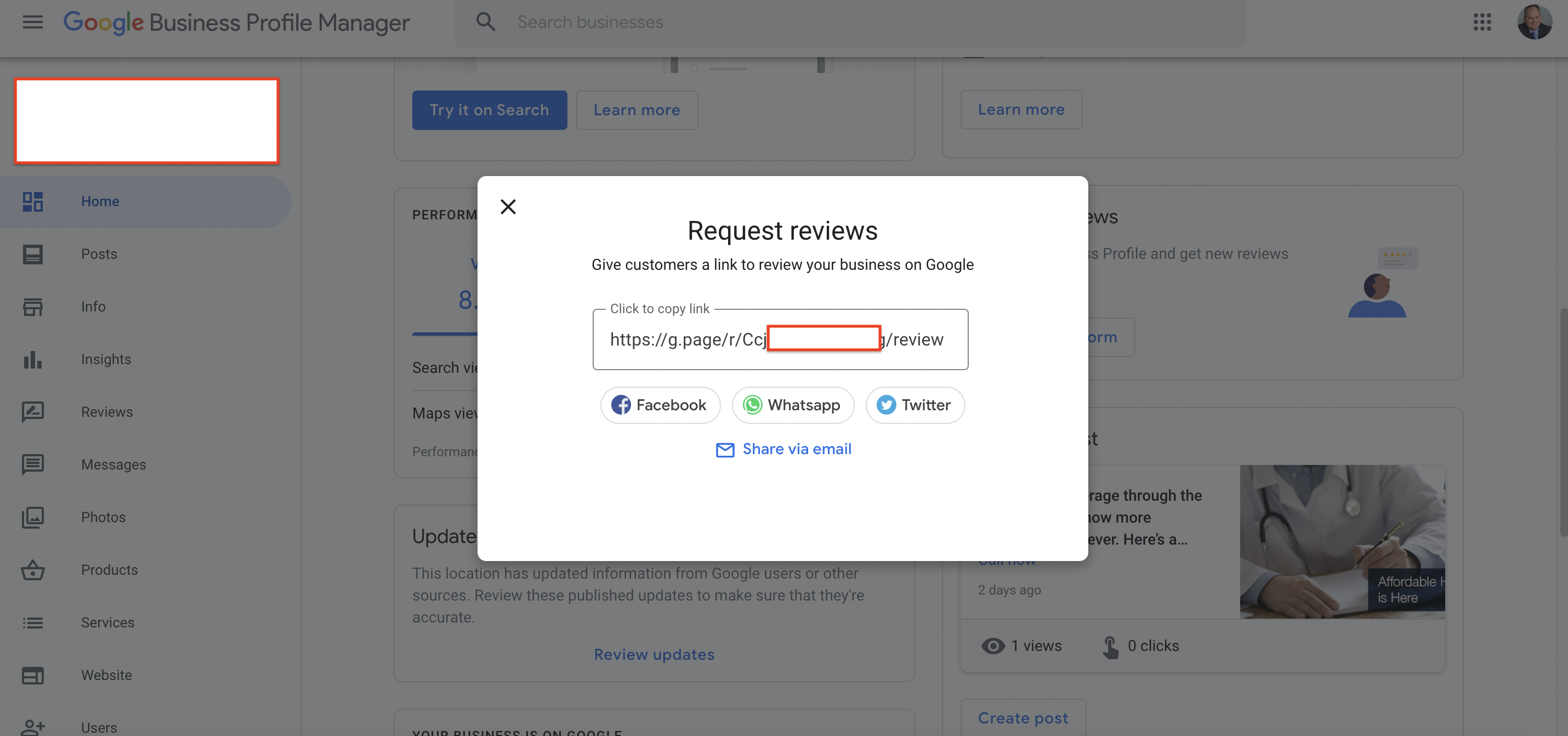 How Does Google Judge Your Customer Service Delivery?
They actually take into account a number of data points about your business. One of those is how fast you respond to any incoming customer messages, which people can send to you on your Google Business Profile. That's why we always recommend you install and keep running the Google Mobile App for your Business Profile.

That's just one way they judge you. The other is Backlinks from authoritative sites, which in the case of local businesses, often means the Chamber of Commerce and the BBB (Better Business Bureau) and if applicable, state licensing agencies, in the case of businesses that must have a license to operate, such as an insurance agency.
E-Commerce Optimization
Many local businesses also have an ecommerce capability in their business. We specialize in shopify and can help you optimize your store end-to-end. Many of our local SEO customers come to us to set up their ecommerce channel from scratch.
Structured UTM Improves Reporting Performance
Of all the major search engines, Google has gone furthest in anonymizing user visit data. Yet, there's still plenty that clever SEO managers can do to figure out what is working. One of those is ensuring Google Analytics is setup properly and that the structured UTM approach is used. That's one of the keys to uncovering key insights about local traffic seo improvement effort outcomes.
Get Detailed, Accurate Monthly Improvement Reports
Your website is your 24x7x365 sales person. It never sleeps. Shouldn't it be the best it possibly can be? With our done for you local SEO Optimization service and Google business listing improvement service and with our google business profile management offering, you'll have time to focus on your physical business. Just complete the form to get started.