Public Relations
Lance Armstrong and the chain of marketing and PR doom following him was the main topic of conversation during my outings this past weekend. Funnily enough, I was elected three times to figure out where to eat and where to drink for Happy Hour festivities.
Wow Factor
There are two things that are true about myself: I love to go out and explore new places to eat and imbibe, however, it stresses me out to be the sole selector of these places. I want the place to have the "wow" factor whether it is an uppity locale or a hole in the wall.
Search for Unique Experiences
The art of finding a new place to eat that is not a chain, and provides a unique experience is not easy. I have organically created my own process to find new eateries, and it usually consists of the following:
As I am driving, my attention gets drawn to the restaurant because of the name or whatever mood my stomach is in, and I write down the name. I then proceed to research the place furiously via a random Google search or through Yelp.

A quick Google Search will reveal many restaurants, all revealed on a map, with Star ratings (if available), which I can click on and navigate to.


As I am conversing with someone, usually the topic of food arises, and there is always some place "I have to" try.

I then proceed to research the place furiously via a random Google search or through Yelp.


As I am reading through a blog or article, I see an intriguing local restaurant write-up. I then proceed to research the place furiously via a random Google search or through Yelp.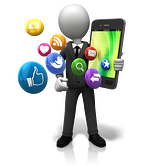 Food Blogs Lead to Sales
It is apparent what the trend is here. Obviously, I am heavily reliant on the Internet and food blogs to see if a place is worth trying.
This, of course, is the crucial point whether a place stays in "restaurant purgatory", also known as "I have always wanted to go there, but never do", or it becomes a restaurant "I must try now or I will die".
Guest Posting
From the standpoint of improving my online presence, if I really like a place, I wouldn't hesitate to reach out and offer to provide a guest post if they accept them. This is a great way to pickup up backlinks to your own site, but you have write quality content that benefits both parties.
This is All Determined on a 10-minute Search That I Have Conducted Online.
This goes to show that businesses need to take heed and always make sure that their online presence is strong in every way possible especially in an age where competition is high and where one can be easily influenced with a click of a Smartphone app or quick search on Google Maps.
Why You Need a Strong Online Presence
The more ways you can place your business in front of your target audience with unique high quality experiences, the more opportunities you have to build brand awareness and improve your reputation. But there are other ways having a strong online presence benefits your business:

Get discovered:

97% of consumers search online for local products and services.

A strong online presence makes it easy for your ideal customers who don't yet know you exist to discover you, both when they are and are not searching for what you have to offer.



Be seen as a legitimate business:

83%

visit a store based on the information they found online. Consumers rely on multiple sources of information before making a purchase. If you don't provide information about your business across all of these sources, you'll be dismissed—by consumers and search engines alike.


Market your business 24/7: If you have a strong online presence set up, people can discover, learn about, engage with, and reach out to you whenever is best for them, no matter where they are in the buyer journey or what device they are using. This is one of the key techniques you can use to create brand awareness.


Save money:

Digital marketing platforms all come with data to tell you what's working and what's not, so you can allocate your budget accordingly.


Get more conversions: It takes an average of

seven

encounters with a business before a lead becomes a customer. Being prominent on multiple channels creates opportunities for those engagements to happen more quickly.


Earn Google's trust:

Google takes more than just your website into account when ranking a company's online presence or even an individual's. It actually looks at your presence across the web and your social media presence and how consistent they are.


Perfect your buyer journey:
63%
of shopping journeys start online. With a strong online presence, you can be available to consumers at different points in their journey toward customership, which includes multiple devices.
Online Presence Management


Now that you know why your online presence is so important, here are some important items that any business should always consider when creating and managing their online presence:



Create Multi-Functioning website – A business website needs to be easy to use and contain a clear message about which product or service they are offering. It also needs to provide an easy way to communicate via email or chat, and capabilities to share to social media sites.

Google My Business, or GMB, is one of the best ways for a business website, especially one that provides its product or service within a local service area, or one that depends upon foot traffic, to make sure their online presence is working for them.

Be sure that your Business Name, Complete Address, Phone Number, Operating Hours, and Product and Services are correctly listed. As well, be sure to provide an online meeting link (Hubspot provides these, as an integral part of their Hubspot Marketing Hub), and as well, turn on the ability for clients to message you directly. You would be surprised by how many people use this. But be sure to answer those messages.



Pro-Tip:

To really make your Google My Business listing work hard for you, Google really, really likes for you to post short Blogs on their platform. When you do post, be sure to select the right Call to Action (CTA) you want your reads to take. Those can include:

Book
Order Online
Buy
Learn More
Sign-Up
Call

Each one of these Calls to Action require different elements of your website to be configured properly.


Strong social media presence – Using social media is a fast and easy way to promote any specials, events, or offerings to the public with additional capability to gain even more clientele.

Digital marketing relies heavily on successfully using social media. For example, if you create YouTube videos to promote your event, you can embed those on your website to get even more traction from them.

You also need to make frequent, high-quality social media posts, and you should invest in making sure they include high-quality visual elements. Why? Because U.S. Navy studies from the 1970s proved that humans process visual information 60,000 times fast than written information.

There are many social media platforms which might makes sense for your particular business. The limiting factor is usually your capacity to continuously create content for each of them in format that makes sense.

The other challenge is to set up analytics that allow you to view your results across platforms. This is especially critical when you're spending money on social media advertising.

Taking it one step further, you can create schema.org tags for your video, and make it easier for search engines to find you.

Utilizing all

online forums

related to your industry – Using online forums, such as Yelp or even LinkedIn Groups, not only allows open communication with customers but is also a good tool to use to improve or maintain your services based on customer reviews.


Simple Steps Can Yield Powerful Results
As simple as this list seems, many businesses do not put the proper effort in to strengthen these three important aspects to promote their business online.
Start With a Strong Foundation
Creating a strong foundation online has become a necessity for the success of every business, especially now that information is accessible anytime and anywhere. So where do you begin?

Use Modern Web Design Principles

There are many website builders available that can help you create beautiful, professional web pages in about a day. Make sure your site is clean, easy to navigate, and has a strong web design on multiple mobile devices. Ensure that your mobile website uses fully responsive web pages.

As a Pro Tip, use customer testimonials on landing pages and other strategic locations throughout your website and on emails.
Master Search Engine Optimization
While SEO takes continuous education and practice to master, it is, nevertheless, a key to making your beautiful website work to help you generate business now and in the future. What's key to making SEO work for your business?
Don't Forget About Online Directories
Off-site SEO involves having other websites link to your website, which encourages more traffic that can lead to more consumers discovering your brand. Networking with other businesses is already a great way to do that. But you can also find online directories where you can list your small business. Many of these directories are organized around specific industries, which can help you better connect with your target audience.
Pro Tip: Set up a Google Alert for your own business. Google alerts will notify you when new results show up in the search engines about your business.
SEO Relies on Top Notch Content
Constantly improving your content creation process is vital to your online presence. In order to get noticed by potential customers, you need to release exciting and engaging content on a regular basis. This isn't just vital for piquing the interest of your customers, either.
Improvement Efforts With Long Term Payoff Potential

Creating highly attractive, high converting content is also highly important for search engine optimization (SEO), which can increase your organic traffic well into the future. Always make sure the content you're publishing is as polished and top-notch as possible. After all, this is representative of your entire organization, so you want it to really reflect your company in an accurate and engaging way. It is one of the keys to appearing at or near the top of SERP (Search Engine Results Pages).
But Why Does SEO Require Constant Improvement?
Afterall, you've got a business to run. Am I right? You didn't sign up to work on your website all the time. Here's the thing. Google, and all the other search engines, constantly make tweaks to their search engine algorithm. This means what worked well yesterday, may not work quite as well today. Can you give me a practical example of what this means?
Google is Trying to Satisfy the Searchers Intent
Let's say you design a landing page upon which you put form, which delivers an ebook about your product when someone completes it. When someone does a search using the Google Search Engine, and your page with the offer shows up, they can make a choice of whether to click through to the page or not. If they do, you won that search 'game'. If they do not, Google says your page isn't the best quality page out there for that particular searcher's intent.
The Searcher Intent Race Has Just Begun
Now, you get lucky. Someone searches for a particular keyword, and due to your SEO efforts, your page shows up in that coveted number one position on the SERPs, and they click on your page.
Now they have to read your page, and decide if what you're offering is worth what your asking for in exchange, in this case, an email.
Google Analytics Controls Your Destiny
If they complete your form, and you have set up your goals properly in Google Analytics, Google will now get information that their searcher complete the form and got what they wanted. They get this because you set up a goal in Google Analytics to keep track of those people who arrived at your Thank You page, where you typically deliver the piece of promised content.
Why This Influences What You Pay for Google PPC Ads
Now that you understand the analytics supply chain, it's time to take a look at how this affects the money you spend on Google PPC advertising.
You typically set up your Google Ads with a conversion action in mind. In this case, you want to drive more conversions of that ebook that someone downloaded from an organic Google Search Result.
You do this by importing the goal you set up in Google Analytics, and telling Google you want to get more downloads.
You May Have Other Goals in Mind as Well
While we recommend you target one specific goal, which may not be the ebook download goal, Google will also track that goal, even if you tell Google you want to track sales, which happen later in your sales cycle.

In order to meet your goals, you need to have done one very tough task.
Develop a Precise Target Market
One of the toughest tasks most small business owners have is the same as that of the largest enterprise - know exactly what you sell, what benefits your product or service provides, and who is your ideal customer.
Develop a Buyer Persona by Understanding Your Target Market

Most marketers understand the need to develop one or more buyer's personas. For example, one client of ours had two very detailed profiles of their ideal customer. This was updated regularly, and adjustments were made to the marketing material to ensure the 'Brand Voice' was both consistent and appealing to each of these two personas.
Create Specialized Content for Each Buyer Persona


The deeper your understanding of your buyer persona, the more effective your content creation process can be. Different online platforms work better with different types of content. But each platform and your content creation strategy should all work together seamlessly to attract and engage your target market.
Master Email Marketing
With marketing automation platforms, such as Hubspot Marketing Hub, you also have an inbuilt email marketing capability. What that means is that you can set up very complex, contextually sensitive email lead nurturing sequences, based which piece of content a prospect has downloaded.
You can also trigger email lead nurturing sequences based on many other criteria, such as views on a YouTube channel, reading certain blog posts, viewing a certain number of pages, or a wide variety of other criteria. This capability means a small local business can have the same technical capabilities as the largest companies on the planet!
Try Multiple Marketing Platforms
Leverage SMS
However, to achieve ultimate triumph in your marketing ventures, a business needs to experiment with various marketing platforms in addition to online marketing.

How to Make SMS Marketing Payoff For Your Business
For more details on how to broaden your marketing horizons, download our 5 Ways To Keep Your SMS Marketing Fresh.



Until next time…