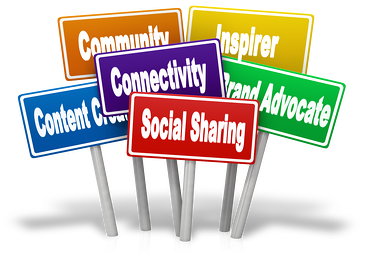 Social Media Marketing
Whether shopping online in the comfort of your own home or at a store where you can see and try the product is all a matter of preference and has become a topic of a good debate.

However, it has become almost a necessity for businesses to have an online presence whether they have a brick'n'mortar store or not.

For example, stores that market themselves on Etsy are mostly small business owners from all across the globe who run their business' selling online only. However, several businesses have taken the concept of online shopping to another level with the wonderful ways of social networking online.
Recently, I have stumbled across a couple of very unique websites that offer a whole new way to shop.
Social Media Marketing Pinterest - Visually Appealing
Pinterest, which has been around for quite a while, allows users to "pin" or share things that they like from any website onto personalized boards based on whatever themes they like.
Luvocracy is a website that is similar to Pinterest but instead the website acts like a shopping broker where you can actually purchase items based on the boards created by others and have the capability to make money off your boards if other people purchase your recommended items.
Now the website StyleSaint has some of the same elements of the other websites, which is to create a fashion community by creating personal fashion magazines for users to share online but they have also turned to its users as the inspiration for their own StyleSaint clothing brand where it's sold only online and at an affordable price.
These three websites are proving how a business can turn their consumers into the creators, the sellers, and the buyers all in one online social community. Some call this social marketing.
These are just a couple of good examples of how businesses are taking their ecommerce websites and changing the way people shop with the implementation of social media concepts and community sharing.
What has happened is that shoppers have morphed their shopping habits because of social media tools and businesses have used this to their advantage.


Take a look at three ways that social media has changed the shopping habits of the average person:

You Have Become the Content Creator

You, dear shopper, have become the editor, creator and stylist of a culmination of products from Pinterest boards, fashion lookbooks, online magazines, Vine videos, and Instagram pictures for everyone to see.

This puts the consumer into two roles: the inspired and the inspirer, which allows the business to win both ways with product exposure in a variety of forums, formats, and points of view that many consumers may have never thought of on their own.


You Have Become Social Sharer

The art of sharing random thoughts, articles, pictures, where you ate dinner, and what cool product you just purchased has become the norm.

Social sharing on social media sites like Facebook, Instagram and Twitter has brought to life a whole new way for businesses to market their products for practically free.

Every business website now has the option for you to share with the social media world what you just bought or what concert you are attending because you never know who else may want to tag along!

With the combination of content creation and social sharing, shopping has been brought to another level due to peer recommendation because who can we trust if it's not the people we know or respect?


You Have Become the Brand Advocate

If I love something, I love to tell the world about it.

Businesses have relished word of mouth marketing because people are becoming brand and product advocates all on their own!

Social media has allowed consumers to voice their opinion, likes and dislikes which heavily influence others within their social network to check out products they would have never have heard of if it were not for social media.
Have you assumed any of these roles with or without knowing it? Probably! It just goes to show that social media has massively affected our shopping habits and will continue to do so.


With businesses increasingly depending on social media for sales and exposure, a sense of social connectivity and community has become a very crucial aspect to the modern day shopper.

Looking For Social Media Marketing Help
Want to learn how a social media website like Pinterest can work for your business? Check out our e-book on How To Use Pinterest For Business.
Until Next Time...