Do You Need Linkedin ads management services
Get The Advanced LinkedIN Ads Management Expertise I Offer
Proven LinkedIn Advertising Campaigns Experience
I've Successfully Managed LinkedIn Ad Spend for Clients for over 15 years - you've probably seen some of my ads!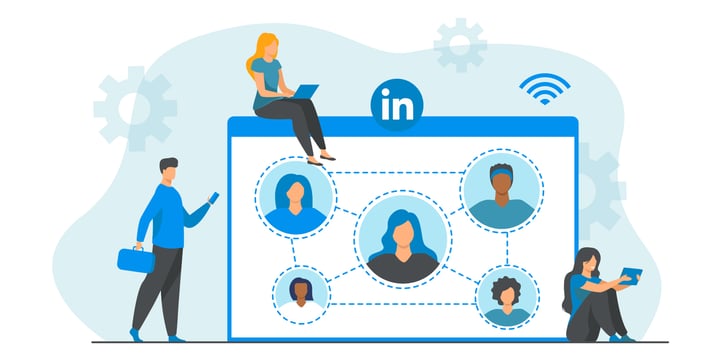 LinkedIn Sales Strategy Success
I know that the secret to success when it comes to LinkedIN Advertising involves far more than just writing an ad. It means having a working Sales Funnel, a clear set of SMART goals, and the right analytics set up an running.
With my LinkedIN Ads Consulting, I offer:
Advanced Ads Strategy
Keyword Identification Using a Variety of Advanced Tools and Keyword Planners
Ad Setup
ROI Measurement Using LinkedIN and Hubspot Analytics
Advanced LinkedIn Tagging Using Google Tag Manager or GTM
Proper setup to track conversion and attribution reporting
Advanced Market Segmentation Tactics
Advanced Ad Targeting Strategies
Continuous Improvement
What Kind of LinkedIn Ads Do You Need?
Like all advertising platforms, LinkedIn offers a wide variety of different types of ads including:
LinkedIn Text Ads
Lead Generation Ads
LinkedIn Event Ads
LinkedIn Conversation Ads
LinkedIn Spotlight Ads
LinkedIn Right Hand Sidebar Ads
LinkedIn Message Ads
Linkedin Sponsored Inmail Ads
LinkedIn Sponsored Content Ads
Dynamic Ads
Carousel Ads
Video Ads
And various combinations
Which Ads Should I Run When?
LinkedIn is a powerhouse advertising platform within the B2B (Business-to-Business) space as well as the B2C (Business-to-Consumer) space also known as D2C or Direct-to-Consumer. While there are differences in the buying patterns of each of these types of buyers, all of them go through some form of:
Awareness
Consideration
Decision
A well designed and executed LinkedIn Paid Ad Campaign Advertising Strategy will utilize the right ad type at each of these stages, as you pull your prospects through your funnel on their unique customer journey. But the real power of LinkedIn is in the organic connections you make before, during and after a campaign.
It's a Powerful Visual Storytelling Marketing Channel
A great way of tweaking someone's professional interests is by telling them a story, specifically, your story. With the right ad platform, you can combine what you know from your own website visitors with what LinkedIn knows about them and weave together a story, the most powerful marketing tool known to man.
This is Why You Need an Awesome Company Page
While there is a lot of misinformation out there about the value of having a LinkedIn company page, let me be clear. You need one. It needs to be completely filled out with an accurate company name (people do check these out with the government), your company size, primary company contact information, including email, phone and company profile picture and logo. Those are just table stakes.
Encourage ALL Your Employees to Follow Your Company Page
While it is highly desirable to accumulate followers to your company page who are not employees, it is just as valuable for all of your employees to have a complete LinkedIn page profile, which includes listing your company as a current employer. They automatically become followers. Their network then becomes, at least a little, part of your network.
Encourage Your Employees to Share Information - On Your Company Page
One of the most powerful endorsements of your brand can and should come from your employees sharing information about what is going on your company page. Of course, this requires curation and coordination, and encouragement, to make happen consistently. But it does generate a lot of positive goodwill - and can be promoted.
Share Company Updates as Well as Other Content on Your Company Page
LinkedIn favors organic updates provided by companies. However, it realizes that constantly creating original, valuable content, is a chore, and as a consequence, provides a tool for companies to re-share others content, which is curated by them and their inhouse curation team. This can be a great way to build up additional company followers.
Generate Hot Leads - Right From Your Company Page
LinkedIn has slowly been rolling out the ability to sell directly on LinkedIn, but only on your Company page, so far. They initially restricted it to products that had to be purchased on your own ecommerce platform, like Shopify, but have now extended it to service providers, like us, which make up about 80% of all companies on the platform and within the wider economy. This means you can generate new leads, often for free, but using paid lead generation ads, as well.
New Products Can Be Introduced On LinkedIn Company Pages
One particularly useful aspect of LinkedIn company pages is to test out new products, new ideas and to bounce ideas around. It's a quick way to get market feedback unlike any other platform. It's a great place to see what others are using their company page for. Some might call that competitor intel. Others call it market research.
LinkedIn Groups Provide Focused Interest Groups for Advertising Purposes
LinkedIn groups can be very useful if you run your own specific LinkedIn group and can spend the time to nurture it. However, when it comes to advertising, which you can target groups with, you have to be cognizant of group behavioral protocol. Don't be spammy.
Repurpose Content Across the LinkedIn Platform
One of the secrets to success with the various types of LinkedIn ads is to repurpose existing content. While creating LinkedIn ads is a core offering of ours, by themselves, they don't work nearly as well as when you have a strong LinkedIn core content strategy.
How Many Ways Can You Use a Single Piece of Content
LinkedIn provides a wide variety of ways to share content. For instance, you can write a blog on your own website, and share it on LinkedIn, where you have the opportunity to write a 'post' explaining even more about the content of the blog. As LinkedIn really wants you to spend time on their platform, not exit it, this is probably the least effective way to make use of that blog post. However, it's just the beginning.
Short Form Posts
You can also write short posts on LinkedIn, which can be up to 3,000 characters in length, an can include hashtags relevant to the post. You can also write long form articles directly on LinkedIn, which can be up to 125,000 characters and include various types of multimedia within the body of the article, or reword the blog post you just shared into a slightly different version of the same blog post. Many blog post can be turned into what LinkedIn terms documents, which are typically Powerpoint Presentations converted into a PDF.
Most blog posts can also easily be converted into short form videos, using platforms like Lumen5, or just do one yourself using your computer or iPhone. For many companies, a blog can start as a live webinar, delivered from within the LinkedIn platform. It's also possible to take this the other direction, and turn a blog (with some content editing) into a webinar.
Other ways to repurpose that one blog includes creating an audio file of it, a youtube video of it or even a long form Video Sales Letter or VSL.
Don't Forget to Engage with People Who Engage with Your Content
There are lots of different best practices when it comes to creating your content and repurposing it. But whatever you do, you're aiming toward getting user engagement, which LinkedIn's algorithm heavily favors. Do yourself a huge favor and respond to every comment you happen to receive.
Hubspot plus LinkedIn is a Powerful Combination
Both small businesses and large businesses and everything in between can benefit from LinkedIn advertising. Job postings on LinkedIn, which is a core strength of the platform, given that it is a business networking platform, do particular well at helping companies fill job openings. Many hard-to-fill positions are filled just by knowing how to use the LinkedIn search function and reaching out. If you have an extremely strong established network on LinkedIn, this is always your first, best, lowest cost approach to fill jobs.
Paid Job Postings
However, many LinkedIn users and businesses do not have the advantage of having these large established networks. That's where LinkedIn paid job postings come into play and the LinkedIn Recruiter Software. This is one of their core software offerings, and many recruiters, both internally and external contracted recruiters, rely heavily on it to fill those ever more difficult positions. In my role as a Project Manager, I have often resorted to this approach when filling hard-to-fill positions. It is, in fact, how I became an experienced user of the LinkedIn recruiter software platform.
LinkedIn Sales Navigator Integration With Hubspot's CRM Platform is a Ninja Level Tool
For those who use Hubspot's CRM platform, which is natively integrated with LinkedIn Sales Navigator, you have one of the most powerful Account Based Marketing platform combinations currently available.
Account Based Marketing (ABM) Powertool
With the many audience options LinkedIn Ads offers, you can build your target audience of specific job titles within a target company, and using Hubspot's intelligent workflow tool and LinkedIn Sales Navigator, execute a highly targeted messaging campaign to make sure each member of a specific target account's purchasing committee gets exactly the right message text - you design and deliver, at exactly the right time.
You Know This Works When They Quote You Back to You!
Don't be surprised if in your next meeting, members of the buying committee have downloaded your content, which was developed and personalized especially for the members of that target company, bring your content to the next meeting and ask you more about the messaging and how did you manage to deliver it, just when they were looking for that exact information. It's not black magic, it's Inbound Marketing executed by experts.
Personalized Video Ad Experience Works Especially Well With ABM
One especially powerful LinkedIn advertising approach, for high-ticket B2B sales scenarios, is to send customized videos to all the members of the target audiences you're working on. This sounds hard to do, but in truth, it takes only seconds, is highly measurable and results in very high click through rates. You can easily use a system like Loom, which is integrated with Hubspot, to quickly customize your short video message and then use the CRM to send out individualized sales emails.
You Run 'In the Moment" Ads
As a certified LinkedIn advertising specialist, I like to advise my clients that in an ideal world, their campaigns are designed with a content first strategy, powered by AI. The secret super power is when you combine a system like Hubspot, with its ability to identify both individual users and specific companies and use that to help LinkedIn dial in your advertising to highly targeted ideal customer profiles.
What Makes LinkedIn Users Different?
Linkedin Members have a business mindset and while other social media platforms may also have job listings, LinkedIn was founded upon the idea of business networking to help people find a job. The average LinkedIn user has an above average income. It's a great place to tell a business story. It's also where you'll find many members of the C-Suite. There are extremely well known business leaders who have thousands of followers.
What are Some LinkedIn Best Practices
The better you make use of LinkedIn as a contributing member, the more likely you'll have success with a paid advertising strategy. If you're an individual without your own company, such as a coach, you must make sure your LinkedIn profile is fully optimized. You'll also need to be demonstrating thought leadership. Being thought of as a leading thinker can mean many things, but generally, it means sharing your expertise, wisdom, insight and advice or professional expertise. It can be an incredibly effective way to generate leads who already are warmed up. It's also a source of great material for you to promote via a number of LinkedIn ad types, such as Spotlight ads or even job ads.
Individual Blog Post AKA, Articles Can Work Well
Though most people think that LinkedIn members only check their LinkedIn feed, experience has revealed that nothing could be further from the truth. While posts are currently doing well with the LinkedIn Algorithm, well written Long Form Articles, written as part of a well designed content marketing strategy, are the way to go. That's because you can go much deeper with an Article versus a post. In fact, you can have up to 125,000 characters in an article and mix any number of media types. Posts and updates are typically limited to 3,000 characters and do not stay long in anybody's feed - unless you sponsor them.
Company Pages Can Provide Ideal Thought Leadership Sharing Opportunities.
If you're a company, you need a LinkedIn company page, where you both post original content as well as reshare other content you may find interesting to your followers. For many companies, who post regularly, brand awareness is just one of the beneficial outcomes. Another benefit includes an opportunity to spotlight specific products and services.
Top 10 LinkedIn Ads Critical Success Factors
There are 10 LinkedIn Advertising Critical Success Factors (CSFs) if you want to generate leads or even close the sale right on the platform:
Clear Value Proposition
High Converting Landing Page with a Clear Call to Action
Compelling Offer i.e., Free Trial
Experience with Campaigns and the LinkedIn Campaign Manager
Conversion Tracking Properly Setup

Insight tag installed and verified as tracking

website conversions

This is the key to measure performance

Clearly Identified Target Audience and Target Market

Identification of the right job title
Identification of the right type of company, i.e., small business, Medium, Large Enterprise

Clearly Defined Marketing Goals

Measurement Plan with KPIs Defined and Agreed Upon by All Parties
Realistic expectations of conversion rates
Tag Manager Solution in place

Agreed Upon Definition of 'Qualified Leads"
SLAs in Place Between Marketing and Sales
LinkedIn Messaging Fully Planned Out to Support the Complete Buyer's Journey
Why Us?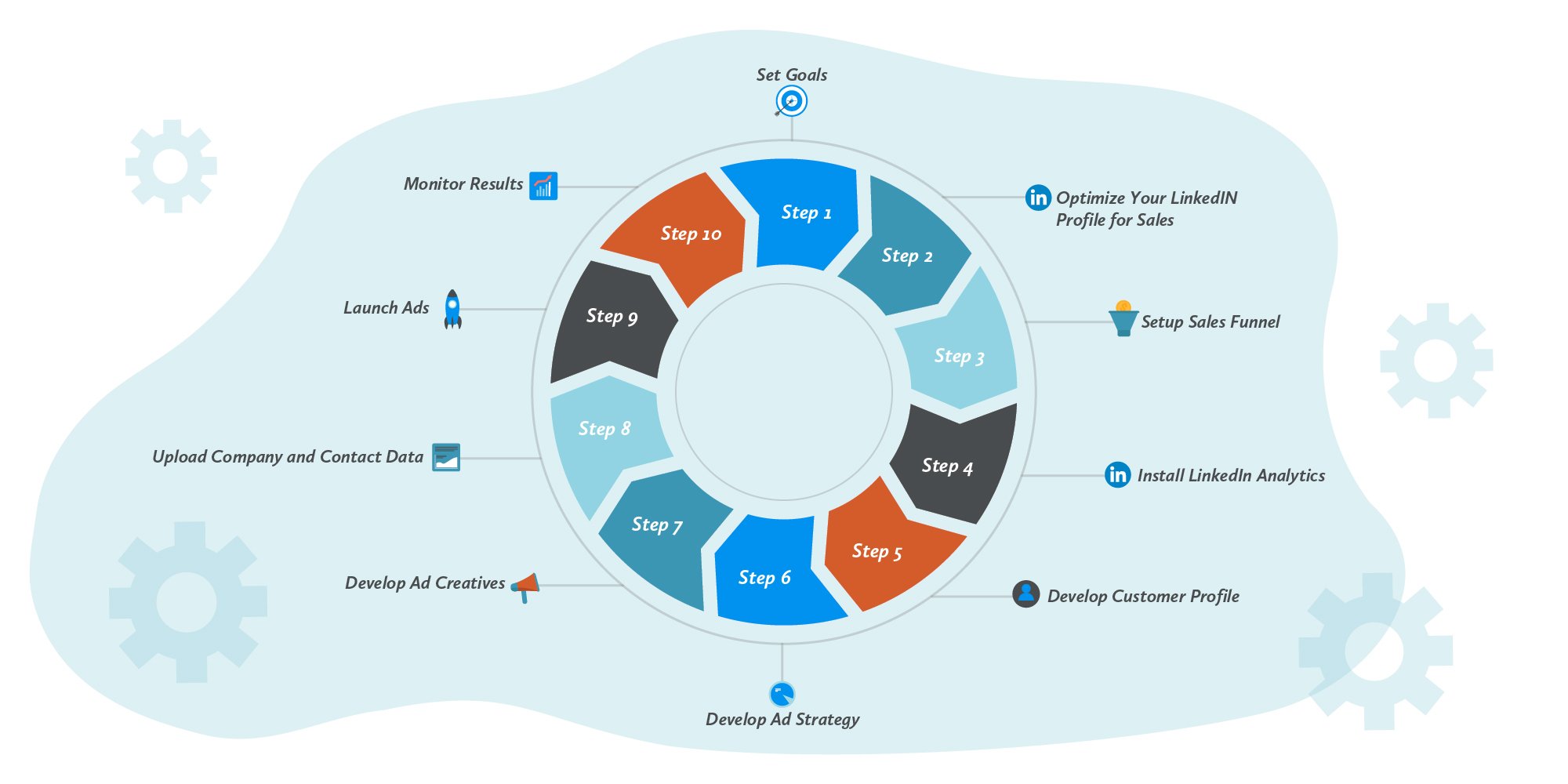 My team and I have actually been running LinkedIn Ad Campaigns on behalf of my clients for almost 15 years. We've ran major LinkedIn Ad campaigns for Insurance Companies, Celebrities, and Professional Services firms, to name but a few, each with a unique Linkedin Ads Playbook. We've used proven time-tested linkedin advertising concepts on the platform to support new product launches, promote brand name recognition and of course, to bring in job applications from potential new employees. We've also ran optimized particular linkedin ads campaigns for ecommerce stores and Amazon.
LinkedIn Ad Copy Creation Experts
With years of practice creating LinkedIn ad copy, we've learned a thing or two about what works and most importantly, what doesn't. While knowing what to measure is important, i.e., engagement metrics, such as time on site, likes, comments, pageviews, bounce rate, click through rates (CTR), what LinkedIn advertisers ultimately want is more revenue. When it comes to the complex sale, which often evolves over very long periods of time, a well crafted, measurable LinkedIn ads campaign is essential. It why we combine copywriting skills with analytics with sales skills.
Ready to Get Started On Your Next LinkedIn Campaign?
Just complete the form to get started.