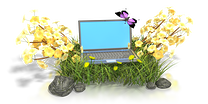 Spring is in the air, and 2013 is already whooshing by us so quickly! Sometimes it is hard to keep up with your blog reading when you are maintaining a busy schedule and trying to grasp every inch of sunshine you can get, which is why we created a compilation of our top blogs throughout the past three months to help you catch up!
Take a look at our top 5 Marketing Blogs and 5 SAP blogs links below:
Our Marketing Blogs
Our SAP Savvy Blogs
Don't want to miss another Blog Post?
Until next time…