We'll Show You How To Grow And Scale A Business Blog
Remember - Write More-Sell More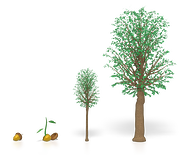 You know your business blog is wilting away as your content has become drab and visits are waning. How do you bring your small business blog or large enterprise blog back to where you once imagined? There are many popular business blogs online such as the mashable business blog or the Business Insider Blog. What do they all have in common? They all started out as simple online business ideas, that grew to have enormous influence.
Value of a Traditional Business Blog
A good business blog can be a valuable asset to any company, big or small. It can help establish your expertise in your industry, build your brand, and attract more customers to your website. A good business blog is well-written, informative, and engaging. It should provide useful and relevant content that is not only interesting but also actionable. The key to maximizing lead generation outcomes is to blog consistently. Ideally, you should publish new content at least once a week, ideally, daily! This will keep your readers engaged and coming back for more. With the right strategies and tools, your business blog can become a powerful marketing tool that drives traffic, generates leads, and boosts sales. Download our ebook "How To Grow and Scale a Business Blog" to learn more about the best practices for creating a successful business blog.
Business Blogging Best Practices of the Professionals
Our E-book "How To Grow and Scale a Business Blog" will get you back on your blogging feet and realign your marketing goals.
The ebook will teach you to:
Rethink the role of your business blog
Use the right tools to get your blog discovered
Leverage marketing content to get you the leads you want
And much more!
Your blog is crucial to promoting your business and reeling in the visitors you need.
Download our How To Grow and Scale a Business Blog eBook to guide you business blogging perfection.