Tie All Your Marketing, Sales and Service Activities Together
Traditionally, integration of various software platforms has been, at best, tough to do. In fact, integration of systems is typically one of the most expensive, technically challenging parts of setting up any information technology system.
Complete Guide to Hubspot Integrations
Get the complete guide to hubspot integrations in this comprehensive guide. Learn how you can do so much more with your hubspot system to improve results.
Hubspot Sits At The Center Of Huge Array of Solutions
Whether you're integrating Salesforce with Hubspot or CallRail with Hubspot, there's already an integration available for it. Those are just two of the dozens of integrated solutions that already exist within the Hubspot Connect ecosystem.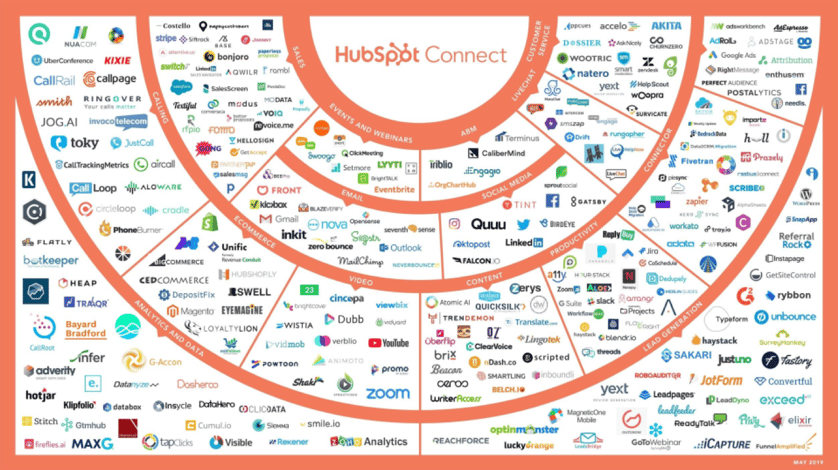 The Hubspot Integrations Universe
Which general types of software categories can you connect Hubspot with?
Sales
Events and Webinars
ABM (Account Based Management)
LiveChat
Within these Top Level Categories you then find solutions that fit into the following categories:
Calling
E-Commerce
Video
Content
Connector
Going a little farther out on the integrations map, you find integrated solutions that fit into the following categories:
Explore Some of the Most Important Integrations
Now that you know the broad top-level solution categories, let's dive into a few of the most important integrations and how they are being used by leading marketing and sales organizations.
Google Sheets Integration via Zapier
Google sheets is one of the most commonly used applications provided by Google Ads and the Google Suite of business applications. A very common business scenario is to be running Google Ads setup with a Google Lead Form. The simplest way to get lead form information into a spreadsheet, as well as into your Hubspot Marketing Hub platform, is to connect it all up by using Zapier, which comes with standard Zaps, or pre-built connectors, that allows you to connect both Google and Hubspot together seamlessly.
Google Analytics and DataBox Integration
The tool can get rapid insights from a day-to-day perspective. It seamlessly integrates with HubSpot — as if someone has insider knowledge! Being able to select custom rules and segments with Google Analytics is a huge plus too. We love that we can view HubSpot data right next to Google Analytics data.
Benefits Of Hubspot And Google Contacts Integration
Hubspot and Google Contacts Integration is a powerful tool that allows Hubspot CRM users to seamlessly sync their Google contacts with their Hubspot database. This tight integration ensures that all contact information is kept up-to-date and easily accessible from within the Hubspot platform. By using this integration, sales teams can easily access all relevant contact information and use it to personalize their sales outreach to potential customers. Additionally, Hubspot CRM users can take advantage of Google's powerful search capabilities to quickly locate specific contacts within their database. Overall, the Hubspot and Google Contacts Integration is one of the most used pre-built Hubspot integrations and is a must-have tool for any sales team looking to streamline their day-to-day operations and improve their overall efficiency.
Pandadoc Document Automation Platform Integration
Though there are many document management systems available that integrate with Hubspot, one of the most popular ones is Pandadoc. It's been around for a long time, and is deeply embedded with Hubspot that many users don't even realize it is a separate system.
Configure, Price and Quote Product and Service Catalog
While Pandadoc is outstanding when it comes to helping you generate proposals for complex offerings, one of the best time saving aspects of the tool is the ability to set up product and service pricing tables, as well as offer discounts, recurring payments and even rebates, and collect money for your offer, right from within the document. Because you can send it from within your Hubspot system, it can also use 'Token's' to automatically populate proposals from data stored in your Hubspot contact database. This ensures both consistency as well as a smoothly running workflow.
Connect Facebook Leads To Pandadoc
By integrating both Hubspot and Pandadoc, along with the Hubspot Ads Add-On, you can streamline your workflow and save time. One of the standout features of Pandadoc is its ability to generate proposals with pricing tables, discounts, recurring payments, and even rebates, all in one document. With the integration, you can connect Facebook leads to Pandadoc and automatically sync contacts and proposals, ensuring consistency and efficiency. The use of 'Tokens' allows you to automatically populate proposals from data stored in your Hubspot contact database, making the process smoother. Additionally, the Hubspot Ads Add-On can be used to focus on higher profit leads, using information from your Financial Account System, such as Quickbooks, Xero, SAP, or Oracle. With these integrations, you can streamline your marketing and sales efforts, and make better business decisions.
Connect Facebook Lead Ads to Hubspot
If you want to streamline your lead generation process, you can connect Facebook Lead Ads to Hubspot using the Hubspot Ads Add-On. By doing this, you can automatically sync leads generated using Facebook lead forms with your Hubspot Contact Database. By integrating both Hubspot and Facebook Lead Ads with the Hubspot Ads Add-On, you can make better business decisions and save time. Hubspot contact information will automatically be updated in the Hubspot Contact Database with detailed information about the Facebook ad used to generate the lead (as well as any other paid advertising that was involved, which often is the case).
What if You Don't Have the Budget for the Ads Add-On?
You have two basic scenarios to deal with:
Connect Facebook Lead Ads, Google Sheets and Salesforce
Connect Facebook Lead Ads, Google Sheets and Hubspot.

Option 1: Create a custom solution using webhooks. Webhooks are automated notifications that can be used to sync lead data from Facebook Lead Ads directly into the Hubspot Contact Database.
Option 2: Use Zapier, which can talk to all three systems and has standard Zaps available for either scenario.


Salesforce Integration
Salesforce CRM is a cloud-based Customer Relationship Management system that helps improve the relationship with your customer.
HubSpot and Salesforce's integration is a bridge between your marketing database and your sales database, allowing activity and information to move seamlessly between the two.
With the HubSpot Salesforce integration, you can connect Hubspot to Salesforce. Your sales team will consistently have the most up-to-date leads from your marketing team. Your marketing team will know the latest information on those opportunities.
Challenges Of Integrating Salesforce And Hubspot
Although Salesforce and Hubspot are natively integrated, there are still many decisions to be made to get the integration right. You need to be aware of the challenges of integrating these two platforms, especially post Go-Live, where you should closely monitor the integration for synch issues. One of the critical issues is ensuring that all the customer data are seamlessly flowing between the two platforms. Another challenge is choosing the right integration points that will enable the Hubspot Ads Add-On to focus on higher profit leads. However, with the right integration points, you can streamline your marketing and sales efforts and make better business decisions. Integrating Salesforce and Hubspot will bridge the gap between your marketing database and your sales database, allowing activity and information to move seamlessly between the two.
Advanced Customer Data Insights
For many businesses scenarios, there will be an integration between Salesforce and your Financial Account System, such as Quickbooks, Xero or even SAP or Oracle. This is a critical piece of information that can be used by the Hubspot Ads Add-On to focus on higher profit leads.
Hubspot + SAP Integration
Technically, there are a variety of integration points available between SAP and Hubspot, including SAP byDesign (their small business offering) and SAP ERP (their core offering). SAP is actually a Hubspot customer, and as such, there are a number of places in the system(s), where you can plug-in Hubspot to send marketing information to SAP and as well, to retrieve information from SAP. This provides a powerful Inbound Marketing Platform capability.
Content Marketing Application Integration
Hubspot's CMS (Content Management System) allows marketers to create a variety of content marketing pieces. But the superpower is the ability to leverage other more specialized content marketing development platforms. Those include:
SnapApp
SnapApp is a high-end interactive content creation tool that allows you quickly develop various types of calculators, quizzes and other interactive content types.


Ceros
Ceros is a customer experience platform and provides the ability to develop highly polished interactive online content. It integrates with many tools, apart from Hubspot, and allows you to pull in information from advanced enterprise systems, such as CAD and CAM modelling systems.


ConvertCalculator
While primarily used to build interactive calculators, it comes with a huge library of common industry templates so you can quickly create a customized calculator with little to no development. For example, we built a Mortgage Calculator with it and use it right here on this site.


Outgrow
While outgrow can also be used to create calculators, it's speciality is as a tool to create highly customized tools for such things as mobile application development cost. It is also used widely on my 'celebrity quiz' type sites.


What all of these content creation applications have in common is native integration with Hubspot. That means when someone runs a calculator, their answers and inputs are available in the contact activity record and can be used as tokens to send out customized follow up emails, landing pages or even social media post, all driven from Hubspot.
Inbound marketing is, if anything, driven by content, and these applications and many others like them, provide the fuel for your content marketing efforts.
Surveys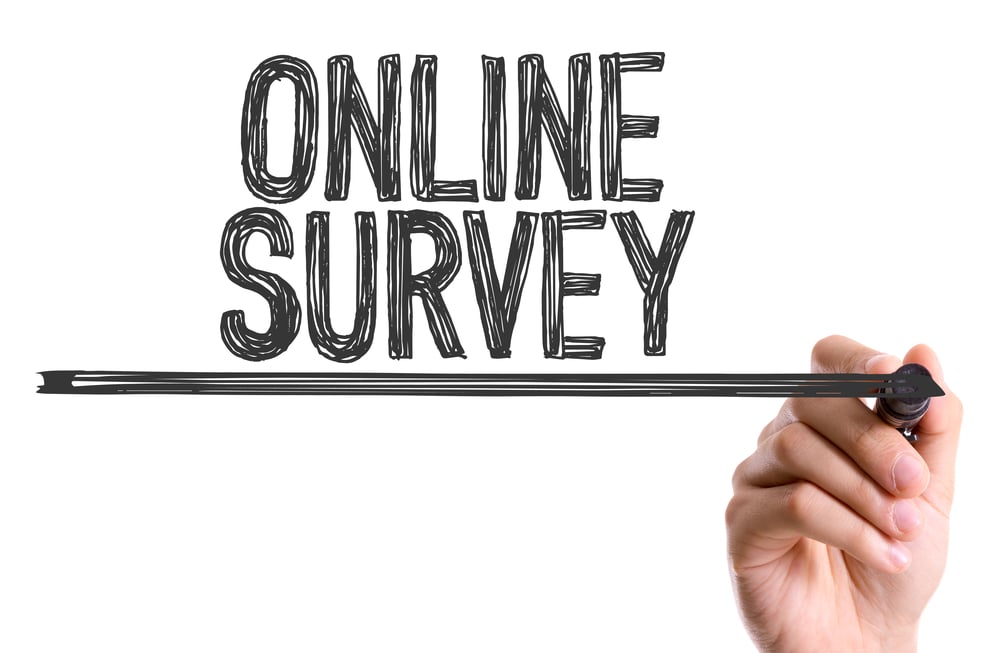 While some of the above tools can help you develop surveys, the kind of surveys is SurveyMonkey.
SurveyMonkey empowers companies to build quick surveys to gather real-time insights from their database.
Giving companies the ability to get real-time feedback from prospects and customers, it allows organizations to make better business decisions and address customer issues at a much faster rate.
This integration allows you to pass data related to specific customers and create custom contact properties.
It allows you to send automated email campaigns based on survey responses or other collected data that may not have been already available in HubSpot.
It has sophisticated branching logic capabilities embedded within it, and is often used in conjunction with other types of content, such as online learning courses.
Video Marketing
While Hubspot CMS provides video hosting capabilities, there are many other video platforms out there that you often need to integrate with as part of an Inbound Marketing Campaign:
YouTube
YouTube is far and away the largest video platform, with billions of hours of video being uploaded and watched daily. Via Google Analytics you can integrate with Hubspot.
Wistia
Wistia was built from the ground up to ensure a website owner is getting maximum SEO value from their video content.
Vimeo
Vimeo has some overlap with Wistia, but the invideo editing and workflow processing capabilities give it a clear leg up in many video scenarios.
Hubspot's Ads Add-On is one of the marketing tools Hubspot offers as part of the tech stack that will save you time across the board when it comes to paid advertising.
It offers simple social log-in integration via OAuth and complies with all Facebook rules (a never ending task). You can set up highly choreographed 'Customer Journeys', that take your prospects from 'Aware' all the way through to 'raving fans', all while closely monitoring your total ad-spend and CTR rates without logging into Facebook.
Through the HubSpot Ads add on, you can attribute leads to the same Facebook campaign ad set and ad creative.
You can also collect leads using the Facebook Lead Form (available when using Facebook Lead Ads) and custom forms developed in Hubspot itself.
The LinkedIn Ads Integration allows you to directly connect your Hubspot system to LinkedIn. This then allows you to make use of both the Hubspot Contacts and Hubspot Company records to create absolutely precise, LinkedIn target audiences, and deliver, at scale, customized ad campaigns, saving time and money.
You also have the ability to use Hubspot automated workflows via this integration to kick-off a variety of other activities, such as inviting someone to a webinar, class or other online event, and keep track of exactly who responded to what, and attribute revenue using various attribution models.
Google Ads (Previously Google Adwords)
If you're a business that spend money on Google PPC, as many of our clients do, you will really appreciate the many benefits the Google Ads integration bring to the table.
Google Ads is an Artificial Intelligence/Machine Learning (AI/ML) that, among many capabilities, uses the information it knows about any individual contact to deliver ever more precisely targeted ads. When you are using the Hubspot Ads Add-On, which speaks directly to Google Ads, you can constantly Google's AI with updated information about what works and what doesn't.
That means it can deliver targeted advertising messages to your contacts, based on where they're at in the funnel. That's great, it means you're targeting a single person with customized messaging.
What About All The Rest?
While it is very useful to be able to target a known contact in your contact database, it is far more useful for Google to go out and build a similar audience from what it knows about your contact, and then to target them. This means that though you may only have a few contacts in your own contact database, Google, just like Facebook and LinkedIn, can go out and find your ideal prospect for you. This will often be a list of around 2,000,000 million people!
Marketing professionals will appreciate the power of Hubspot Workflows to set contact record status', and how it this can eliminate manual work by eliminating repetitive tasks such as manual data entry.
Typeform Integration
While Hubspot form builder offers powerful, intelligent lead form design capabilities, many people have other forms they need to use. One of the most popular out there is Typeform, which is specialized in providing interactive, customer journey forms. You may have seen these - they typically ask for just one piece of information on a single page, then the next page will ask for the next piece of information.
Typeform also offers an interactive video lead generation form, which is ideal of mobile applications. Whichever form you use, it can be integrated easily into Hubspot.
Google Forms
Google Forms is a very popular form builder, for a number of reasons, not least is the automatic capture of leads into a Google Contacts sheet, which can then be fed, via integration to the Hubspot contact database, for subsequent follow ups.
New Customer Onboarding
You probably already know it's easier to retain existing customers than to acquire new ones. One great way to improve your business quickly is by staying in touch with new customers to keep them coming back for more. When your sales tools include Hubspot Sales Hub, which works off the same common contact database as Hubspot Marketing, you will already have a complete record of every activity a new customer took before they became a customer.
Knowing this enables sales professionals and customer service organizations that use Hubspot CRM to know exactly what a customer bought, when, at what price and under what conditions, which is often extremely difficult for companies to know if they don't have a system like Hubspot. Armed with this key information, your sales and service team can build and maintain deep customer relationships that last for years.
EventBrite
From event registration to payment collection and even name tag printing, EventBrite has everything you need to maximize the ROI for all your client's events.
With HubSpot integration, you can collect leads into HubSpot, track who's registering for (and attending) your events, and more quickly you can communicate with your registrants before and after the event.
It also provides the platform to set up workflows for customized event reminders and follow-ups.
ManyChat
Your sales process may already incorporate an onsite chatbot. But if you use Facebook, in particular, Facebook Messenger, you're missing out if you don't use ManyChat, which is the world's most advanced, easiest to use, chatbot builder. What many business owners struggle with is understanding that a chatbot can live inside Facebook Messenger, but it is really a simple little tool that allows you to build very complex messaging sequences, using a visual drag and drop interface.
You can also use this to drive ecommerce transactions and all of it, of course, can be recorded in the Hubspot contact database.
Hubspot provides native integration to Shopify, which, even with the free version of Hubspot, provides amazing value. It eliminates the need for expensive third-party integration tools, and makes your system far more maintainable.
You will also be able to see how many abandoned shopping carts you are actually experiencing, which is usually far more than Shopify's own analytics tool typically shows.
You will also see the value of those shopping carts, and can also quickly dig down to see which products are being abandoned.
With the paid version of Hubspot (any level), you can send out lead nurturing abandoned shopping cart emails, and measure the true return on each one you send.
Wordpress
With about 1/3rd of all website built on the Wordpress CMS, it only makes sense that Hubspot would provide an easy integration mechanism for Wordpress, and it does. By means of a simple plugin, Hubspot can immediately start collecting contact data generated by a huge variety of forms, such as Gravity Forms or WP Forms, among many.
The integration also tells you which pages are getting traffic and which content offers are actually converting.
HubSpot allows you to easily put these contacts into workflows and get them into a Hubspot workflow driven nurturing campaign.
Schema.org Tags
Improve your SEO results fast!
While the Google Bot is getting ever smarter, marketing professionals and SEO experts know that you can make Google Bot understand what every page on your website is about by implementing properly structured schema tags. What are they? Basically, little pieces of code you can use to tell Google, Yahoo, Bing and other search engines what a page is about. There is an online platform within the Hubspot Marketplace that makes setting this a snap, and is fully natively integrated with Hubspot.
Bitly
Bitly is a web-based service that allows you to create and customize shortened URLs. It also allows users to track performance on specific links.
HubSpot makes it easy to integrate with Bitly – just log into the Bitly account you want to connect to a specific HubSpot portal and prompt HubSpot to request access via the social media settings panel.
Hotjar Heatmaps
While high converting landing pages can be created using both Hubspot templates and others from Unbounce and Leadpages, improving your lead conversion rate is a never ending activity. Hotjar allows you to watch what your users are doing, in real time, and take action to make your users convert faster. The analytics it provides help you develop a prioritized conversion rate optimization (CRO) roadmap.
Inbound Telephony System
For many of our Hubspot CRM customers, their Call Center functions as both an Inbound and Outbound Call Center. While Hubspot provides integration to many different phone systems, one that we have found particularly well suited to a Hubspot Call Center is Kixie.
Tracking Inbound Calls
The CallRail Hubspot Integration is an absolute must if you pay for any volume of Google Call Only ads. It provides robust tracking down to the keyword that caused the call to be initiated. The supercharged integration scenario involves Callrail+Hubspot+Google Ads. There is also a similar integration scenario of Callrail Salesforce Integration, and we often run across clients who prefer to stick with highly modified Salesforce environment.
Because this is such a large area to explore, our Hubspot Consultants put it all together in an ebook called "The Complete Guide to Integrations and Why to Use Them" which you can get by completing the form.