Let's Face It, There Are More Opportunities Than Salesmen To Pursue Them.
Some would say this is a good problem to have. I say, it is a waste of money to have generated those opportunities, only to have them lay fallow. What you want, instead, it is to learn where the customers are. Makes life a lot simpler.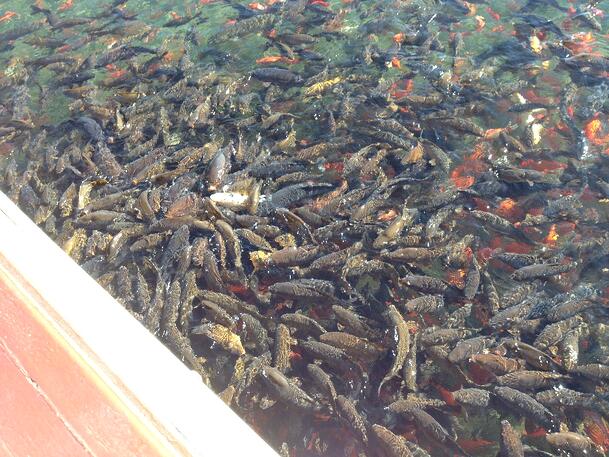 Need to Sell Where the Customers Are
What Is a Sales Manager Supposed To Do?
What can an Account Executive do to leverage the 'systems' as a force multiplier. The new Hubspot CRM, specifically designed to support an Inbound Sales process, is the new kid on the block who happens to already have over 625,000 users globally, but with a lot of potential if used right.
Having used many CRM's over the years, including SAP, i2 and ACT!, to name 3, I was anxious to see what Hubspot would deliver with this new tool, especially given that they are a Marketing Platform company.
I was not disappointed; it is a new tool, which leverages a lot of different information sources to provide an AE with unprecedented visibility into his accounts, without doing much more than clicking.
It doesn't try to be all things to all people, but instead, is ideal for small to mid-size companies with defined sales processes, particularly those that implemented SMART goals.
How do you use it as a Sales Force Multiplier:
Fully leverage all your leads generated from your Inbound Marketing efforts.

Leave no stone unturned!
About the only manual part of any of the processes you need to work with using this system involves creating company records from the prospects list that have not had a conversion event.

We highly recommend you take the time, using a methodical grouping approach, say by state, country, or industry, of entering in these prospects so you can see how you're progressing with regards to establishing relationships within that account.
You no doubt have other lead sources outside of your Inbound Marketing efforts; I recommend you develop the discipline to create company records of every inbound job lead and as well, create an associated contact.

Ask me how to leverage a couple of List and Smart Workflows to do something useful with these leads.
As a Sales Manager, you need to run your opportunities off of the Hubspot CRM deal panel right in the system.

Like all systems, unless you make them part and parcel of your operations, they wither and die, and you won't have to wait long to hear the typical grumbles from the sales team.
If you don't have LinkedIn premium accounts, for each AE, you're going to find it very difficult to truly leverage all the contact information the system is automagically pulling in on each company you are working with.
The system fully support Account Based Marketing can fully model highly complex relationships.

We recommend you add all contacts, regardless of role, to each company.

Otherwise, you will find you're losing track of who's on first.
Given this limitation, you do, however, get a huge head start when you take a look at all the contacts the system already has about any particular company you have entered.

Sometimes, there may not be any, but most of the time, the list of other contacts it shows is extensive.
At a certain volume, especially in those cases where your sales process still requires facetime, you will want to have enough details in the contact and company record to be able to filter by location to increase productivity.
If you, like us, have to prepare pre-sales demonstrations and presentations to make the deal, you will want to create and store 'common presentations' on the google drive to be accessible by all.

This is one of those activities that will take some discipline or at least behaviors, that isn't normally part of the process.

You want to do whatever it takes to alleviate this time suck from your sales force.
Finally, the system provides multiple ongoing opportunities to coach your sales team, especially regarding activity levels, as it keeps track of just about every interaction that happens between your sales team and the prospect.

When you combine the power of the SideKick (now just called Sales) app with the Hubspot CRM system, along with the huge volume of contextually relevant information provided by the system, you have the makings a true 'force multiplier'.


Use the 'Book a Meeting With Me' functionality.

The paid version of the tool provides a mechanism to allow your prospects to book a meeting with your sales team members online.

This saves a ton of time trying to deconflict a schedule and also increases productivity.
Bonus Round: This represents a new way to sell for many people, and the temptation of many will be to revert to the norm, i.e., a business card in the sunvisor is the only customer I need, as I was once told.
World Class Culture Change
What this means is that it is a change management project like any other new system. But in this case, it touches all aspects of the company's operations so a implementation plan is not a bad idea.
We fully expect continuous improvement in this product, and have already seen several updates to the product. We'll be addressing those as they hit the street.
In the meantime, if you're ready to get started with implementing Hubspot CRM, we can help.
People who read this also read:
12 SAP CRM Content Management System Requirements
3 Marketing Routes to Reach Your CRM Goals
16 Keys to Unifying Sales and Marketing
Free Online Sales and Inbound Marketing Calculator
Get a FREE Inbound Marketing Assessment
Thanks