SAP Partner Inbound Sales and Marketing
SAP Partners' sales and marketing teams perform a delicate dance – your marketing team is working to generate new leads while your inbound salespeople are simultaneously working to close those leads. The two teams usually share a budget and have similar goals, yet their roles are very different.
Inbound Sales Strategies Must Be Aligned to Work
Both your inbound salespeople and inbound marketing teams want to see results, and inbound sales are one of the most effective ways to see inbound sales success from increasing organic traffic from search engines as well as all the other marketing channels, such as paid, social, email and direct as well as in-person events and networking.
How Inbound Sales Teams Differentiate Themselves
An Inbound Sales Strategists View Point
An inbound sales strategy focuses on providing provable, quantifiable value to your potential customers so they want to work with your organization in the future, making it easier for salespeople to meet their quotas.
Customized Value Propositions are Key Leverage Points
When in the exploration phase, inbound salespeople aim to learn more about their qualified leads' goals or challenges to assess whether their offer is a good fit.
During this stage, it can also be helpful to learn the other solutions a prospect is browsing so you can better present a value proposition that sets you apart from the competition.
B2B Relies Heavily on Case Studies
Many people believe that Amazon came up with idea of having customer reviews be the driver of sales. Nothing could be further from the truth. Long before Amazon perfected the technical process, people relied on word-of-mouth referrals to make decisions about products. When it came to businesses making decisions, they've been relying on Case Studies for at least a century!
The Top Benefits of Using Inbound Sales to Grow Your SAP Partner Book of Business
Understanding the Inbound Sales Philosophy
Where an outbound sales process is like having an outbound sales team "pushing" your product or services onto a potential customer, using an inbound sales process is like "pulling" customers into your product or services.
Inbound Sales Process Means Personalized
Using content and customer data, inbound sales teams approach marketing from a unique, personalized perspective. The inbound sales process relies on having content that specifically fits each phase of the buyer's journey.
Buyer's Journey May Not Look Like Idealized Sales Funnel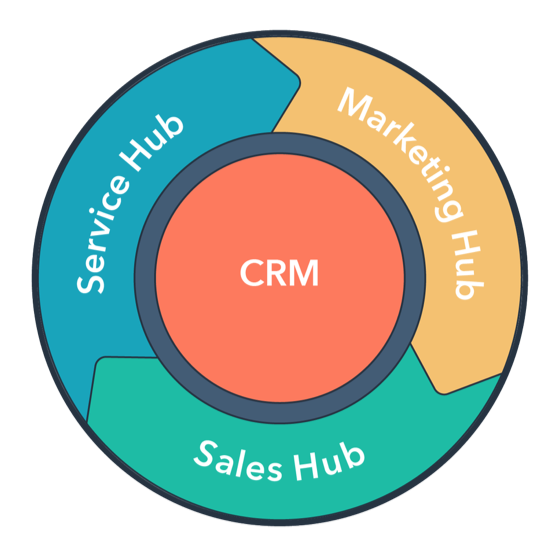 While sales and marketing teams should work closely together to develop a comprehensive content map, the fact is, today's buyer is likely to take path through sales process that looks much more like a flywheel.
That journey is supported by different Hubspot products throughout the customers journey.
Inbound Sales Strategy Works Best With the Inbound Marketing Methodology
Before you can fully understand and leverage the Inbound Sales Methodology, you need to fully understand the Inbound Marketing Methodology. In a nutshell, the Inbound Marketing gets customers to raise their hand using content marketing. Case studies and many others types of content help fuel the Inbound Marketing machine, ultimately helping Inbound Sales teams hit their targets.
Top Benefits of Using a Inbound Sales Strategy
While there are many benefits to using inbound sales, the top benefits of using this method are:
Social media: Companies in 14 of the most common industries – like computer software and healthcare – that engage in social selling on social media platforms see over half of their revenue from this marketing tactic.


Email marketing: Using email to engage customers is one of the most effective inbound marketing strategies. Asking a question in the email can result in a 50% greater chance of receiving a response.


Customer preference: More than 50% of customers would rather wait to hear from a salesperson after they've had time to prepare a list of questions or concerns.
Content Creation is a Key Factor to Inbound Sales Success
Inbound sales requires a commitment to focusing on what your customer wants and needs. Inbound sales reps will need Inbound sales content which should answer questions and provide value to your potential customers in your target market. With this marketing method, people appreciate the value an inbound sales person provides and remember it when they are ready to purchase.
SAP Partners and other complex service providers must keep in mind that Inbound Sales isn't just posting a few photos and captions on Instagram or writing a couple of blogs about your industry – it's a comprehensive approach to growing your business organically.
3 Techniques You Can Use to Explode Your Inbound Sales Growth
While it can seem overwhelming to start an inbound sales strategy from scratch, there are easy, yet powerful ways to use techniques that will boost your company's growth.
1. Define Your Company's Buyer Persona(s)
A buyer persona is effectively a representation of what motivates your customer. Though it is a fictional representation, you should craft a buyer persona from the data you have about your current customers. Information you need to create a comprehensive buyer persona includes:


● Whether the customer is a consumer or business
● The person's role in their household or company
● Their approach to company and professional goals
● What social media channels they prefer to use?


Smaller businesses or companies in niche industries may only have one buyer persona for their organization, where larger companies with a more diverse product offering may have several personas to work with.
Without this step being accomplished, you may well identify the wrong target market. This will lead poor overall business performance.
2. Analyze How People Interact and Engage with Your Website
Digital body language – or your customer's footprint on your website – is one of the most effective ways to improve your inbound sales results. The data you gather about how people interact with your website can be used to improve your inbound sales content. Relevant data to analyze includes:


● The pages a customer has visited on your site
● Content a customer has downloaded or engaged with on your site, which they do one what called Landing Pages.
● Information a customer has submitted in forms on your site
● What path a customer took to get to your site


The more information you have about your customers or site visitors, the more capable you are of creating content that is engaging and valuable.
3. Align Your Sales and Marketing Efforts and Goals
To get the most out of your company's marketing efforts, your sales team and marketing team need to be fully aligned on the company's goals. Using a platform that gives both teams access to the same information can help align those goals. Goals that should be aligned are:


How inbound leads and outbound leads are handled internally
How marketing efforts can improve your sales teams' goal achievement rates
How sales data can be used to streamline marketing efforts
How both teams can improve their processes to encourage growth


If your Inbound Sales Teams and Inbound Marketing Teams aren't working together, you're going to see lackluster results from your inbound sales efforts. Your marketing efforts need to provide value to your sales team.
Tips for Creating Engaging Inbound Sales Content
The primary reason businesses use inbound sales content is that it drives organic revenue. Large and small businesses use content marketing to increase their search rankings and improve the value they offer their potential customers.
Engaging content is a cornerstone of inbound sales and marketing. Creating it requires expertise and time, and results aren't often seen overnight which can make many marketing professionals anxious.
You can, however, use these tips to make your inbound sales content more relevant:
Research keywords: The keywords you use in your content will dictate what traffic comes to your site. Use the right keywords for your industry and experience.


Obsess over competitors: Read all of your competitors' blogs, emails, and websites to get ideas on how you can improve your own inbound sales content.

Consider investing in a platform like SEMRush for in-depth competitor analysis support.

Finally, learn how to set up and use Google Alerts. If you don't know about it, you can set a Google Alert to monitor both competitor activities and specific keywords and phrases.


Analyze content regularly: Constantly track how your content is performing and how keywords can be optimized more efficiently.
Use your network to promote new content you create. Share blog posts on LinkedIn and link back to your content on Facebook, Instagram, and Twitter.
How an Inbound Sales Consultant Can Improve Your Inbound Sales Content
Most business owners only have the capacity to make small tweaks to their inbound sales content. When it comes to writing long-form content and putting together a blogging plan, an inbound sales consultant is better suited to the task.
An inbound sales consultant knows SEO best practices that can increase your search rankings, how landing pages can improve your conversion rates, and what content you need to improve site visibility.
As specialist who hold the Inbound Sales Certification, we are specialist in helping SAP Partners get more leads and sales from Inbound Marketing and Sales techniques, and we have put together a focused guide for SAP Partners to implement Inbound Marketing.
Why We're Uniquely Qualified to Help SAP Partners
There are three primary reasons SAP Partners come to us to help them develop and implement Inbound Marketing and Sales programs that make a difference to their bottom line results:
Deep SAP background. The founders have decades of hands-on SAP implementation experience.
Multiple SAP Partners have already enjoyed impressive results from Inbound Marketing and Sales programs we've designed and implemented for them.
We have deep insight into SAP's Go-to-Market strategy based on Industry Specific Solutions and their partner model.
How Does This Impact You - the SAP Partner?
We know exactly how to formulate your offer so that customers come to you because of SAP's unique value as a solution provider. We also have been very successful in getting very large SAP Partners to reach out and partner up with smaller partners who often can fill out the white space. This is a very tricky process, and takes years of experience operating within the top tiers of business to successfully pull off. We do that.

Get the SAP Partner Inbound Marketing Methodology Guide
We've distilled our extensive experience down to a succinct guide specific for SAP partners, called the SAP Partner Inbound Marketing Methodology Guide. Click the button to grab your copy.