Know How SAP Partners Can Capture SAP Implementation Dollars?
When a SAP software license is first sold, there is always a need for significant SAP services. Roughly speaking, for every dollar of SAP software license bought, somewhere between 3 to 10 dollars will eventually be spent on the implementation.
Given these 2 knowns, you can, using basic math, determine the size of the implementation opportunity, at least for the initial implementation.
However, if you are a SAP services partner, you may struggle to both uncover subsequent SAP services opportunities and as well, to place a value on them.
Who Uses Inbound Marketing?
Is there a Best Practice or other proven technique that might make the process a little easier, for both SAP customers and SAP service provider?
As it happens, there is, and it is practiced by SAP itself, on a grand scale, though they may not always call it what it is, which is Inbound Marketing.
But just to put some perspective on their efforts, you might consider that they have more than 4.5 million registered users of their service marketplace, just in North America.
SAP consultancies can learn to leverage the Inbound Marketing practices of both the SAP mother ship as well as Hubspot, who have largely defined and continuously refined the approach over the past few years.
But be forewarned, this is not a 'light touch' approach.
Even though the marketing automation software available allows you to create a 'force multiplier' for your marketing department as well as create a virtual army of 24 x 7 account executives, it actually takes more labor, even with all the automation!
How does this process work? First lets define the methodology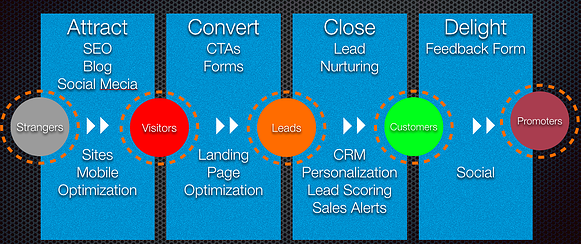 The Inbound Marketing Methodology
From a SAP Services oriented consultancy point-of-view, these different steps break down into the following critical time-to-value activities:
Diagnosing your current sales process.

What specific industry verticals do you have deep expertise in and where do you or should you, be demonstrating thought leadership.

Which existing SAP customer relationships do you have?

How is your relationship with SAP, i.e., do you have a close working relationship with one or more key persons.

How can you or do you combine 'relationship selling' with data from sources such as Hoovers?
Does your sales team both understand that they are 'performance artist' and actually practice their art?

Is your CRM system fully integrated with your marketing system?

Are there any disconnects that you're 'working around' within any of your sales and marketing systems?

What is your concept of a lead?

Do you have established Service Level Agreements (SLAs) between Marketing and Sales that establish not only how many leads need to be supplied to each Account Executive monthly but as well, what the accepted and signed-off definition of qualified lead means?

Can you effectively leverage SAP Value Engineering assets, such as benchmarking results, Points-of-View, Collaborative Value Roadmaps, Outside-In business cases etc,?


Is your website designed to deliver leads, or is it brochure ware?

What 'real world' experience does your team bring to the table that can be converted into content that is perceived as valuable by the SAP world?


Is everyone in your company not only on social media, but actively contributing to it?

Are you both able to measure your social media activity and actually measuring it, daily, weekly, monthly?

Social media sites you 'MUST' be active on include:
SAP Developer Network (everyone should have an account and be contributing and know their score)
LinkedIN
YouTube
Facebook
Twitter

Is the majority of your entire company's social media activity actually social, with a good measure of educational content mixed in? Hint, if not, you should fix that.

Can you educate your SAP prospects on how they can best use social media to advance their business goals?

How do you actively monitor and react to 'sentiment' across the various channels?


Is mobile a core part of your DNA?

Can you demonstrate how, in the now firmly established world of Mobile, everything is part and parcel of how you operate as a SAP Service Consultancy as well how you can help your customer do the same?


Do you know how to effectively merge both your outbound marketing activities with your Inbound Marketing activities?

Can you effectively use one to leverage the other, day-in and day-out?
As you can see, generating highly qualified SAP sales opportunities is possible using Inbound Marketing, but you will need to leverage our old friend 'Best Practices' to get there.
You can get them now by downloading our SAP Partner Guide for Inbound Marketing.
People Who Read This Also Read:
10 tips for Airline's to Leverage Inbound Marketing
Get a FREE Inbound Marketing Assessment
10 Shortcuts for Working Your Leads in Record time
Request Inbound Marketing Services
How to Unlock the ROI of Your Marketing Analytics
Thanks