SAP Project Resource Management
In today's complex Professional Services environment, one of the most critical aspects of achieving project profitability is Effective Project Management and Profitable Resource Management (PPM).
What are Some of the Characteristics of successful PPM Resource Management?
First off, professional services firms must have systems that provide reliable project accounting and controlling. This system must have the ability to:


The second major requirement is to provide an effective enterprise class project management system which provides:


Finally, the third major requirement is an efficient resource management system. An efficient human resource management system provides:


What issues can SAP Engagement Management help Professional Services firms address: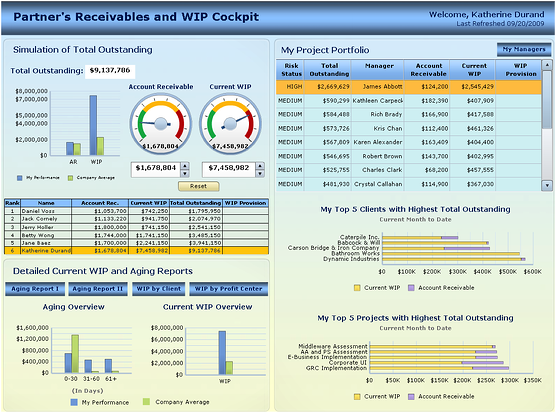 SAP Project Management Dashboard
The Project Management Functionality of the SAP Professional Services Solution can also:


Provide timely information about which resources are available.
An ability to tentatively book resources.
Quickly staff project roles.
Provide visibility of resources assigned to the project and their activities.
SAP Professional Services Roadmap
While the SAP Professional Services Solution already offers extensive business process management capabilities to manage complex projects, many improvements are on the SAP development road map:
Complex Quote Solutions
Intelligent Staffing of Resources
Relationship Management Lifecycle
Intelligent Finance Operations
This is just a small taste of the of the SAP Professional solution development roadmap. It already provides extensive support for the following areas that are not just of concern for Professional Service Companies:
Talent Acquisition
Talent Management and Learning
Workforce Planning and Analytics
Employee Experience Management
Within the Core ERP Functionality, it provides relative support for:
Core Finance Functions

Record-to-Report
Invoice-to-Report
Treasury Management
FP&A
Real-Estate Management
Travel-to-Reimburse
Invoice-to-Cash
Global Risk and Compliance (GRC)
Continuous Business Model Innovation
As digital transformation takes center stage, professional services firms are embracing new and agile business models that allow for flexible pricing based on business outcomes. This shift has led to a rise in subscription-based models and everything-as-a-service (XaaS) offerings, replacing traditional time and materials billing. Business model innovation is key to staying competitive in today's complex professional services environment.
Power of SAP S/4 HANA Best Practices
Professional service firms can greatly benefit from utilizing SAP Best Practices for their business operations and driving digital innovation and business process transformation. With reliable project accounting and controlling systems, enterprise-class project management systems, and efficient resource management systems, SAP Engagement Management can help professional services firms accurately allocate time and expenses to projects, manage work-in-process and invoicing, optimize sourcing and service procurement, and provide full visibility into project status, project team collaboration, and on-time delivery of projects within budget. Additionally, the SAP Professional Services Solution offers extensive business process management capabilities, such as talent acquisition, management, and learning, workforce planning and analytics, employee experience management, core finance functions, and global risk and compliance. As digital transformation continues to shape the professional services industry, SAP Best Practices can help firms stay competitive by embracing new and agile business models, such as subscription-based models and everything-as-a-service offerings, to replace traditional time and materials billing.
Becoming an Intelligent Enterprise
In today's constantly evolving business landscape, it's essential for professional services companies to become intelligent enterprises. An intelligent enterprise is a company that leverages advanced technologies, such as artificial intelligence, machine learning, and the Internet of Things, to gain real-time insights and make data-driven decisions. SAP Professional Services Solution is designed to help professional services firms become intelligent enterprises. By using SAP Engagement Management, companies can create accurate proposals, prevent revenue leakage, and gain a reliable overview of overall engagement margin and profitability. Furthermore, SAP's roadmap includes intelligent staffing of resources and complex quote solutions, which will help companies optimize their workforce and increase their efficiency. As digital transformation continues, firms that embrace new and agile business models will stay competitive, and SAP Best Practices can help them achieve this goal. By utilizing SAP's advanced performance analysis capabilities and tailored solutions, companies can take their operations to the next level and become intelligent enterprises.
Advanced Analysis Capabilities
Our aim here is, of course, to show some of the analysis capabilities built into the solution, which can be tailored to your specific requirements. If you would like SAP consulting and implementation support with your SAP project, just click the button.
More reading:
Top 10 Guidelines to Choosing a SAP Service Partner
Learn What is Catch Weight Management
How SAP Professional Services Solutions Help You Increase Profits
What are 2 Primary Focus Areas for SAP Airline Customers?
14 Remote SAP Consulting Mistakes You Don't Know You're Making
3 Ways to Design KPIs Using SAP Solution Map Composer
Why You Need Functional SAP Consultants on a SAP BW Project
8 Secrets to SAP Enabled Spend Performance Management
Learn What Tools To Use To Investigate IS-Mill Functionality
Leverage SAP BW to Increase Supply Chain Inventory Accuracy
BusinessObjects Explorer Best Practices
Take a Deeper Dive into Aircraft Cockpits Vs Dashboards