If so, you'll know that it's difficult to impossible because bad data is worse than no data when it comes to high performance Internet marketing.
Real World Bad Scenario From 2020
Imagine you're in the business of selling internet marketing software, such as Hubspot, as we are. As a Hubspot Certified Inbound Marketing Agency, one of our critical business processes is to register leads, so we can get credit for them should they turn into customers. As we are a global operating company, we have leads registered all over the world. As Hubspot partners, we have a Channel Account Manager, as all Hubspot partners do. They are focused on a particular territory, while our leads come in from all over the world.
Because we are a digital business, it is critical that our software supplier help us out no matter where the lead comes in from or is located. That means they need a business process that knows which Account Executive should be working our lead, even when that lead is outside our assigned account managers assigned territory.
Big Data Process Management
That process often breaks down because of bad data all along the information supply chain as well as the existence of data silos.. In short, they need a data governance framework so their partner eco-system is better served.
Data Model Governance - Here's What You Need To Know
Many people have found success by using rock solid Data Governance procedures. But there are a few things you should know before you implement a corporate wide data governance program to ensure Internet marketing success. This post will tell you what you need to know to make sure you select a data governance model that will let you successfully leverage the internet in internet marketing.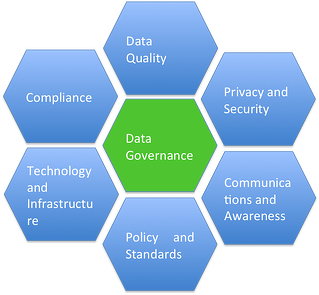 Core Data Governance Capabilities and Processes

Data Analytics Governance Model
If you're looking for a data governance framework model that supports strategic decision making, the best method to ensure you end up with something that lets you market successfully on the internet, especially in a multi channel marketing enabled sales process is by looking for these things:
Make sure your Data Governance Methodology lets you quickly add new, accurate data while cleansing old data. If it doesn't, you'll have trouble segmenting leads, analyzing inbound marketing generated leads and quantifying the cost of bad data up and down your data supply chain.


Ensure your Data Governance Methodology has an active feedback mechanism so you can measure it, improve it and change it.

Many systems rely on Artificial Intelligence and Machine Learning algorithms to constantly improve their performance. These systems, in turn, rely on data quality, and statistics, to do their job.

For instance, Google Ads relies on AI to constantly tune it's targeting. One of the key inputs it uses is up to date feedback about which leads it sent to a client that became a customer. It does this via the use of a code called a GCLID which gets fed back to Google Ads. If your internal systems cannot keep track of a contact across the entire lifecycle from Prospect to Customer, and feed it back to Google, you'll pay drastically more money for fewer leads.

Systems like Hubspot, which provides a native integration to Google Ads, LinkedIn and Twitter, allow you to feed sales data instantly back to each of these platforms. This is extremely sensitive information, in that it reveals much about your overall advertising strategy.

Internal data analyst, if they do not have such systems in place, will be performing data analysis based on inaccurate data, and ultimately driving sub-optimal performance.


Any good active data governance methodology should let you measure your data quality. This is important because data quality actually has multiple dimensions which need to be managed.
Data Governance Methodology

Perquisites
While necessary but not sufficient, some great bonus features of a great Data Governance Methodology are:
Data Driven Decision Making
Now that you know the necessity of a Data Governance Methodology to a successful Internet Marketing system, you're ready to win at the multi-channel internet marketing game without worrying about tripping up your fulfillment systems due to bad data.
Data Scientists Increasingly Key
Many businesses are now employing data scientists to solve some of their toughest challenges. One of the areas they frequently work is within data analysis and data quality. In the future, actually, in the here and now, CIOs will find that Data Scientist will be working in different parts of the business, in areas not traditionally under the CIO. But they will still need high-quality, high volume data, coming primarily but not exclusively from the business intelligence systems.
Data Governance Tools
The US Health Insurance Portability and Accountability Act (HIPAA), and industry requirements such as Payment Card Industry Data Security Standards (PCI DSS) both have strict data governance mandates. Violations of these regulatory requirements can result in costly government fines and public backlash. To avoid this, companies adopt data governance tools to set guardrails, which prevent data breaches and the misuse of data.
High-Quality Data
Data governance ensures data integrity, data accuracy, completeness and consistency. Good data allows companies to better understand their workflows and customers as well as how to optimize their data quality.
Data Governance Program
Leaders of successful data governance programs declared in December 2006 at the Data Governance Conference in Orlando, FL, that data governance is between 80 and 95 percent communication. Although the benefits of a data governance program are clear, data governance initiatives have a number of hurdles to overcome to achieve success.
One of these challenges includes Organizational Alignment. At the onset of a data governance program, one of the largest challenges will be to align stakeholders across the organization around what the key data assets are and what their respective definitions and formats should be.
Data Governance Team
Who is Responsible for Data Governance? Now that we've looked at the definition of data governance, let's discuss who's responsible for the implementation. Effective data governance involves the entire enterprise. Large organizations typically designate a data governance team responsible for setting goals and priorities, architecting the governance model, gaining budget approval, and selecting appropriate technologies to use.
Minimum Data Governance Team Composition
Manager - Master Data Governance: Leads the design, implementation and continued maintenance of Master Data Control and governance across the corporation.
Solution and Data Governance Architect: Provides oversight for solution designs and implementations.
Data Analyst: Uses analytics to determine current issues with data, identifies source system data generation problems and other data quality issues.
Master Data Management
Data governance is the core component of data management, tying together nine other disciplines, such as data quality, reference and Master Data Management, data security, database operations, metadata management, and data warehousing . Data Governance is Not Master Data Management. Master Data Management (MDM) focuses on identifying an organization's key entities and then improving the quality of this data.
Data Governance Framework Template
To support your data governance strategy, you will need data governance framework template. We've developed one, which you can download. called Data Governance Framework Template to learn more about how you can use multi-channel marketing to maximize your marketing goals.