Because we come from a manufacturing background, specifically, aerospace & defense, we have a deep appreciation for quality. During the past few months, we have been working with various Marketing and Sales clients to improve their 'funnels', whether they are Marketing Funnels or Sales Pipeline Funnels.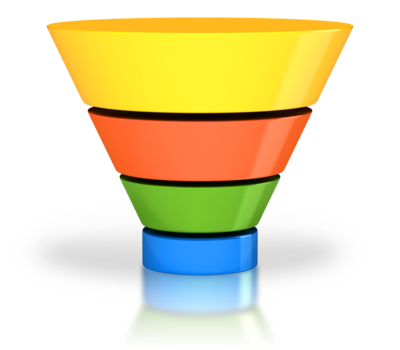 How Well Does Your Funnel Work?
Conversion Rate Funnels Are Also Failure Rate Funnels
Within the Hubspot Inbound Marketing world, one of the key concepts is the establishment of an SLA or Service Level Agreement between marketing and the sales team. It's a great idea, if not always executed according to 'plan'.
What is an SLA
And what does it have to do with Calculating Sales Funnel Quality?
An SLA is an agreement between two of the most critical parties in any organization:
Sales


Marketing.
Designing your own sales funnel is a key task to successfully setting up a sales pipeline that results in the shortest possible sales cycle time. It's also one of the prerequisites to being able to measure sales funnel efficiency, i.e., pipeline conversion rate and to improve your win rate. Marketing automation tools, such as Hubspot CRM, make this task a breeze, even for the most complex sales process.
Marketing Efforts Must Generate Revenue
For your sales reps to hit their individual sales rep goals, your marketing content must be designed to generate hot leads from the top of the funnel all the way until cold prospects are turned into paying customers.
Lead Magnet Gets Them Into Awareness Stage of Your Sales Funnel
A well designed lead magnet will attract potential customers from target audience. Relevant content developed for these prospective customers, coupled with the right lead nurturing activities and sales activities, will help convert these potential customers into paying customers.
Existing Customers Can Drastically Influence Conversion Rates
Once customers have reached the consideration stage for specific solutions to their want or need, they often begin or continue to evaluate, specific companies. Up until this point, your marketing content has been used to convert prospective customers into ever more qualified leads.
Sales Funnel Calculator
When there is an SLA in place, each member of your marketing and sales team has agreed upon performance metrics that they will commit to. Marketing will deliver a certain number of Marketing Qualified Leads or MQLs to Sales. Sales will work to convert these MQLs to SQLs (Sales Qualified Leads) and ultimately, into customers. Viewed graphically, they have a funnel, and each owns different parts of it.
Knowing How to Calculate Pipeline Conversion Rates is Critical
Your Sales Funnel is a conversion rate driven process and the first step in measuring your Sales Funnel Quality is to learn how to calculate your Sales Funnel Conversion Rate. It's a simple calculation and we've developed this Sales Funnel Conversion Rate Calculator for you to use to begin the process of evaluating your Sales Funnel Quality using common sales funnel stats.
How to Calculate Sales Funnel Conversion Rates
Let's take a look at the process.
Sometimes it Works, Sometimes it Doesn't
Having an SLA in place is already a major leg up on a company's competition, as most don't have one. As long as a company can set a revenue target, then you can design a Marketing and Sales Funnel and get sign-off on your SLA.
When Conversion Doesn't Happen, You Have a Failure Rate
Let's say you have 1000 website visitors to your website in a month, of which 100 convert into leads (normally by completing a form and identifying themselves) and of those 100, 10 become customers. That would be a nice smooth 10% conversion rate at each stage of this simplified 3 step sales funnel.
There's just one problem
Ninety Percent Failed to Convert
If you were making parts or running a process, like processing a check, and you had this level of failure, you wouldn't remain in business very long. How about if you wanted to compare the sales funnels of 2 different divisions within a company? How would you do it?
Defects Per Million Opportunity (DPMO) to the Rescue
As part of our sales funnel consulting practice, we like to help our clients learn how to focus on sales funnel quality. In order to compare the 2 different sales funnels, which might consist of different levels and almost certainly of different capabilities, you would need to identify the total number of possible defects. Without getting too deep into the math, lets say one process had 10 possible defects that could occur and the other had 20. By converting it into a DPMO number, you could rate the sigma level of each sales funnel. Might sound nerdy, but it would work.
What About Your Paid Advertising Efforts
Half the money I spend on advertising is wasted; the trouble is I don't know which half.
John Wannamaker (1836-1922)
Could You Apply a Sigma Level to Them?
Let's be honest, we're saturated with advertising, with consumers seeing up to 5000 ads per day. For the most part, they put them on ignore. Most tools, like Google, Facebook, Pinterest, Twitter, Instagram, and many others, have easy to use, but highly sophisticated advertising capabilities, and they work.
The Question Is - How Well?
In other words, how to calculate quality is a tough question to answer.
Each platform also provides statistics to measure every aspect of your campaigns. If you were to summarize their statistical reporting capability, you'd have to conclude they are 'success' oriented from top-to-bottom. That makes sense; bad for business if you go the other way.
The truth is, though, if you show an ad to 1,000,000 people and ultimately only convert 1% (or 10,000) of them became customers, then your ad failed 99% of the time. By the way, you can get higher conversions rates, I do all the time. Way higher.
But viewed through the lens of Six Sigma, which means 999,996 (only 3.4 people did become customers) people should have became customers (never happened in the history of mankind - yet), then your ad process needs some help.
In order to improve something, you need a way to measure it. That's why we've developed, as part of our Sales Funnel Consulting Services, this Defects Per Million Opportunities Calculator for our marketing clients, based on our experience with Total Quality Management or TQM.
DPMO Calculator Online
Downloadable Version of the DPMO Calculator
Though this calculator is online, and you can use it often as you want, you can also grab it for FREE just by clicking the button. You can use this tool to measure and improve your Sales and Marketing funnel on your way to achieving a 6 Sigma performance level.
Don't worry, it works just as it always has for manufacturing or sales process analysis, we just found a place where we thought the precepts of Lean Quality Management could be applied in a new way.
People Who Read This Also Read:
How To Translate SAP Modules Into Business Process Capabilities
5 Reasons A Datawarehouse Is Critical To A Solid Balanced Scorecard
7 Warning Signs Your CRM Customer Service Processes Are Broken
SAP SEM CPM Risk Register Design Template
SAP SEM CPM Balanced Scorecard Input Template
10 Critical Chain Project Manager Tips
Learn What is Catch Weight Management
Top 10 Benefits for Financial Analysis in the Latest SAP EP4
Learn What Tools To Use To Investigate IS-Mill Functionality
SEO Site Audit
Attract, Convert, Close, Delight: The Superior Inbound Marketing Strategy
If you liked this, please share it using the Social Media buttons at the bottom of the article because it helps us know what our users need.
Thanks