Does your company frequently suffer from clogged sales funnel syndrome (CSFS) – congratulations, you at least have a sales funnel defined!
Integrated Sales and Marketing Funnel
For many companies, even very large companies, a fully defined and functioning sales funnel remains elusive, yet is a critical element in successfully implementing an Inbound Marketing and Sales system, especially those wishing to implement a new sales paradigm based on integrated sales and marketing platforms, such as the Hubspot Marketing and Sales platform.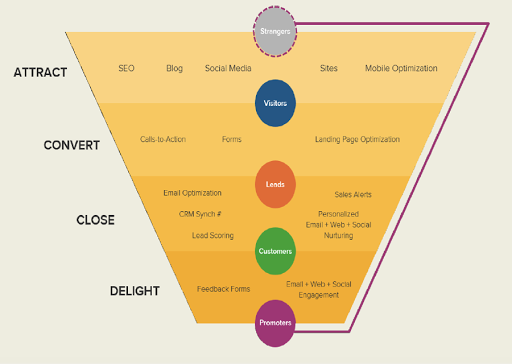 A Fully Integrated Marketing and Sales Funnel
But just why should you worry about the sales funnel.
Primarily, but not exclusively, it is because it is tough out there.
Just How Tough Is It?
Well, if you are familiar with the idea of the velocity of money, you will have noticed that the velocity rate has fallen to lows not seen in decades, which means you have to not just be better than your competition, you have to give your customers a good reason to do something right now, never an easy task, but more so now.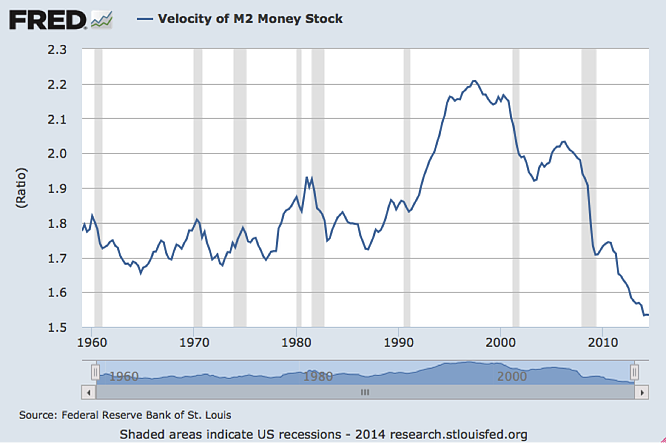 Which Types of Marketing and Sales Funnels Does This Advice Apply To?
Though you can apply these techniques to many different funnel models, these apply particularly to:
Outbound Sales Funnels
Inbound Sales Funnels
Retail Funnels
Complex Systems Funnels
Most of these funnels have many similarities while some have specific characteristics that you need to manage somewhat different.
10 Steps To Unclogging Your Sales Funnel
So how do you unclog your sales funnel:
Develop a clearly defined value proposition.

This is far more difficult for service providers versus product providers, but it can be done.

One key concept here is that value has to be as defined by the customer and can be either financial or operational or both in nature.

Does your system reduce cost or increase revenue?

Specific numbers here are critical.

Perhaps your value is more 'soft touch', for instance, an executive dashboard could be used to drive changes in behavior which ultimately leads to either the increase in sales or reduction in cost.


Learn who your customers really are and what sort of problems they are trying to solve, and whether those problems are addressable by your solution or service.


Develop a vast library of Educational Sales Enablement content that supports the sales process from the top of the Marketing funnel to the bottom of the Sales Funnel


Determine how your customers both prefer to buy and are technically capable of buying.

For instance, for many large companies, they may not be able to pull out a credit card to buy in a touchless sales mode.

Some may be able to, but in most cases, it will be very complicated for your customers within large clients to buy from you.

Even when they are large customers that actually sell that way. This is why you will most likely use Target Account Selling and Account Based Sales for these larger, complex customers.


For high touch sales, particularly field sales led sales processes; ensure you have equipped your sales team with readily accessible sales enablement content deliverable in a variety of means and formats.


If your sales process requires the services of pre-sales engineers (or whoever you call the demo team), ensure that if they have to do 'Discovery', they are following a very precise process with agreed upon deliverables that actually support the sales process.

An excellent paradigm here is to stick within the "issues', 'implications', 'recommendations' framework that tells the story.

This takes practice by skilled personnel and is exceptionally expensive compared to touchless sales.


Provide different ways to buy for different flavors of buyer personas.

For some buyers, perhaps they will have to have a trial before they can make a decision.

For others, a trial may not be necessary, but a relationship will. For yet others, both a trial and a relationship will be absolutely essential.

If you want to create a high-volume, yet multi-speed sales funnel, you will need to have defined a buyers journey that responds to these different types of buyers.

Remember: According to the 2012 Edelman Trust Barometer, 63% of consumers need to hear company claims 3-5x before they'll actually believe them.


Friction.

For most applications, friction is a bad thing.

Other applications, like brakes, rely on friction to function.

It probably goes without saying that you need to reduce the friction throughout your entire sales funnel.

Sell services?

Do you really need that Non-Disclosure Agreement (NDA) up front?

Can it be simplified, eliminated, delayed, or improved in any way to reduce friction?


Automation.

If you have a sales process that is touchless, a la Amazon, great.

For all other types of sales processes, you will need to have a highly aligned, smoothly operating marketing and sales system to assist your customers in making their buying decision.

Any question you can find a way to anticipate and answer up front, do!

Sell subscription based services; can you accept payments in multiple forms, time periods, currencies?

Can you make price adjustments within the subscription management system specific to a particular customer requirement on the fly?

25% of marketers who adopt mature lead management processes have sales teams that follow up on more than 75% of marketing-generated leads


Responsiveness.

This is actually a subset of Automation.

Besides being fast, consumers expect you to be able to offer them relevant, high-value content on the fly.

That is why it is absolutely critical that when marketing develops a piece of content, all sales people are made aware of it, understand it, and most importantly, have a way to find and deliver it to the consumer in the appropriate channel preferred by the buyer, for example, using contextually aware and behavioral driven Marketing Automation Emails.

Some call this lead nurturing.


Nurtured Leads Make 47% Larger Purchases Than Non-Nurtured Leads
There you have it, 10 techniques to unclog a sales funnel.
If you don't have a fully defined sales funnel, we can help you define one. If you are thinking about or are already using the Hubspot CRM system, defining a sales funnel fully enriched with relevant sales content is a breeze. You and your team will love the Hubspot sales analytics program, which allows your entire Inbound Sales Team to be rock stars and have the ability to prove it. Those larger commission checks do wonders for morale.
We can show you how.
People who read this also read:
3 Marketing Routes to Reach Your CRM Goals
12 SAP CRM Content Management System Requirements
3 Ways to Implement CRM Marketing
7 Warning Signs Your CRM Customer Service Processes are Broken
Thanks