Raise your hand if you've ever used an Excel spreadsheet to keep track of your newly generated leads and who has been speaking to them. If so, your customers may well be confused by the fact that more than one of your salesmen appears to be selling to them.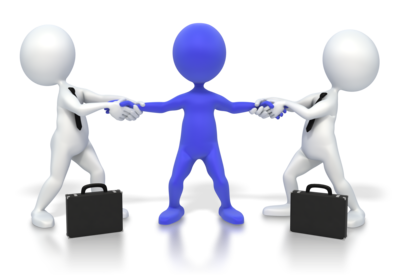 Use a CRM to Keep Your Client Relationships Straight
Excel Just Won't Cut It

Although we do love spreadsheets, we know that approach won't keep you afloat for long. In this day and age, using a Customer Relationship Management tool (CRM) effectively can be instrumental in helping your business grow.
What Are The Key Functional Requirements of Customer Relationship Management (CRM) Software?
When it comes to CRM, the first priority is to keep it simple, yet powerful. At a minimum, it needs to run on a common contact database that contains the following:
Phone Numbers
First Name, Last Name,
Address
Email(s)


By using a Marketing Automation Platform, like Hubspot, most of these pieces of critical customer data can be captured using forms, Instant Messaging (Chatbots), and even phone calls. This then becomes instantly available within your CRM software.
Social Media - Stay Connected
In this is the age of hyperconnectivity. Customers and businesses can engage in more ways than ever: chatbots, social media, phone, text, and email. Countless interactions are happening around the clock, on multiple channels. It's all but impossible to keep up with them, and yet customers expect immediate attention. CRM software delivers real-time notifications every time someone interacts with your brand on any social media channel. A system like Hubspot CRM helps channel these critical customer interactions to the right inbox of your sales team for proper follow-up.
CRM Systems are Much More Than Contact Management Systems
Though there are many ways to keep track of your contacts, from a business owner perspective, you actually need to keep track of contacts throughout their lifecycle. Many times, due to internal staff changes, a contact's owner may change over time. While an individual salesperson will often consider that contact as their 'own' property, in reality, it is highly coveted business asset that must be maintained during the entire period your business has a relationship with the business.
Track Every Customer Interaction
When a customer contacts your call center, they have every right and indeed, full expectation, that you know everything about them, and their order with your company. That's why a CRM system must be fed information from every thread of your customer relationship.
Mobile CRM Capabilities
Customer interactions don't just happen in the office. For many businesses, your sales teams are in the field, meeting your customers where they are at, and 'in the moment'. That's why the best CRM systems offer mobile CRM capabilities. Mobile CRM applications offer or should offer, almost the same capabilities as desktop CRM systems. With mobile CRM, it's possible to run a whole business from a phone – closing deals, servicing customers, and even delivering 1:1 marketing campaigns without being tied to a desk.
Product and Service Recommendations Driven by AI
Some CRM systems can use artificial intelligence (AI) to learn from available data in order to make product and service recommendations based on company processes. In this way, the system constantly and automatically improves, becoming smarter and more targeted to the needs of customers.
Facilitates Remote Working
With office space at a premium, and many workers working from home, Cloud Based CRM systems are the ideal solution to allow small businesses as well as large to deploy large, remote sales teams. Hubspot CRM, for example, can be accessed from any where you have internet access. You can also keep working with it, even when the net is down, for limited periods of time.
This helps sales managers keep track of sales opportunities and whether or not they are progressing through your sales pipeline.


Sales Pipeline Visibility and Management
Of all of the important tasks customer relationship management systems perform, perhaps none are more important to sales management than providing visibility into your sales pipeline. That's why a good CRM system supports sales management with a visual, real-time, sales pipeline.
Sales Funnel Modeling and Design
Of course, having visibility into your sales pipeline depends upon having a sales funnel in the first place. CRM systems like Hubspot allow to easily model each step of your sales funnel, including adding probabilities of closing at stage.

Where's The Sales Funnel Blocked?
With the reporting capabilities of a good CRM, and properly designed Sales Funnel, it doesn't take long to uncover where the problems are at in your sales funnel. Do you have plenty of MQLs in the pipeline but not enough SQLs. Just look at your Sales Funnel report and you will will the issue. But keep in mind, your sales funnel probably doesn't include the complete customer journey. We've seen sales funnel that included practically every interaction to those that included only the critical few. Each business is different.
Shorten the Sales Cycle
Once you have your Sales Funnel designed, and your Sales Team is running hot, the next major goal is usually to focus on shortening the sales cycle. This is where the idea of integrated multi-channel marketing campaigns comes into play. Not all sales prospects are created equal. Many may not be ready to talk to sales now, but with a little targeted lead nurturing, they could be in the future. A CRM platform that integrates both marketing and sales makes this a snap.
Automated Lead Scoring
Not all leads are created equal. They are ranked by their likelihood of becoming a paying customer. A CRM can provide automatic lead-scoring according to the priorities you define, including job role, number of touchpoints, company budget, or location. CRM systems like Hubspot CRM provide both manual and AI driven lead scoring. By spending some time looking at what past customers actually did before becoming a customer, the lead scoring system can help sales team prioritize who they reach out to, provide the most relevant recommended messaging and tell you when a lead is mostly to respond to a call.
Business Processes Driven by Workflow Automation
A CRM system can automate tedious tasks by creating action-based workflows or sending follow-up reminders for the next steps. Setting up workflows requires knowing exactly how your internal business processes are designed to function. Though setting up a lead management oriented workflow is a bit like putting together a lego-set, once set up and operating properly, it is one of best ways to eliminate repetitive labor. It also happens to be one of the tools your CRM needs to have to push just the right leads, based on Lead Score, to the right person, at just the right time.
Track Key Performance Indicators
In the ever changing world of business, keeping track of how your sales process is running is critical. But, you can quickly become overwhelmed with the metrics if you haven't identified the Key Performance Indicators (KPIs) you want to track. Of course, Top Level Revenue is just about always going to be on that list. But a CRM system is going to also help you focus on Sales Team productivity by focusing on those key activities they typically have to engage in to make their number:
Emails Sent/Received

Phone Calls Made/Received

Proposals Sent/Accepted

To-Do List Items Checked Off

Meetings Online/Offline
The Hubspot CRM allows you track and measure these more or less automatically. This is how it provides actionable insight while 'staying out of the way'.
Sales Team Collaboration
Many sales team members work as part of an extended team, including other salespeople and Project Managers. Being able to collaborate on any individual account, is a critical capability. That's one of the great strengths of today's CRM systems, such as Hubspot or Salesforce.
Improve Customer Loyalty
There is old saying that it cost more to land a new customer than to resell to an existing, happy customer. But just how much more? As an old hand at selling very large deals to net new customers for the world's largest ERP software vendor, it turns out, it is about 10 times as expensive. That's a lot. That's why one of the key 'must have' capabilities of any CRM is the ability to monitor and constantly work on, improving customer satisfaction. This can involve anything from collecting Net Promoter Scores (NPS), to remembering that a delivery is about ready to be made.
Improve Customer Lifetime Value
One of the most important functional requirements of a CRM is the ability to help business owners to increase the Customer Lifetime Value of every sales prospect and existing customer. With data consolidated in a CRM, it's possible to analyze patterns and find insights that lead to greater profitability. For example, a business can evaluate what characteristics are common in their ideal customers with the largest lifetime value This allows you to spend your advertising dollars more efficiently and prevent budget going to leads that likely won't be interested in your product or service.
Easy for a Project Manager to Implement
Probably one of the biggest drawbacks to Enterprise Class On Premise CRM implementations has been the cost, complexity and difficulty of implementing a CRM. While it may have taken months in the past to even get the hardware installed, with the new technology available today, and the focus on developing a Salesperson friendly CRM, you can stand up a basic CRM system in under a day. That's because you just turn it on. You will still need to design a sales process, but at least now, you're working with a real system, today, not nine months from now.
You've Got to Start Learning about CRM Somewhere


Have you asked yourself what is customer relationship management? In our CRM ebook, a CRM tutorial for beginners, entitled "Beginners Guide to CRM", you'll learn how companies such as yours can effectively use CRM to drive dramatic salesforce effectiveness improvements.
People Who Read This Also Read:
12 SAP CRM Content Management System Requirements
3 Marketing Routes to Reach Your CRM Goals
3 Ways to Implement CRM Marketing
11 Ways to Use Hubspot CRM as a Sales Force Multiplier
7 Warning Signs Your CRM Customer Service Processes Are Broken
How to Segment Your Customers Using SAP BW and SAP CRM
How to Implement 10 Hubspot CRM Inbound Sales Best Practices
Where Can I get Hubspot Inbound Sales CRM Implementation Services
Understand CRM Based Marketing and SAP BW
If you've got questions or comments about CRM, just leave them below.
Thanks