A Whale of a Tale
Time for another fish tale. I swear this one is true (so you know it is). When I was growing up, I worked with my dad drilling water wells using an Stone Model 31 cable tool rig, and whenever we would happen to be drilling next to a fish'in hole, I would drop a line in the water. One day, I was using a purple artificial nightcrawler, which to a Big Mouth bass, must have been like catnip.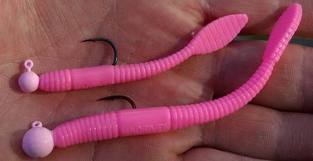 Purple Nightcrawlers Image Courtesy of Creative Commons
How I Caught Two Big-Mouth Bass At Once
This particular day, I had caught a small 1.5 pound Big Mouth bass while fishing in a small pond down by Blue Creek, located down in the boondocks of Southern Indiana (but the specific location shall remain secret, because if I tell you, well, you know).
Just as I got the fish about a foot and a half up on the bank of the pond, a huge (to me, anyway) 3 pound 4 ounce Big Mouth bass jumped out of the water onto the fish I had already caught and got hooked on the purple night crawler. So, I had a two'fer, I caught two nice bass, with just one cast.
Carry a camera, cause no one will believe that story (but it is true; but back then they hadn't invented mobile phones with built-in cameras nor had Google invented reverse image search to keep you honest, that I knew of)


If you have the right offer, you can attract (inbound means they come to you) the big fish. If you are using multiple marketing channels, in my case, a live fish and an artificial purple night crawler at the same time, you need a simple way to measure your results.


The right offer is sometimes hard to come up with. Was the big fish trying to eat the little fish and just accidentally got caught on the purple night crawler or was the big fish really trying to eat the worm?


To me, it did not matter, as I caught both fish.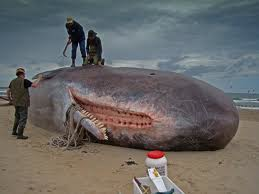 Whale of a Tale Image Courtesy of Creative Commons
In a previous 'tale', I explained the importance of fishing where the fish are. I think that if you truly want to eat everyday, you want to have the fish come to you, and if you are really good, they will basically jump in the frying pan for you.
Value of a Multichannel Marketing Strategy
One of the many benefits of the multichannel marketing is that acquired customers spend 3-4 times more than single-channel customers do, meaning the time investment into getting this strategy right is absolutely worth it.
Know Your Customers Pain Points

Knowing specifically who you're marketing to and what their pain points are is absolutely essential to beginning a successful strategy. That's why a multichannel marketing approach is critical to understand in today's digital marketing world.
Let's dive in and learn more about multichannel marketing.
What Is Multichannel Marketing?
Multichannel marketing can be defined as a marketing strategy that lets brands communicate with prospective buyers and existing customers. It enables this across many platforms (including online and offline channels) while using different tactics. For example, a multichannel marketing strategy would include collateral and campaigns for Television Commercials, Direct Mail, In-Store Promotional Campaigns, email, SMS, and various social media channels, such as Facebook, Instagram and Whatsapp.
How You Use Facebook or Google Audiences To Get Them To Come To You
If you do much paid advertising, you need to learn how to advertise where your 'ideal customer' is. That boils down to identifying the right audience.
Your Customer's are on Social Media
Though there are a huge number of social media platforms, for most companies, their two primary social media channels are going to boil down to Facebook or one of it's many properties or LinkedIn.
Don't Forget Video
Of course, Google's YouTube is the largest video platform out there, but I wouldn't necessarily classify it as a social media channel. The main thing to keep in mind about video is that all the different social media channels, including Facebook, LinkedIn, Twitter, Pinterest and Instagram, have heavy video traffic. From a content marketing perspective, video has proven to be one of the strongest offerings out there, and given that people love video, because they can consume it so much faster than written content, I expect the trend to continue.
Video's Help You Set Cookies and Uncover Audiences
When a video plays, regardless of channel, there's an awful lot of information that a video play can generate, all of which can help you define and ultimately target your target audience.
Find Look-Alike or Similar Audiences
Fortunately, with both Facebook and Google, with their advanced Big Data analytics capabilities, which feed their Artificial Intelligence/Machine Learning paid advertising platform capabilities, you can not only identify your current audience, you can use that audience to identify and target look-alike audiences.
Use Segments Intelligently
You can then segment those audiences into fairly thin statistical slices to drive a greater ROI from your Ad-Spend.
Plan For Measurement
Just like you have to plan out each fishing expedition, you have to plan how you will launch and measure your marketing campaigns, often across multiple channels.
Multichannel Marketing Funnel
By having a well designed, multichannel marketing funnel, you can gather much more analytics data, and drive higher quality decision making. The key to this is to get your analytics tracking code set up correctly, which typically involves both code from the particular marketing channel, as well as the use of a tag manager, such as Google Tag Manager. This will go a long ways toward achieving the right marketing mix.
Getting Your Marketing Mix Right
When it comes to getting your marketing mix right, as well as your measurement system set up, you need to answer some fundamental questions:
What positioning will we choose?

What's are value proposition(s)

How will leads and sales targets be achieved?

Which channels should we focus our media investment on?

What communications strategies will be used to support customer acquisition, conversion, and retention?
You Need the Right Marketing Automation Platform for Success
With the right digital marketing platform, correctly setup with the right analytics, you will be answer these questions and as well, use predictive analytics to intelligently drive lead acquisition and sales results.
Take a Systems Approach to Marketing Measurement
We've helped set up highly effective marketing measurement systems for our clients around the world. We've boiled down our approach to 5 simple steps, which you can get a peek at by clicking the button. Of course, if you need help planning and setting up your omni-channel marketing measurement system, you can ask us to do it for you.
Someday, I will tell you how I almost got run over by a deer (a whole new way to hunt).
What's Your E-Mail Marketing Strategy?[Tutorial]
How To Segment Your Customers using SAP BW and CRM
Thanks