Learn How to Use an SLA to Get Sales and Marketing on the Same Sheet of Music
You've no doubt read the statistics on business failure. Not many new businesses last beyond the five year point. Fewer still make it to the ten year mark. Glad to say we've just recently passed that magic point. That means, though still small, we've been making payroll every month for 11 years. It is all automated now, but believe me, when I started out, I didn't have my Business Operating System (BOS) built.
But I Did Have a Technical Model To Go On
You see, before I started my SAP consultancy, I had worked for many, many years as a Senior Industry Principal for SAP. I had Sales and Marketing responsibility for several key industries, including: Professional Services, Logistics, Aerospace & Defense, Postal, Engineering Construction & Operations (ECO) and Rail. Though I came from a hard-core military logistics background, specifically, aircraft maintenance, SAP had steadily provided me with advanced Sales Training over the years. With the Industry Principal hat, I had responsibility for what many might consider a significant sales pipeline.
You should know that I am also a SAP certified Materials Management Consultant, as well as SAP Project Manager (and hold many other SAP Certifications). In addition, for each of those industries I had responsibility for, I had taken internal SAP Industry Principal training and certification courses. So I knew how my industries operated, across all Lines of Business' (LOB). This knowledge was especially useful when I designed my BOS before launching.
The most useful model, from a consulting services delivery standpoint, was the SAP Professional Services Industry Solution. Over the years, the hard-stuff, like time-and-expenses, which used to be the bane of consultants the world over, had largely been automated.
For example, when I first started submitting expense reports, the finance department insisted that we scotch tape all receipts to a piece of white-paper, before they would accept it and reimburse us. Some would insist they be in date order. Others would not accept hand written receipts (the only type available in many countries). These days, it is entirely possible to do it all online, never touch a receipt, and have it direct deposited in your account.
The Dreaded Annual Business Plan
Each year, as in almost every successful business, I had to submit a business plan to SAP corporate. In my role as SAP Industry Principal, I had responsibility for and support from all the elements of the business, including Sales and Marketing, Consulting, Training, Development, Pre-Sales and others. The business planning exercise, to be totally honest, was painful to do. Or at least do honestly, and commit to it. By commit, I mean, sign-off on the software license revenue I was going to generate for the company. As SAP was a publicly traded company, their ability to forecast accurately was fairly important. It also could play havoc on Revenue Recognition if you couldn't back up your forecast.
I also had SAP Business Partners I needed to Work With
When you work in a large organization, such as SAP, you work as part of a gigantic, global eco-system. About 80% of the software sales are actually done by an army of SAP Partners. In my case, I routinely worked with 59 SAP Partners.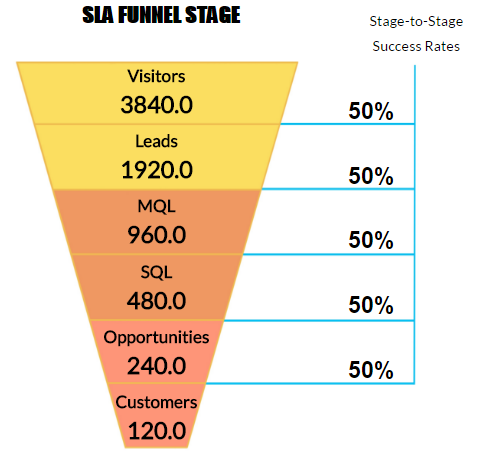 Each partner, just like myself, needed to submit a business plan to SAP. As you might imagine, many balked, while others did a good job on it. But why would a partner, who, in reality, is an external service provider to SAP in many scenarios, need or want to submit a business plan to SAP?
The partner business plan was, in reality, the foundation for SLA's between SAP and their partners. You see, SAP invests a lot of money in marketing, and many of those marketing efforts generate leads that get passed onto the SAP Partners. I've seen and used the SLA concept to perform many useful 'magic tricks' over the years. You might want to take note..
Eleven SLA Magic Tricks:
Use Average Order Value (AOV) to Determine How Many Customers You Need Each Year.


Set a Definite Revenue Target, then divide by your AOV. Keeping it simple, if your annual Revenue Target is $1,000,000 and your AOV is $50,000, how many customers do you need to close? I know, I know, don't make me do word problems. Hint: 20


Know your Lead-to-Sales Conversion Rate. Use it to determine your Sales Pipeline size. If you close 1 out of 3 leads into customers, and your annual Revenue Target is $1,000,000, you need 3 times as much lead value in your pipeline as your Sales Target. In this case, you need $3,000,000 in your pipeline.


As you consume 'lead value', you need to replenish your pipeline. That means you need to continuously generate new leads.


Sales will always complain about lead quality. Always. Marketing needs to have a measurement platform in place that can track the source of all leads.


Analytics can tell you which source of leads results in both the highest closure rates and the highest customer value.


Whether you use the Sales Funnel metaphor or the emerging Flywheel model, you have a conversion rate. Marketing needs to be held accountable for lead value at each stage of their funnel.


Complex sales, i.e., SaaS software, large construction projects, say airports, or even all of the seaports in a country, often take years.
They require more investment of both marketing and sales time and dollars. Just to put this in perspective, I once pursued a deal for five years! (And yes, I won it, and it was big enough to justify the 57 pre-sales at-bats).

Your SLA needs to be stratified into small, medium and complex deals.


Smaller companies often do not have the resources to pursue larger deals.
That's why it is both necessary and complex to partner up to close these types of deals. From a marketing SLA budget setting perspective, this needs to be handled differently than straight forward pursuits.


In order to meet Sales and Marketing SLA commitments, it is often, if not always necessary, to pursue a multi-channel approach.


While productizing a service will often make it 'easier' to set up a marketing funnel, it will also limit the scope of your offering. While some may argue that this is a good thing, the reality is, for very large, complex sales, the money is in having the full-spectrum of offerings to fully meet the customer's requirements.
A Heads-Up On Analytics
If you spend much time in marketing, you will often find yourself being questioned about your numbers. If you only have Google Analytics, you will neither be able to answer all of the questions, nor will you ever get truly 'done' implementing Google Analytics.
On the other hand, if you use Hubspot, like we do, you will have analytics that are focused on measuring lead generation all the way through to sales. In short, you will have the analytics you need to make marketing decisions.
You need to have both fully implemented. You need to be using Google Tag Manager for both Google Analytics and for any other tags you need to implement. There are many, many questions that come up that are only possible to answer by using both, while each can answer specific types of questions better than the other. You need to also be aware of the differences in attribution models, which cause a lot of consternation with most customers. Mostly, the differences mean the numbers never agree 100%. But you will still get the advertising bill from Google.
For most marketers doing Inbound, their primary go-to analytics will be Hubspot. If you are running a lot of Google Ad-Spend, like I do on behalf of customers, you're going to find yourself trying to explain the differences between Google Adwords Data and Google Analytics. That's why your analytics implementation is never truly done. There may be 'quiet periods', but there's almost always going to be something that needs tweaking.
Setting Your Sales and Marketing SLA
So far, I've given you a lot of formulas and 'lessons learned' from selling quite a bit of software and services over the years. You know what it takes to convert an annual sales target to a number of customers target. But I've not told you how to figure out how many Website Visitors you need nor how many leads you need to generate. That's because I've packaged the whole process up into a simple, online calculator you can use. Just click the button. Feel free to run it as often as you need, and always rerun it to reset your SLA targets as you experience varying conversion rates from your original assumptions.