Have recently read several articles on the state of SAP Certification and the value of SAP Certifications.
I Think the Authors Miss the Point.
They are asking whether the existing SAP Certification is valuable and 'fit for purpose'.
The more important question is whether SAP, the company, has designed a SAP training and certification system that is appropriate for the task, or is simply focused on generating revenue (and profit) for SAP versus supplying the SAP Customer market with the appropriately supplied consulting skills.
Also important is whether they have designed a system that benefits the consultants themselves (who are also customers of SAP, who many times pay for the expensive SAP Software training themselves).
To answer the question, I would like to describe the best training program I have ever experienced, namely, that of the United States Air Force (USAF).
I believe I am highly qualified to make this comparison because I was in the Air Force and am also certified by SAP, Oracle, the PMI and am a private pilot, and of course, have several degrees.
I can say that unequivocally, the USAF has spent the time and money on designing a training and professional development system that works, whereas few companies, including SAP, have even scratched the surface of what needs to be done to deliver the goods.
The USAF (and I presume the other branches of the military service have something similar) system has the following basic training outline.
Initial Aptitude Testing (ASVAB) (just to get in and few make it in).


Basic Training (more academic than you might imagine).


Initial Qualification Training, (Can range from a few weeks to several years depending on the career field).


Advanced Technical Qualification Training (can consist of numerous courses).


Ongoing Professional Development Training (PME) (think leadership training).


Required Independent Career Development Courses (CDC).


On-the-Job (OJT) Training (Show Me, Watch Me, Correct Me, Watch Me Again), Task-by-Task sign-off by a supervisor.


Various skill levels, 1, 3, 5, 7, 9, each of which has an associated training requirement and additional OJT requirements.


Expectation of college attendance and eventual graduation (if enlisted), or advanced degree attainment if already an officer and thus, holder of a least a Bachelor's degree.


Large consumer of civilian training programs, i.e., plastic media bead blasting, not something with a high demand, so you get sent to a civilian course.
Why So Much Training?
How Do They Afford It?
Of course, it helps if your life depends on it. But fundamentally, they have had years and years to study what each career field requires, they have gathered (and continuously, aggressively, gather customer feedback) performance data about their product (trained airmen) from their customers, i.e., supervisors of these airmen, and have continuously adjusted their training system to meet their customers requirements (Every weapons system, such as the F-22 and F-35, has an LSA (Logistics Supportability Analysis) performed on it and training requirements at all levels are part of the output).
In short, their focus is on delivering highly trained, motivated, flexible resources, to the field. Though they have a budget to work with, the focus is on the airman and the field.
Let's Compare That to SAP
There is some basic selection of the trainees, but if they come from the customer side, they basically, automatically, are in. They will attend whichever SAP Course is required to perform their job, usually, but not always, during the SAP implementation.


Other than the SAP Academy or perhaps the current existing two levels of certification, there really isn't much else to compare the two systems with.


New SAP ERP and related products are delivered every six months, but the training that goes with it, not so much. But SAP Courses are continuously developed and delivered, although they may be delivered on a software release that is not the current one.


Completely focused on

delivering profit to SAP

.

Nothing wrong with that, but does tend to change the meaningful measures of merit.


Some feedback gathered during the courses, and sometimes from customers.

None from Consultants after they leave the schoolhouse.


Any on-going professional development of the consultant is strictly up to the consultant to pursue, and no defined course from SAP.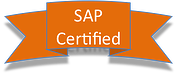 Many SAP projects have been successfully executed which is one of the benefits of SAP Certification, so, for the most part, they must be doing enough in the training arena.
Could They Do it better?
Do they have a system that would allow them to do it (yes, DFPS is ideally suited for this very purpose).
Would their profitability decrease if they fixed or tried to emulate the military training program?
Maybe, maybe not.
My own experience tells me they do not have the inhouse resources to do it on the same scale, but if customers demanded it, they would deliver a different product. Would like to hear your recommendations for improving the SAP Consulting training approach. One of the things we provide to help improve the overall understanding of SAP, to both consultants and customers, is a SAP Mindmap. You can get yours for FREE by clicking the button below (windows only).
Wondering How to Get SAP Certification
There are a number of SAP Academies located around the world, offering courses for all SAP Modules and Certifications. There is also free sap software training available from OpenSAP, though you won't learn to be an SAP Consultant just doing these courses. They are, however, good knowledge enhancement training.
There are also a number of private training centers with various offerings. One of the most economical approaches we have found is online, and we now offer via an affiliate a large catalog of SAP training courses. You can buy a bundle of courses here for a reasonable price.
Thanks
People Who Read This Also Read:


Don't Forget to Leave a Comment!
We would love to hear your thoughts on the state of SAP certification and training. Did you find the comparison to the United States Air Force training program interesting? We believe that the focus should be on delivering highly trained and motivated consultants, rather than just generating revenue for SAP. While there are some successful SAP projects executed, we believe that there is room for improvement in the training arena. Do you have any recommendations for improving the SAP consulting training approach? We value your input and would appreciate it if you could leave a comment below. Additionally, as a thank you for your feedback, we would like to offer you a free SAP Mindmap to enhance your understanding of SAP. Simply click the button below to get yours (for Windows only). Thank you for reading and we look forward to hearing from you!