Have you ever wondered what sort of solution SAP has for the military.
You might be surprised to learn that many Armed Forces around the world have been using SAP ERP for many years. What you may not know is that as a result of the unique organizational structure requirements of the military, SAP had to develop a solution, the SAP DFPS or Defense Forces and Public Security solution, which meets the very unique needs of the military. The primary difference, around which all other parts of the DFPS solution revolve, is known as the Force Element.
What is the Force Element? Why does the military need it?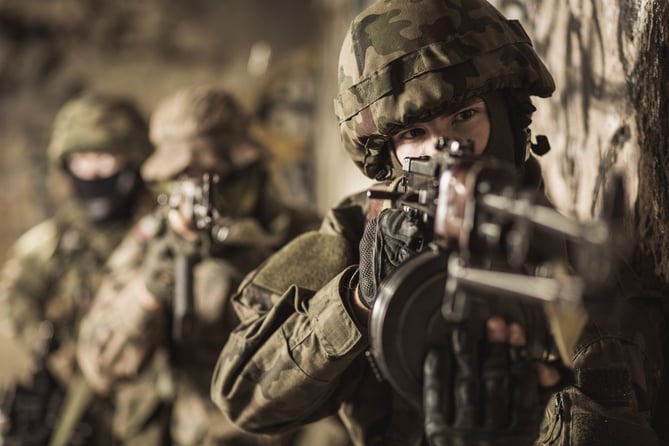 If you are a SAP consultant or customer, you by now know that defining the SAP Organizational Structure is one of the very first tasks you perform during the Blueprint Phase of most SAP implementations. For instance, on the Materials Management side of the house, you first define the Client, Company Code, Plant, Warehouse and at least one Storage Location.


Defense Forces Public Security Provides Organizational Flexibility
Similar organizational relationships exist in the other areas of SAP, including Finance and HR. Within the DFPS solution, though you still use these organizational elements, they don't actually have the same fixed relationship. Why?
Because:


A military unit is designed to be self-contained, such that you will have elements of Finance, Human Resources, and Logistics all within a unit, such as a Component Repair Squadron, yet you will still have a Human Resources Unit, at multiple levels throughout the service.



A military unit is designed to be mobile, meaning you can deploy it anywhere on the planet (or Space, maybe) and it should be able to operate independently for a predetermined period of time, perhaps 30 days, without being resupplied by the mothership.

There are a lot of business' that 'sort of' operate this way i.e., shipping, airlines, Off-shore oil rigs, but not quite.



A military unit can be cloned, meaning it should be able to replicate itself.

It may also be absorbed into another military unit if needed, either due to combat losses, mission redesigns, or other tactical and strategic reasons.



A commander needs to have 'just-in-case' exercise packages ready to go 'off-the-shelf', which may include completely different organizational structures during wartime versus during peacetime.
These requirements, and many more, have a dramatic effect on the design and deployment of business intelligence systems, both from a design and security concept perspective. It also affects the SAP BW team resource requirements estimation process.

Our military experienced SAP BW Solution architects can discuss your requirements with you based on real world experience.
People Who Read This Also Read:
Estimate Your SAP BW Consulting Resource Needs Calculator
10 Advanced SAP BW Project Estimation Techniques
5 Reason A Datawarehouse Is Critical To A Solid Balanced Scorecard
Total Cost of Ownership TCO Calculator
3 Levels of Top Gun SAP BW Consulting
Thanks