Driving down TCO with a SAP COE
Though this chart showing the percent of SAP Customers who have a COE (Center of Excellence or some flavor of COE) is based on somewhat older survey data, the percentages still seem to hold true.
Why might it be that as companies mature, the percent actually using a SAP COE approach seems to decline or level off dramatically?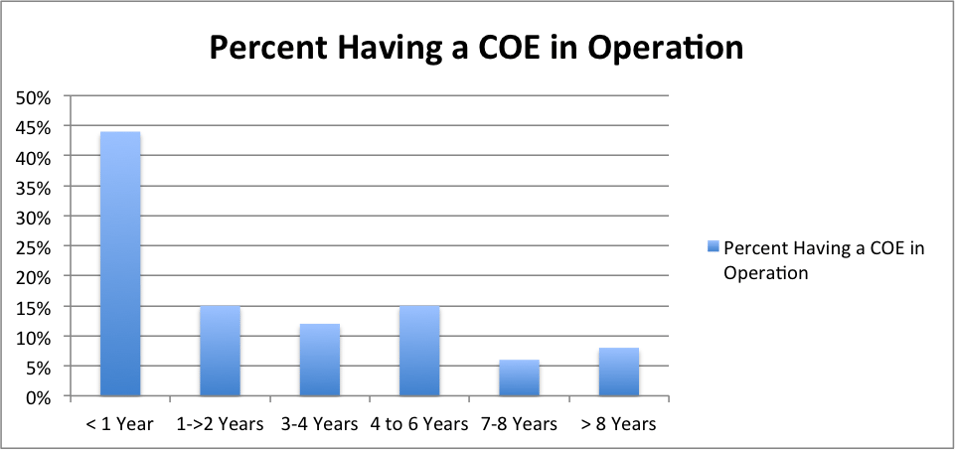 Source: ASUG
First off, we need to briefly define some relevant terms. There are really 3 types or levels of SAP Centers of Excellence or Centers of Expertise.
SAP Competency Center


Operating Approach:


Provides an 'always available' application environment with extraordinary customer service delivered at a low cost

SAP Center of Expertise
Operating Approach
Provides technology-enabled solutions to business problems that increase the value of technology investments
SAP Center of Excellence
Operating Approach:
Generates business value by solving business problems through a combination of business process improvements and innovative use of technology
Source: ASUG2015
As a practical matter, each of these approaches represents a COE maturity model of an SAP installation. Most importantly, each represents a progressively higher cost to operate model.
As well, they may also indicate the size of the SAP installation.
For many SAP customers, especially those operating at the SAP Competency Center Level, a major focus is "Increased likelihood of shifting resources to external resource provider source to drive down TCO"
Translation:
They need SAP Functional Consulting at the lowest possible cost to keep their TCO down.
But they also need high quality SAP Consulting resources that know their industry, their solution and who can help them get to the next level of maturity.
The Need for Change Never Changes
Regardless of the size of the business or their SAP Maturity Level, they will face a near constant need for updating their SAP system.

A key struggle will be to operate on a process level versus a functional business unit level.
Especially within smaller organizations who may not have fully documented business processes, nor business process owners, they will need the expertise of external business process experts with both SAP expertise and expertise in their particular industry.

They will also need to be able to build a solid business case for their projects using commonly accepted business terms such as NPV.
Could You Benefit from Remote SAP Functional Consulting
That is why we recently developed the capability to support our customers with remote SAP Functional Consulting – to help clients achieve the lowest TCO while also dramatically improving their use of analytics.
How much could you save on SAP Functional Consulting Support?
People who read this also read:
10 Key Infrastructure Tips for SAP Implementation Projects
Net Present Value NPV Template
10 Steps to Manage SAP Project Sub-Contractor Risk
How to Manage Change Management Risk
13 Keys to ERP Implementation Project Work Scheduling Effectiveness
Thanks