If you don't speak SAPanese, and instead, are expert in your business' specific language, such as the Airline Industry, or military logistics, just knowing the specific SAP Modules won't really help you to translate what SAP modules provide which part of your solution.
Why, because it is a vast, complex system.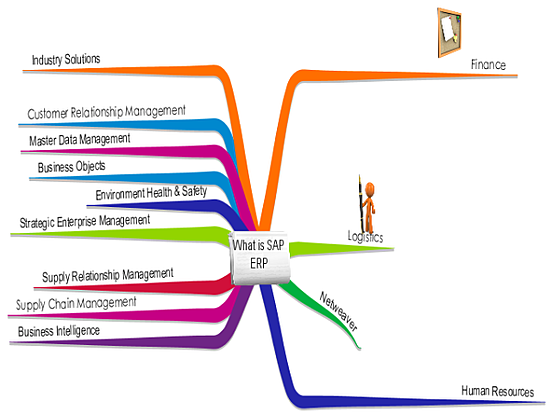 SAP Modules Shown Using a MindMap
What to do.
For most business sales processes, it is actually fairly simple to map your business process requirements to the specific SAP module required to implement a solution.
SAP Solution Manager's Business Process Repository library provides an excellent starting point for doing just that, broken down by industry.
However, there is significant risk that you'll draw the incorrect conclusion that your particular business process is not supported by SAP if you do not have someone, such as one of our SAP business process capability mapping consulting experts, who has a broad and deep knowledge of SAP and perhaps more importantly, a network of others within the SAP world to run ideas by.
Let me give you one recent example.
A large airline (and almost all airlines have this issue) needed to implement an Airline Route Profitability reporting system along with a fuel management and hedging system.
These are esoteric subjects and the initial solution included several third party solutions to handle things such as fuel price updates and ultra advanced fuel hedging capabilities. These requirements also involved massive amounts of highly volatile 'Big Data' and eventually, large data migration efforts during the implementation.
SAP Suite of Products Provide Vast Capabilities
Ultimately, all of the required capabilities were found to exist within the SAP suite of products. How was that possible? Because a business capability consultant had not been employed during the initial scoping of the project.
Why were the third party products initially in the solution?
Because the translation of business requirements is done quickly during the pre-sales process but can and must be refined during the blueprint process (it is actually part of the SAP ASAP methodology).
Especially when a project is addressing a new business process area. In this case, those new areas included:
Hedging

SAP happens to support some basic hedging functionality.

However, the mechanics of fuel hedging, i.e., establishing a hedge, are simple when compared to the more important, Strategic Decisions required with regards to how much fuel to hedge, at what price, across what time frame, and which market using which provider.


Fuel management strategies

As practiced by the leading low cost carriers, are actually a reflection of both deep analysis of probable fuel price scenarios as well as knowledge gained from past fuel hedging strategies, among many other hedge strategy inputs.


Fuel Management.

As airplanes are also flying fuel tanks, it was initially thought the solution would require very sophisticated wing-to-wing fuel transfers in order to minimize taxes and cost and a lot of other interesting cost minimization tactics.
The Secret to Building Your Own
Business Capabilities Map
In short, to create a unique solution for, in this case, Airline Fuel Management and Hedging, you need to either know every SAP Module and the capability of each, or more feasibly, you need to assemble a team of SAP Architects (because they don't know everything) and Industry and third party experts to actually define a solution.
You should also bring a SAP Value Engineer into the SAP Module to Solution Translation and Business Process solution creation process.
This process is actually one of the ways you develop the first main deliverable of any flavor of the SAP Activate implementation methodology, which to develop a business case.
One of the best ways to start the business process capability translation exercise is to more fully understand what SAP does or can do. That's why we developed the SAP Mindmap, which you can get for your own use by clicking the button below.
Have you found any unique Business Processes you can use SAP Modules to support?
More reading:
Learn What is Catch Weight Management
5 Surprising Reasons Enterprises Don't Use An ERP
What are 2 Primary Focus Areas for SAP Airline Customers?
3 Ways to Design KPIs Using SAP Solution Map Composer
Why You Need Functional SAP Consultants on a SAP BW Project
Learn What Tools To Use To Investigate IS-Mill Functionality
Leverage SAP BW to Increase Supply Chain Inventory Accuracy
BusinessObjects Explorer Best Practices
Thanks