Does Your Enterprise Use An ERP?
In a recent report "Software Advice BuyerView: ERP Software Report Insight into today's software buyer" written by Software Advice, a firm that connects ERP software buyers with vendors, it was revealed that 2/3rds of all enterprises still do not use an ERP system!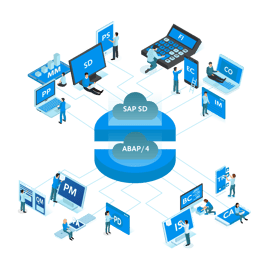 Enterprise Resource Planning Systems Usage Statistics
What I found most surprising were the reasons given for not using an ERP or for looking at upgrading:
Forty Seven percent cited a need to improve their CRM systems


Among buyers currently using an ERP, 24 percent cite lack of support as their primary reason for wanting to switch to a new supplier.


Integration, a key selling point of all ERP systems, continues to be a key motivator for either buying an ERP or upgrading an existing system!


The expense of the system remains a key point, which means a value case needs to be a key deliverable of any vendor.


Company growth is another driver of ERP upgrades and first purchases, which is actually a positive sign for the economy.
Deploying ERP Within Six Months
The report also revealed that most of their surveyed buyers wanted to deploy an ERP system within six months, which represents a key opportunity for ERP vendors and service providers.
Small and Medium Enterprise Space Is Where The Growth Is
Not surprisingly, given that ERP vendors like SAP have reported for years that 2/3rds of their customer base is in the Small and Medium (SMB) enterprise space, it turns out that most of the potential buyers are also in the SMB space. From experience, this is a highly competitive, price sensitive space, yet with highly complex needs, often more complex than larger enterprises!
These were just the high level takeaways I got from the report. I was also offered the opportunity to ask some questions of my own and wanted to share them with you:
The Questions I Asked and They Answered
1. Since ERPs have been in existence and widely deployed for nearly 40 years, does this indicate that 2/3rds of companies that do not have or use an ERP system still need one?
To be clear, our sample might not be representative of the broader industry in this regard:

In general, we speak disproportionately more to first-time prospective buyers in the SMB space. That said, I think what we're seeing is that more SMBs are starting to consider deploying an ERP system.
Even five or ten years ago there just were not as many options out there for SMBs.
So maybe first time ERP buyers have been needing one for a long time, but there simply wasn't anything on the market that could accommodate their needs.
2. For those that have not deployed an ERP system, have they not done so because there is no value case that justifies the investment?
There are a lot of reasons why they might not have deployed an ERP system yet, but cost is definitely the biggest barrier to adoption.
Beyond that, it's easy for businesses to think "well, what we have now works... sort of... so let's just keep doing what we do with what we have in place."
Obviously that is not a very forward-thinking mentality.
So it's critical for vendors to effectively communicate the return on investment that businesses can see from deploying an ERP system for the first time.
3. As companies like SAP claim their CRM system is fully integrated with the ERP system, what are some of the key functionality standpoints that need improvement?
I'd prefer to not answer this question.
4. For the 24% of buyers citing lack of support and the 19 citing cost, are they saying the support from SAP and Oracle is lacking, or that they need to move to SAP or Oracle to get their support?
I'd prefer to not answer this question.
5. With most of the major players essentially forcing their clients to send much of the implementation and support work offshore, specifically to India, under the pretext that it is cheaper, and given the rising cost of those same off-shore resources, and the extreme lack of customer satisfaction from this model, are vendors changing the consulting model, i.e., bringing it back to the U.S., either to meet higher customer expectations or reduce the rate of project failures (of which I understand it is still well above 50%)?
Many vendors are changing their model.
Demand for ERP Consulting Services Remains High Globally
My sense is that there is definitely a greater demand for ERP consulting services that are based in the United States.
I think the industry, as a whole, is starting to realize that even though it was cheaper to outsource those implementation services out to India, the truth is you get what you pay for.
So businesses are realizing it's worth the extra cost to use implementation services located stateside.
Vendors are certainly responding to that, especially given the latent fears over ERP implementation failure.
Support for Core Business Processes
One of the key barriers to the adoption of ERP systems by small and medium enterprises has been the cost of implementation and maintenance. However, with the availability of SAP S/4 HANA in the cloud, it is now possible for even the smallest businesses to have access to the SAP Consulting support they need for core business processes such as finance, logistics, and human resources. This cost-effective solution is likely to drastically increase the adoption of ERP by small businesses, and with the potential to deploy within six months or even less, it represents a significant opportunity for ERP vendors and service providers. SAP BW Consulting, Inc. provides expert-level guidance on the selection and implementation of ERP software and systems, with a particular focus on business intelligence and data-driven marketing systems, such as Hubspot.
E-Commerce Driven by ERP Systems
The explosive growth of ecommerce-based businesses using ecommerce platforms such as Shopify, has led to a greater need for integrated Enterprise Resource Planning (ERP) systems such as SAP ERP or SAP BusinessbyDesign. This is because the more successful these businesses become, the more complex their business process needs become, especially in areas such as Customer Relationship Management (CRM) and Supply Chain Management. An ERP system provides a streamlined approach to managing these complex business processes, helping companies to achieve greater efficiency and cost savings.
ERP is an Advanced Business Management Software
An ERP system provides simple business management software capabilities that are essential for companies to perform their day-to-day activities. Accounting software and supply chain management are two examples of functions that require an ERP software solution. Without it, companies cannot perform many common business functions, and this can lead to inefficiencies and mistakes. For instance, a company may struggle to reconcile its financial statements without an ERP system, which can lead to inaccuracies and delays. Additionally, a company may find it difficult to manage its supply chain without an ERP system, which can result in stockouts, excess inventory, and lost sales. Therefore, it is crucial for businesses to adopt an ERP system to ensure they can manage their operations effectively and efficiently.
Human Resource Management System
One of the advantages of using an ERP solution like SAP ERP is the efficient management of warehouse staffing levels through its Human Resources Management system. Additionally, SAP ERP provides real-time data from warehouse operations that can support executive decision-making.
This ERP capability improves business communication, automates daily processes through robotic process automation, and offers manufacturers the ability to fulfill customer needs and manage resources by accessing real-time data. It also optimizes project management, cost management, product lifecycle management (PLM) and production planning.
Need Expert Level SAP ERP Advisory Services
SAP BW Consulting, Inc. provides enterprises with expert level guidance on the selection and implementation of Enterprise Resource Planning Software and systems, with a particular focus on Business Intelligence systems and data driven marketing systems, such as Hubspot.