Are Airlines Profitable?
Did you know it is widely reported that if you take all the profit and losses accumulated by all the airlines in the world since the beginning of the airline industry, they have collectively never made a profit! How can that be?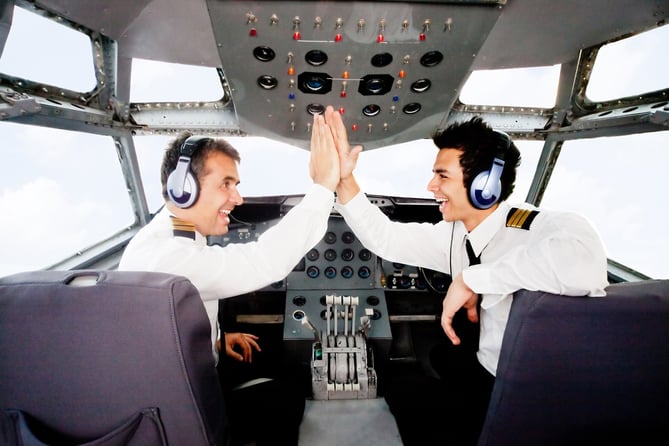 Are You Clear For Take-Off?
Consider the following:
Airlines are an integral part of the global Supply Chain. When the economy begins to recover, companies depend upon the rapid response cargo carrying capacity of the global airline industry to meet surging demand.


Tourism, the world's fastest growing industry, and a critical component of many country's economies, is almost totally dependent upon the airlines delivering a never ending stream of passengers to and fro.


The manufacture and sale of aircraft is a key industry no matter where you look.


There is an enormous ecosystem of airline related industries, including MRO, Reservations, Hotels, Car Rental, Tour Operators and caterers, to name but a few, all of whom depend upon the well oiled functioning of the airline industry to generate demand for their services.
Finally, most people still stare in awe at an airplane and think it is magical! I know I do, and I have been a pilot since the age of 14, a C-130 Flight Engineer and a passenger for way too many hours.
So what can an airline do to maintain and increase both flown passenger revenue miles and profit per flown passenger seat miles (also known as increase Airline Route Profitability).
Though there are many network players out there, such as Amadeus, Galileo and other Global Delivery level players who deliver passengers to both individual airlines and to the airline alliances, few are engaging passengers personally.
At SAP BW Consulting, Inc. we utilize our deep aerospace and defense background to analyze and craft Airline specific Inbound Marketing strategies and campaigns to help today's Airline Commercial Director deal with the short and long term needs of an airline.
Our airline specific consulting services provide passengers the information they need to find and select an airline that serves their need.
What are today's passengers looking for:
Connections where and when they want.

This means for many seasoned travelers, they will no longer tolerate take-offs that mean they are getting up at 0330 hours to catch a 7 AM flight.


They want to know what it is really like to fly on a particular airline's planes. Many want to know if an airline makes any commitment as to the amount of space they guarantee to a passenger, both in business and economy class.

For those that don't, traffic will decrease.

For those that do, and with full clarity, the passengers will make the switch.


They want to know not only that their luggage will arrive on time, they want to know about your reputation for handling lost baggage.

Does the airline pay for lost luggage immediately or wait 30 days while they are miserable in a foreign land waiting on replacement clothing.
These and numerous other pressing issues confront today's hard pressed airlines.
Want to know a powerful, engineered approach to increasing both passenger numbers and profit per route?
How can an airline use state-of-the-art Inbound Marketing to keep the seats full?
Here are 10 Tips you can use.
Create and integrated social media presence. As the wider network of passenger travel is largely 'owned' by the likes of Amadeus and Galileo, then an airline that masters the art and science of social media engagement can capture the attention of passengers.


Create experience videos about what flying on your airline is like.

Better still, get your passengers to be your reference.


Capture and use PNR data to analyze what sort of information your passengers are looking for (versus discarding it after a few days).


Use the information you have to create segmented offers delivered via opt-in e-mail.


Explore what type of information your passengers are really looking for, and provide content to answer their questions.


Understand what you're doing to irritate your passengers, i.e., baggage fees paid at the gate versus just being baked into the ticket.


Use Inbound Marketing to attract travel agents to your offering


Use predictive analytics to truly understand what bundled offerings actually work. Step up your game with Taguichi Methods of Experimental Design.


Be aware of and work with the rules of the road imposed on passengers by corporate travel departments such that their trips are still comfortable.

And use Inbound Marketing to communicate how you do that.


Integrate your loyalty management program with your Inbound Marketing program.
These are all being done to a greater or lesser degree by airlines around the world. The leaders are clearly differentiating themselves form the laggards.
Which category are you in?
Want to know more about Inbound Marketing? Want to know how you're doing as an airline in terms of Inbound Marketing? Try our FREE Inbound Marketing Assessment.
Flying is a passion and my profession.
People Who Read This Also Read:
Learn Why We Use Inbound Marketing
SAP Reporting Strategy Development
Thanks