WHAT IS SAP BUSINESS INTELLIGENCE CONSULTING AND SAP BUSINESS WAREHOUSE
SAP Business Warehouse or SAP Business Intelligence (SAP BW or SAP BI)
What is Business Warehouse
SAP Netweaver Business Warehouse or SAP Business Intelligence (SAP BW or SAP BI), is a data warehousing system and reporting platform. It is a core part of an integrated decision support system. It provides connectors to virtually any other IT system platform. It comes with data integration capabilities, long-term data storage facilities and management reporting capabilities to provide you with reporting on particular knowledge areas of your business so that you, as a business manager:
Can make smart business decisions that will either increase your sales or reduce your operating costs in some way.
In this respect, every SAP BW project should save you more money over time than it cost you to develop.
Learn What SAP BW is in Under 5 Minutes
We have developed a mindmap of both SAP BW and the entire SAP R/3 system for you to explore and understand the relationship and construction of the SAP BW system. You can download our MindMap by completing the form on the left. Or press the image below to get it as well.
There are also an extensive series of blog entries on our site that further explain "what is SAP Business Warehouse".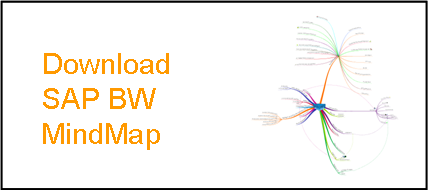 SAP Business Intelligence Consulting
SAP BW is Unique Among ALL SAP Modules
Business Intelligence Consulting Services
Often times, the
business reporting requirements
will drive changes to the underlying SAP functional configuration, i.e.,
MRP Strategy settings
and the SAP BW consultant has to be able to identify and drive the required changes across the board - using a rapid implementation approach.
Business intelligence solutions span every SAP module and often, many other source systems. A BI consultant is then to required to translate the data analysis requirements of his end-users into required changes in these systems, without breaking them.
Data Models Differ Across Systems and SAP Releases
Another often underappreciated complicating factor of a business intelligence consultant's challenge is the difference in data models that often exist within both SAP systems (they do change over time) and with 3rd party systems. To take these difference into consideration, SAP BW Consulting, Inc. also offers SAP consulting services for projects that need expertise beyond core SAP Business Intelligence consulting.
Pros and Cons of Rapid Implementation
SAP BW is designed to be implemented very rapidly using a specialized version of the ASAP implementation methodology.
This approach has many positive and negative aspects.
The primary reason SAP recommends a rapid implementation approach is that users really do not know their requirements until they see results from the systems which triggers further questions. When originally released into the market, the primary advantage of SAP BW was the existence of Business Content, which is simply prepackaged reporting solutions which could be installed and used out of the box, at least theoretically.
In reality, almost all Business Content requires significant modification to meet the needs of any particular business. But it does provide a sort of Roadmap.
Rapid Implementation SAP BW Project Estimation Factors
The cons to the Rapid Implementation approach are that there is often a temptation to skimp on the critical task of getting the data model correct. In addition, though the tools available are very advanced and comprehensive, available budgets often mean very limited subsets of functionality will be implemented with a plan to continuously improve the entire system down the line.
SAP HANA can exacerbate the bad data model problem in that if you have a poor model that produces bad results with a normal SAP BW system, a SAP HANA system can often times produce even larger problems 10,000 times faster. That is why it is critical to both leverage the capabilities of SAP HANA yet maintain high quality data modeling standards.
SAP BW Solution Architecture
Source System Layer

In order for SAP BW to perform its job, it must first acquire data. This data normally comes the underlying SAP systems but the system has connectors for a wide variety of other systems plus it has an extensive set of tools that allow it to 'designate' other source systems, from Salesforce to Zuora to Flat files to COBOL Legacy systems.

For third party source systems, aside from the technical tools to actually establish the system, you also have to work with the owners of the 3rd party system to expose their system to SAP BW. Of key importance here, apart from the technical ability to establish this data acquisition channel, is that someone from the 3rd party system understand thoroughly the semantic meaning of the data contained with their source system.

ETL or Extract, Transform, Load

Once the connection is established and the meaning of the source system data is thoroughly understood, the system now has a series of tools that allow it to communicate and transform this data up to the Infocube level of the datawarehouse. The ETL capabilities are very, very advanced but require extensive knowledge of the data you are extracting the business process that feeds them plus what you intend to do with the data on the output side of SAP BW.

Within this layer, it is possible to perform 'data transformation' of the data, which can range from simple changes, such as changing dates into a common format, to very complex activities, such as changing the structure and meaning of a part number.

You also have the capability use functions here (small programs) via user exits to perform even more complex transformations.
Datawarehouse Layer
Data Storage Layer and Data Logic Layer
These two sub-layers make up the heart of the system.
Within these layers, you store the data in (this varies by release level) into what are called Star Schemas. This is a unique table structure that uses the concept of SID (System IDs) to make connections between table structures, which are arranged into Dimensions and without getting too complex, into an overall concept called a Star Schema.
These dimensions are used to 'store' related pieces of data, such as customer, product, purchases. To improve reporting performance, the system also uses a concept called aggregates, which simply means it compresses or combines data up front for you so system performance is better. In SAP HANA powered BW, the need for aggregates has been eliminated and significant changes have also been made to the data model.
To simplify, the Characteristics, Dimensions, Hierarchies, Master Data and other elements, of this schema reveal 'facts'. Some facts are stored in Fact Tables, while others can actually be derived, for instance, something that didn't occur can be uncovered using a bit of logic.
In order for this part of the datawarehouse to work - the single most important aspect of it - is getting the data model correct. If done incorrectly, the system will not only perform poorly, it will not support your analytical requirements.
The other key characteristic to be aware of is that it is within this layer where data is stored permanently. That is why it is an OLAP (Online Analytical Processing) not and OLTP (Online Transaction Process) system. With S/4 HANA, this concept has been merged such that the two concepts are actually mixed in to one system. This greatly simplifies a major architectural change to the datawarehouse concept and applies to small but growing subset of SAP Customers.
Within the OLTP system, when performing transactional activities, such as create a Purchase Order, the system creates and stores transactional records, which will be periodically archived off the system to enhance performance.
This is why data must be extracted and loaded into the data layer, where it can be stored
Many other parts of the system depend upon SAP BW, either as as stand alone module or in the case of SAP APO, with a mini BW embedded within the system. During most OLAP operations, the BW system only records data while for many operations, a switch must be flipped to change the InfoCube such that it can supply data.
SAP APO or Advanced Planner and Optimizer has to have a place to store data in order to perform forecasting, and thus, it comes equipped with an internal BW, though for most applications, it will be configured to use an external BW due to performance and sizing issues.
SAP SEM also depends on SAP BW to supply a place to store forecast and budget information, and to support many other complex business planning scenarios.
SAP CRM uses BW in a variety of ways. For example, to perform detailed customer segmentation data, a special transaction code allows CRM and BW to work together to create very complex segmentations on the fly.
There are various other modules that to one degree or another depend on the analytical capability of the datawarehouse to work, for example, SAP Strategy Management, when employed to support the deployment of the Balanced Scorecard, provides the datawarehouse that a successful BSC deployment depends upon.
Please bear in mind, this is an abbreviated version of all of the elements and relationships within this layer and that newer SAP HANA based systems do not use aggregates, among many, many differences.
Reporting and Analytics Layer
Business Analytics
All of that business data would be of little value to the business user if there wasn't an easy way to get to it. The basic tool for this is the BEx Query Builder and BEx Analyzer, essentially a set of graphical query building tools that can see the available data sources within the datawarehouse allowing you to design complex queries from that data. It uses the familiar excel as a user interface.
Making Business Goals Actionable and Visible
Business intelligence consultants use the BI solution to design performance management improvement systems that assist with decision support and analysis. When done correctly decision making is suffused with insight from the information generated by both your internal business processes as well as by external actors.
Predictive Analytics at the Operational Level
Statistical Process Control and Predictive Analytics have been around for a very long time. In fact, it was credited with helping the United States improve the logistics of the war effort and post WWII, Japan used it to drastically improve their product quality. Today, perfect quality is the expected norm. That's why BI consultants work closely with Business Process Owners to ensure the right data is collected, both automatically and manually, to provide integrated statistical analysis capabilities right on end-user devices.
Data Science Increasingly Deployed
In addition to building robust data warehouse systems, our data scientist team also make extensive use of the latest advances in data science to help deliver insight using Artificial Intelligence and Machine Learning based solutions.
Analyzing Business Processes
Beyond that, numerous other tools exist that can extract, analyze and display data from the system.
SAP WAD or SAP Web Application Developer is a tool designed to allow the SAP BW Consultant to deliver web based applications. Though not widely used, it is a very capable tool.
SAP BusinessObjects xCelsius or Dashboarding Tool
This tool allows you to create highly interactive dashboards from data that is directly fed from SAP BW. However, as it is driven by an excel interface and since it came with the acquisition of BusinessObjects, it is designed to easily connect to many other data sources, many times, excel.
This tool is an especially powerful departmental tool. It provides a very powerful, yet simple to use tool for non IT savy users to build very powerful executive level interactive dashboards.
SAP Business Objects Web Intelligence - Webi
Wireframing
SAP's HANA or High Performance Analytic Appliance is a In-Memory database developed by SAP to take advantage of the ever lower prices of RAM (Random Access Memory) and Columnar Database reads. It provides the ability to manipulate data, often times billions of records simultaneously, in real time.
Because of this, it eliminates much of the need to create aggregates within SAP BW as it can carry out summary operations on the fly with no loss in performance or fidelity.
In addition to SAP BW on HANA, SAP also offers S/4 HANA, which is the ERP system. All of the SAP HANA tools, such as SAP HANA studio, have been built to take full advantage of the advanced analytical capabilities of SAP HANA.
SAP Business Objects Business Intelligence Platform 4.0
The entire SAP Business Objects system resides on the BI Platform, which provides administrative management capabilities of the system. In addition to administration, it allows you to monitor system performance.
SAP MS Analysis
The MS Analysis tool is an Add On that gives you an advanced Excel Pivot Table like functionality layered on top of both the SAP datawarehouse which can also access other data sources, such as a Universe or 3rd party systems.
SAP Vora
A recently released application from SAP, SAP Vora allows for real time data acquisition of both structured and unstructured type data. As there are ever growing quantities of unstructured data, such as website visitor data, and complex supply chain data happening at many points across multiple enterprises, you have to have a Big Data Solution that allows you to deal with this tsunami of data to derive useful, actionable information out of the data stream.
This Is A Partial List of All of the SAP BW Components
This is intentionally a shortened version of what you might learn about SAP BW if you were to attend the SAP BW academy or just work with it for years in pursuit of becoming a SAP Business Warehouse Consultant. This is partially due to the fact that the system has been available in the market for almost 20 years and there are many, many versions of it. Each version had slightly different architectural components and with the release of SAP HANA, the system is essentially completely different.
However, many customers are and will remain on earlier versions of SAP BW for the simple fact that it works and there is no compelling reason to upgrade. Typically, if they have spent a considerable amount of time implementing it, a lot of tribal knowledge will be embedded in it, and until it runs out of support, consulting support usually consist of finding new uses for the existing system versus upgrading the latest release.
On the other hand, all new SAP Customers have a SAP BW system available to them as part of their ECC license and normally want to get to the latest version before Go-Live.
In other cases, if you refer to the PAM or Product Availability Matrix, a SAP tool that helps determine what systems you need to have in order to get to a certain level of functionality, you often times fine there is no direct migration path forward from where you are to where you want to be.
Request SAP BW Consulting and Implementation Support