Get help managing your 1099 contractor Invoices and collections
Focus On Your Job, Not Contract And Invoice Management
Get the 1099 Monkey Off Your Back
Don't Fall Hopelessly Behind with Invoices & Collections
Falling behind on Invoicing your customer means delays in getting your payments. In today's complex work environment, working as a job hopping contract employee (or 1099 employee) is a fact of life. You may be a perm today, tomorrow you're laid off looking for any work you can get. This is how many people get into the management consulting world and get their start.
Unfortunately, when trying to get paid, aside from trying determine what your consulting rate must be, there are a number of time consuming administrative, legal and insurance requirements that make it very expensive for you to easily set yourself up for your monthly invoicing. When you are trying to get out of the office early on Friday afternoons, achieving contract compliance with timely and accurate billing is something you need more of and we can help you get that little task done quickly and easily.
We've got it already set up and we are offering to let you piggy back on our systems.
Our online Time Card, Expense Report, Invoicing and Direct Deposit Payment Processing Plans, Allow Our 1099 & Freelance Customers to Invoice their customers Faster and Get their Payments Sooner.
How Our 1099 Service works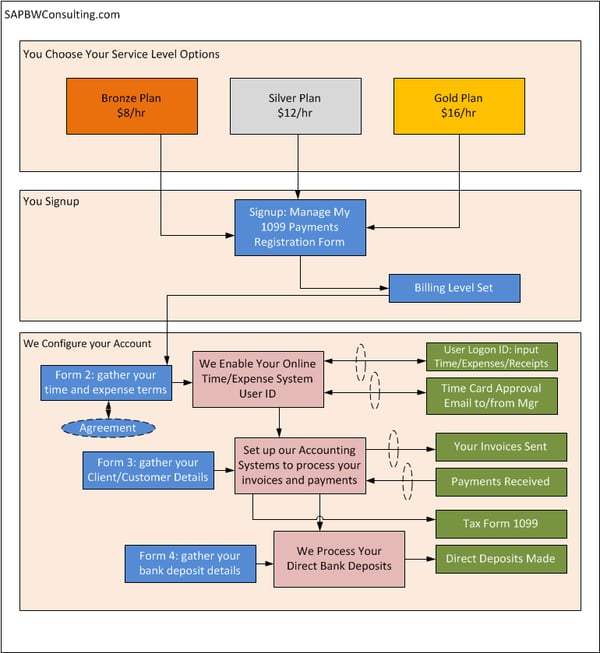 By using our 1099 contractor management services you get:
Professional Liability and Indemnity Insurance Coverage under our umbrella policy.
The ability to submit your time and expense sheets both to your customer and to your employer using our online time and attendance system with workflow approval capability.
The ability to attach scanned or photo receipts to your online expense reports.
Direct deposit of your invoices to your bank
Easy setup process
We can also handle your C2C and W2 type employment needs. Just complete the form on the right to start the enrollment process. You should be focused on delivering the best service to your clients, not on doing paperwork.