Most SAP BW customers want and need a way to estimate projects. SAP BW is implemented following a highly modified version of the SAP ASAP methodology.
Learn how your SAP Service Partner Estimates Your SAP BW Project Durations. Understand the importance of Business Content.
Differences Between ASAP Projects and BW Projects You Should Know About
The biggest difference being the recommendation to have a go-live based on standard business content within 4-8 weeks of the project start. These differences can greatly affect your effort estimation.
The SAP ASAP phases and their percent of total project duration break out like this:
Project Preparation 10%
Blueprint 30%
Realization 40%
Final Preparation 10%
Going Live 10%
The 4-8 week 'mini-implementation' is based on a project which is all SAP R/3 and which has not been highly modified.
However, if you are lucky enough to have the possibility of doing a short, mini-implementation based on standard SAP BW Business Content, then you will want to do it.
It accomplishes several critical goals:
Ensures that you have a complete, working SAP Netweaver Environment (which includes the SAP BW and SAP R/3 systems).


Gets a working deliverable into your business user's hands within the recommended time-frame of 90 days.


Allows the BW Consultant to work with the functional consultants to understand what their business process will look like and prevent everything from being pushed to SAP BW.
How To Estimate Time For A Project
If you cannot use standard SAP Business Content, there are at least 2 SAP BW estimation rules of thumb I use to come up with a time estimate:
Business Requirements Analysis including Business Content Check Per Business Area = 10 Days

(including meetings, note consolidation, research, validation, possibly BW Business Content activation, data migration effort estimation).

Multi-Location, Multi-Entity projects tend to be much longer.


Modeling and Development of an InfoCube = 5-7 Days


Query Development = 3-4 Days


Web Application Development = 3-7 Days and up


User Acceptance Testing = 3-10 Days


End-User Training and Delivery = 3-10 Days (Logistics, i.e., locations, drive this)
SAP BW Implementation Time-Line Per the SAP BW Academy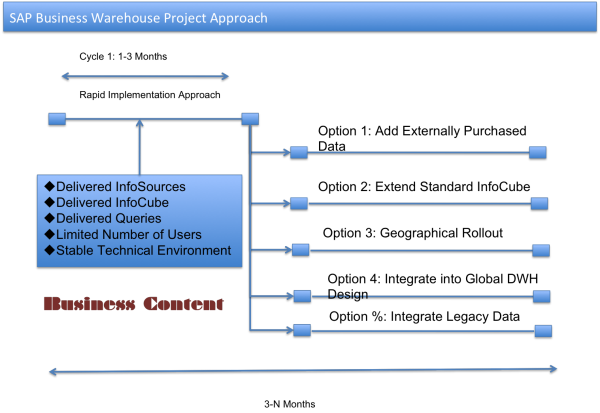 Why Does It Take This Long?
Because the system is very complicated, from the stand-point of sheer breadth of scope of the system as you can see in our BW Mindmap.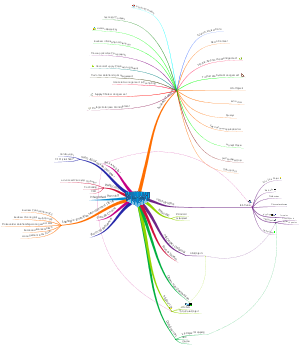 These estimates do not really work in those cases where SAP BW will be an open hub source system or part of an integration scenario in the case of SAP CRM, APO, SCM, SEM, MDM or external system scenarios.
How To Estimate Resources For A Project
Need help estimating your SAP BW project resource requirements? Just click on the button. You can use our handy, Free online SAP BW ASAP Project Estimator to generator a 'good enough' estimate in about 5 minutes. And of course, if after doing your estimate you would like for us to provide you with a consulting quote, we can make that happen
More reading:
1 Key Tip When Upgrading from SAP BW 3.X to BW 7.X [Checklist]
10 Advanced SAP BW Project Estimation Techniques [Online Tool]
Top 10 Guidelines to Choosing a SAP Service Partner
10 Critical Chain Project Manager Tips
Learn What is Catch Weight Management
Leverage SAP BW to Increase Supply Chain Inventory Accuracy
Thanks