Are Your Digital Marketing Efforts Effective?
If you're a busy business owner, entrepreneur or marketer, you know you need to generate leads and turn them into customers. Like most businesses on planet earth, generating leads using digital marketing is usually a top priority. With billions of websites out there, the competition is fierce. There's a proven way to win at this game. There are also lots of ways to throw money away without much to show for it.
How Do You Know You're Doing It Well?
In our experience, the best indicator that you will be successful with this proven method is if you have something to sell and a working sales process. Seems fairly obvious when you think about it. We didn't actually have that worked out when we started out, even though we had been delivering SAP consulting services for decades.
Our Own Hero's Journey
With impeccable timing, my brother and I decided to launch our SAP Business Warehouse focused consultancy in the summer of 2008. We had both long ago concluded that though we made excellent consulting rates as SAP consultants, we could not earn more than our own available hours allowed. While we both were still living overseas, we figured out how to form a C corporation remotely in the USA, making us true digital nomads. We then put our heads together to decide (or refine) our business strategy, which included deciding on our approach to marketing.
As it happens, while working as a Senior SAP Industry Principal in SAP MENA, I had seen a demonstration of Hubspot's Inbound Marketing software platform. In my capacity as a Senior Industry Principal, which came with a sales quota of $4,500,000.00 of Net New License Sales, I had to submit an annual business plan. It included my plans for sales, marketing, consulting, training, development and user groups. Though I routinely greatly exceeded my Sales Quota, the director of marketing routinely told me no and always followed that up by saying I needed to do more Inbound Marketing - without being able to fully explain what it actually was.
Up until I ventured out into this entrepreneurial role (actually, I've set up several 7 figure businesses in the past), I had been able to rely largely on my network for referral work. Though referrals are great, you can't control them, and you can't really scale them all that easily. So I signed up for Hubspot's Inbound Marketing Software platform, and began to learn all they had offer when it comes to doing Inbound Marketing.
Unknown Unknowns
I was not a web developer, and fortunately or unfortunately, depending upon your point of view, I could write content. After all, a SAP consultant can create documents, if nothing else. As newly anointed Hubspot customers, we were assigned an on-boarding consultant. His job was to make sure we got live on Hubspot. As part of that process, their migration team migrated our existing Godaddy website to Hubspot. It wasn't much to work with, and certainly we didn't really know how to generate leads with it. We certainly didn't have any downloadable content on it.
No Real Sales Process
If we were starting over today, knowing what we know, our focus would have been on productizing some part of our vast service delivery capability. SAP Project Management, my own speciality, comes with its own methodology, ASAP, but you can't really package it, as it is typically a hands-on, face-to-customer role, onsite. But, there are parts of SAP Business Warehouse that can be packaged and delivered remotely, such as our SAP BW Naming Convention Service.
A deep dive marketing and sales assessment would have been tremendously helpful, if only for causing us to think deeply about our offer. As it is, we've produced over 400 content pieces, 17 online calculators and web applications and various advanced product and service selectors as part of an emergent Inbound Marketing approach to selling and delivering consulting services.
We Became Hubspot Partners
As 'push-the-envelop' Hubspot customers, we were invited to become Hubspot partners about 3 years after we started our Inbound Marketing journey. It was nice having a partner methodology 'in-a-box'. Keep in mind, Hubspot is constantly evolving their tool, to include adding a CRM (which it did not have when we signed on) which solved one of our major problems with 'losing' leads. The famous Inbound Marketing methodology graphic didn't exist either, which went a long way toward clarifying the approach.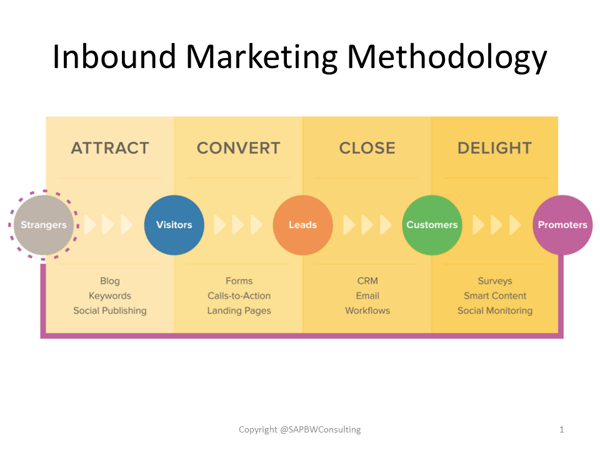 Scientific Approach to Digital Marketing
Part of the Inbound Methodology is conducting the Inbound Marketing Assessment, which we have done with all of our Hubspot Inbound Marketing customers. It helps you understand how you are doing as well as how "Best-In-Class" are performing in each of the major phases of the methodology.
Attract
Convert
Close
Delight
Above all, it helps you understand whether you're a good fit for Inbound Marketing. Many companies are not and it makes little sense to attempt the Inbound Marketing approach if you're not a good fit to begin with.
We Believe In Automation
Maybe it's just in our nature but when we find a process that has been standardized and can be automated, we do it. With the Inbound Marketing Assessment (IMA), we found not only a standardized process, we also found an excel tool that helps guide you through the Inbound Marketing Assessment (IMA) and provides a grade of your current marketing efforts. With one of the more advanced capabilities of Hubspot, we were able to convert this IMA into an online tool, which anyone can use, for free, at anytime. We also use it to conduct one-on-one assessments for clients that prefer to have some hand-holding.
It Solved a Major Client Pain Point
Though it is very easy to conduct the assessment using excel, excel leads to bad data in the form of inconsistent results, as it does everywhere. When you use the online tool, the individual results are always recorded and available for consistent analysis. If you forget what you said your lead conversion rate was, and it is lost in a corrupted excel, you lose it. When it is recorded in the database, you can always pull it back up and track changes over time.
Grade Your Own Marketing Efforts
If you want to quickly evaluate how you're doing, the IMA tool is the quickest way to find out. More than 45,000 companies have used this assessment to benchmark themselves against both competitors and other non-competitor businesses. If you would like to conduct your own IMA, you can get started by clicking the button.