Always Evolving SEO Practices
Content marketing is always evolving. From the way people consume their content to the way algorithms rank it, your content strategy needs to change with the times. It is why you need to move to a pillar page strategy.
Your pillar content strategy is the foundation for the pillar page topic content on your website or blog – to see the best results with your pillar content marketing strategy, you need a strong foundation you can build on. You need pillar pages that engage your readers and keep them on your site. You need pillar pages that provide value such as a how-to content pillar page.
Hubspot Skyscraper 10x Content Pillar Page Visualization
To provide context for developing pillar cluster content strategy, you can see how hubspot helps you construct and visualize content pillar pages. It shows both your content pillar page and the related pillar page links to relevant topic cluster content. The pillar page seo research was used to develop the blog architecture.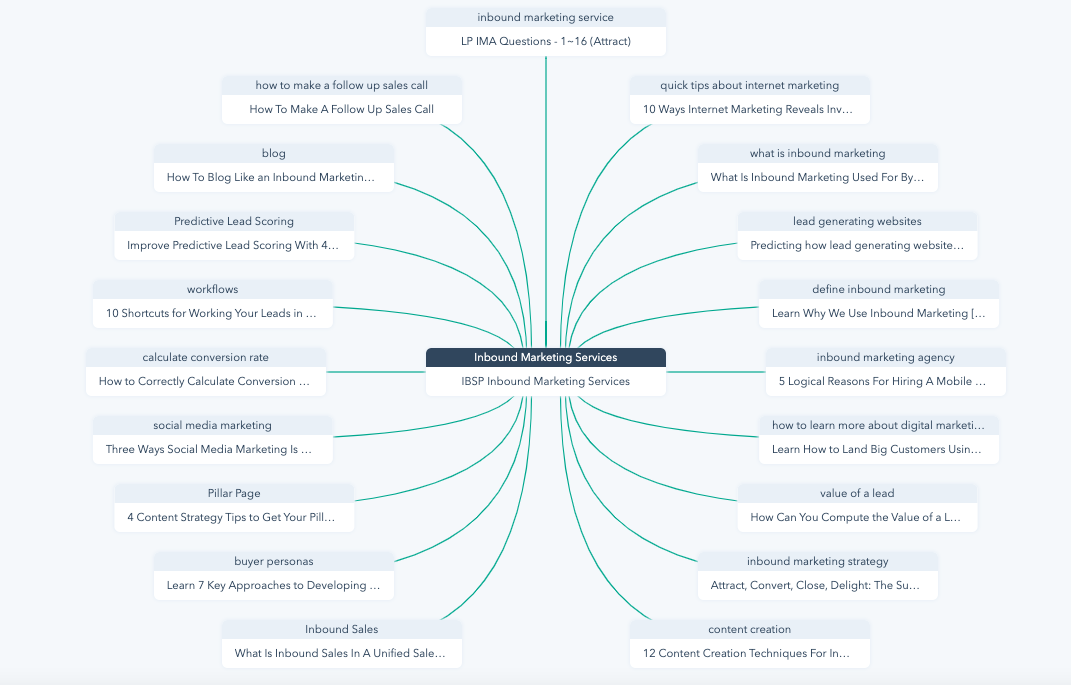 How Your Pillar Content Strategy Drives Quality Site Traffic
A pillar page is where your broad, long-form SEO content sits – it not only covers a topic thoroughly, but it also acts as a hub for people to access other content on your site. This is why getting your pillar page seo right is critical. This is especially critical as people often change the way they search for answers to their questions:


● Keyword length: People are searching for more precise results. 64% of searches people perform include four or more words to get the most accurate answers.


● Voice search: A fifth of mobile searches on Google are made using voice search features from Siri and Google Assistant, which enables longer search terms.


● Content skimming: People want a comprehensive source of information, but they are still more likely to read through headers looking for key information.
Pillar Page Best Practices
There are many pillar pages best practices, the most important of which is that your pillar content strategy must focus on the right keywords to optimize, which can improve the quality of your site traffic. Part of your pillar content strategy will focus on topic clusters – this is how you'll determine which topics to cover and which keywords to use.
Using these topic clusters, you'll create cluster content that dives deeper into the subtopics or specifics of your broader topic – you're providing value to your readers. So, your pillar content strategy drives traffic by improving the way people find your site.
4 Pillar Content Strategy Tips to Drive Traffic and Boost Site Retention
The goal of your pillar content strategy isn't just to have a well-organized site structure – you want to see tangible, measurable results from your content marketing efforts. This is how you judge the effectiveness of your content pillar strategy.
1. Research Your Topic and Keywords Thoroughly
Before you start brainstorming topic and content clusters, take some time to analyze the current topics and keywords. Are certain topics performing well while others are falling flat? Do you see certain keywords more often than others?
Pillar Cluster Content Best Practice Pro Tip
As part of your seo pillar content development, make a list of the most important topics you want to cover, then see what other search results come up when you research your topic – these other topics and synonymous keywords are potential pillar cluster content you can create.
2. Include Plenty of Headers and Bulleted or Numbered Lists
When it comes to pillar page design, keep in mind that most people don't read an entire article or blog post from start to finish. Your pillar page template can use headers to highlight information your readers may be looking for. You want to incorporate your keyword and synonymous keywords into your headers where appropriate.


Pillar Content SEO Best Practice Hint
Lists are another way to improve your pillar content – bulleted or numbered lists are easier for people to quickly scan than a paragraph. They are also an effective way to break up content and add a design element that doesn't require any special graphic design skills.
3. Optimize Your SEO for Modern Searches
As people change the way they search, Google changes the way it analyzes search. The search engine relies on behavioral, contextual, and historical signals to offer search results that are – in some cases – almost exactly what you were thinking.
SEO Pillar Page Elements Following Google Webmaster Guidelines
You can optimize your SEO by writing for people and keeping these classic SEO elements in mind: keyword usage, internal and external links, domain authority, anchor text, and content age. You can also optimize SEO by including variations on your keyword, as well as incorporating high-quality links.
4. Use Videos, Images, and Interactive Content
Just like headers and lists help break up content and give your readers an overview of the topic, videos, images, and interactive content can drive traffic to your site and keep people on your site longer. Interactive content can even generate leads.

One of The Best Pillar Page Examples
Incorporate data-driven images – like infographics – to give your readers a visually appealing way to read through mundane information. You can use on-site surveys and polls to gauge reader feedback that can ultimately improve your content strategy. One of the best pillar page examples we've built is this one.
How You Can Optimize Your Pillar Content Strategy
Your pillar content strategy is more than just putting together a comprehensive landing page – your marketing and sales strategy needs to focus on how to get people to read your content and take desired actions.
Beyond optimizing SEO and doing thorough research, there are techniques you can use to optimize your pillar content strategy:


● Work from the top down: To create the most thorough pillar page, you need to start at the top. Choose a primary keyword that drives a large amount of traffic to your site, then work backward from that keyword to create your topic and content clusters.


● Research your competitors: If you are trying to compete for rankings with a particular site, read through competitors' site content. This can give you ideas on content, as well as ways you can improve your site design.


● Use marketing automation tools: There are a plethora of marketing tools that can help you optimize your SEO, design mobile-friendly websites, and increase the number of leads you receive from your pillar pages.
When it comes using pillar content, wordpress as well as Hubspot can both host pillar pages, though it is far more effective to do it with Hubspot based on our data from the past 10 years. When it comes to wordpress based pillar pages seo, it is very hard to visualize it though you can start there if you're budget constrained and can settle for poorer results from all your content marketing investment.
What Your Pillar Content Strategy Should Cover
Your pillar content strategy should be a robust plan that covers topic and keyword planning, page design, and content optimization.
Craft Your Pillar Content Strategy Today
Keeping up with Google's algorithms is a challenge for most marketers, but you can stay ahead of the game by creating pillar pages with relevant, high-quality content. Your pillar pages offer value to your readers – a core element of Google's algorithm – and they provide the root for your content "branches."
An effective pillar content strategy will increase your search rankings, drive traffic to your pillar pages, and grow the number of leads you receive from your marketing efforts. To help our clients with their Pillar Page Content Strategy Development, we've come up with the comprehensive Pillar Content Strategy Guide, available by pressing the button.