Seems like everybody wants to be a SAP Consultant.
Companies who need a SAP consultant are usually faced with a shortage of SAP consultants. It is said that Demand will create its own Supply. Unfortunately, SAP Consulting Rates, whether they are SAP Independent Consultant Rates or based on a average SAP consulting salary, have not created a situation of excess supply. Why is that? Why is it unlikely to change anytime soon:

Companies Are Squeezed for Dollars



SAP K Ratings, a consultant skill level rating and ranking system apparently developed or at least adopted by SAP, is subjective, in the extreme.


There is an on-going struggle between the SAP contract rate vs salary rate.


There is a lack of understanding on the differences between working as a 1099er, W-2er or on a C2C (Corp-to-Corp) among consultants.

Some consultants do not realize that when working on a 1099, they pay their Self Employment Tax using the 1040SE, (Self Employment) tax and that this also is applied toward their social security payments.


There is false perception of an on-going downward pressure on consulting pay rates. Or at least that is what you may hear in the market.


Your SAP rate, as an independent or salaried SAP consultant, depends upon you keeping your skill sets up-to-date.


From a SAP client perspective, consultant fee rates ALWAYS seem high:) They are, in fact, not going down, nor will they. Why?

Training: SAP is not reducing the cost nor actually able to increase the value of their training.
Experience: Good consultants become great consultants with experience, sometimes.
SAP Consultant Pay Expectations:



Consultant average salary levels, especially in new areas, like SAP HANA, recently acquired products, like the entire SAP Business Objects portfolio, and in other shortage areas, tend to run higher.


SAP has limited to no ability to predict the type and quantity of consultants they will need, by geography, when you talk about time horizons beyond 1 year or even less.


False Commoditization of Skillsets: Though you will hear that skills like SAP FICO or MM are largely commoditized, we don't see it. In fact, good ones command top rates and always have.
Almost all customers that we are working with have, as their number one consultant skill requirement, the ability to communicate in English at the native level. Seems like a basic, assumed requirement, but the market has suffered by the absence of this skill and now it is front and center.

To give you some idea of some of the key SAP BW Skills required of a Top Gun SAP BW consultant, we have prepared this little spider chart.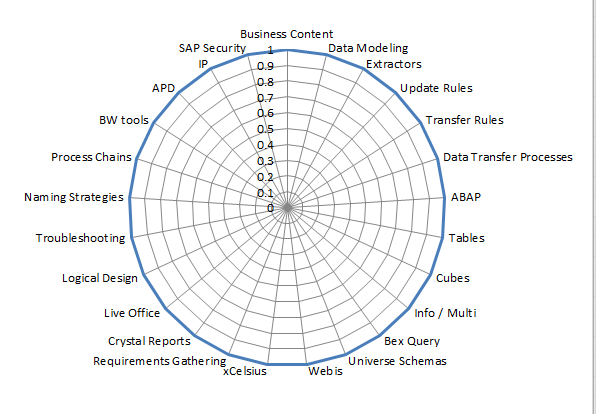 As you can see from the spider chart above, the most effective SAP BW consultants (the ones who will finish your project on schedule and not cause you project delays, redo's, do-overs or burn through your budget) are:
Consultants with the most experience
Consultants who are On-Site
They are also the most expensive and for good reason. They have demonstrated the ability to deliver and the market has rewarded them for that. A consultant with any weaknesses in their knowledge or experience related to the areas above will most likely not be able to do the work required of them.

This does not mean they can not learn. We all can, do and must learn and expand our knowledge on every project. But it does mean they will have to take the time while on your project to learn the material, tools and techniques which will extend your project time line. This is simply another risk and the cost of doing a project. Budget for it and move on.
For example, you can not learn ABAP overnight in your hotel room or pick it up from SDN.


.
This can result in embarassing project delays and require additional manpower to be added to the project to fill in the experience gaps. Two heads may be better than one, but they cost twice as much. SAP BW technical interview questions in any of the areas above will soon uncover those candidates who are qualified and those who are not.
A little side note here: we have Offshore teams, we have Remote Development teams and we have On-Site teams. On our IT Staffing Service side, we even do Perm and Direct Hire placements. The On-Site model by far has been the most effective.
We recommend that you always hire the most experienced person you can find and that the work be done on-site. You will pay a little more money for their expertise but it is money well spent or perhaps invested. It's like paying a little more money for the best car on the road. You get better quality, you get better workmanship, you get better results and you get a better experience.
Want to learn more about the vast system known as SAP? Try our SAP Mindmap to get started.
People Who Read This Also Read:
12 Easy Steps To Being A Better SAP Consultant
Get Our Guide To Becoming A Top Gun SAP Consultant
How To Use SAP Value Engineering Services
Learn What Makes The SAP DFPS Solution Different
3 Keys To Selecting SAP Professional Services Consulting Firms
Thanks