How to Get Ahead in Business With The Essential Step-by-Step Guide to Internet Marketing
It's Time To Learn How You Can Get Ahead in Business Using These Essential Step-by-Step Digital Marketing Actions
Through the years, as traditional marketing has taken a step back, the Internet has moved forward in its place and proven itself as a leader in marketing for businesses worldwide. It has proven to consistently deliver a higher ROI on every marketing dollar spent.
Effective Internet Marketing Strategy
It can be daunting when venturing into the realm of the Internet for your marketing efforts, which is why we have provided here for you the e-book, "The Essential Step-by-Step Guide to Internet Marketing".
Develop a Solid Online Marketing Strategy
This e-book will provide you an 8 step process to assist you in developing a successful Internet Marketing plan.
It will: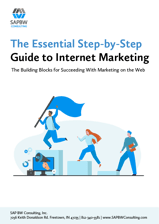 Cost-Effective Internet Marketing Strategy
An effective internet marketing strategy is essential for any business looking to succeed in today's digital age. Hubspot is a powerful tool that can help you develop and implement an effective internet marketing strategy. With Hubspot, you can create and manage your online presence with ease, using features such as SEO optimization, social media management, email marketing and blogging.
Hubspot Marketing and Sales ROI Calculator
You can also measure and analyze your marketing performance, enabling you to make informed decisions and optimize your marketing efforts for maximum ROI. Hubspot's marketing and sales tools work together seamlessly, allowing you to create a cohesive marketing and sales strategy that drives results. With Hubspot, you can achieve a cost-effective internet marketing strategy that delivers measurable results and helps your business thrive.
Don't Miss Out On Your Marketing Opportunities
The Internet is a whole different world of marketing opportunities that can help any business thrive. By following these 8 critical steps, we can assure you that your internet marketing efforts will be nothing but successful.