How to Get Ahead in Business With The Essential Step-by-Step Guide to Internet Marketing
It's Time To Learn How You Can Get Ahead in Business Using These Essential Step-by-Step Digital Marketing Actions
Through the years, as traditional marketing has taken a step back, the Internet has moved forward in its place and proven itself as a leader in marketing for businesses worldwide.
It can be daunting when venturing into the realm of the Internet for your marketing efforts, which is why we have provided here for you the e-book, "The Essential Step-by-Step Guide to Internet Marketing".
This e-book will provide you 8 detailed steps to assist you in developing a successful Internet marketing plan.
It will:
Assist you in perfecting your online marketing strategy through SEO, blogs, social media and email marketing.


Show you how to determine if your internet marketing approach is working for you.


And much more!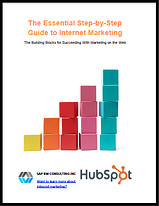 The Internet is a whole different world of marketing opportunities that can help any business thrive. By following these 8 critical steps, we can assure you that your internet marketing efforts will be nothing but successful.