How to Implement Best Practices
Have you ever tried to implement a SAP Best Practice or did you even know SAP has SAP Best Practices? If so, you'll know that it's difficult because it requires knowledge of SAP, SAP processes and your business and usually SAP Solution Manager.
So what do you do? Many people have found success by using simple mapping grids to match existing SAP Best Practices to their specific requirements. But there are a few things you should know before you attempt to implement a SAP Best Practice to ensure success at the lowest possible business risk.
SAP Implementation Best Practices
This post will tell you what you need to know to make sure you select the correct SAP Implementation Best Practice that will let you successfully implement SAP Best Practices which you can easily download off of SAP Service Marketplace or click here to get to them.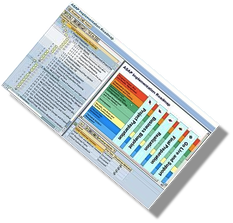 SAP Best Practices Are Integrated Into SAP Solution Manager
If you're looking for a specific SAP Best Practice, the best method to ensure you end up with something that lets you implement it quickly is by looking for these things:
Make sure your SAP Best Practices let you retain the business process flexibility you need. If it doesn't, you'll have trouble getting user buy-in and successfully implementing it.


Ensure your selected SAP Best Practice is a good fit with your specific industry need so you can quickly translate what SAP provides to what your business process management requirements are.

If you are unsure how to do this, we can help you use their free online tool to quickly make the right selection and to know if there isn't one for you.


Any good Best Practice, whether from SAP or a SAP Implementation Partner should let you click and implement. This is important because the whole idea of a Best Practice is for you to benefit from the knowledge acquired by others who are doing similar activities.
While not necessary, some great bonus features of a great Best Practice are:
Come with a vast number of eCATT Test Scripts you can use, no matter which industry you are in


Can exist with multiple Best Practices in the same Solution Manager environment


Provide you with a business blueprint that is easily modified to fit your business context.

In short, non-SAPenese


Continuously updated and updatable by you


Have Industry Specific Flavors, i.e., Professional Services, Logistics or MRO


Hide the underlying complexity of the business processes so you can concentrate on the critical few decisions in getting your business processes designed and implemented exactly right for you.
Now that you know a little bit about SAP Implementation Best Practices, you're ready to get started with your implementation without worrying about how to select and implement the correct ones. This heavily affects how you manage SAP projects and we would like to offer you some of our professional advice on your SAP Project Management Journey.